Hey MBA readers! I'm still on a little blog break, but today I have a very special guest post lined up for you. Amber's here from Bluebonnets & Brownies with a fresh, Spring spin on Marshmallow Squares. Amber is one my best friends – she's creative, hilarious, and one hell of a baker and cook – I'm incredibly honored to have her here today.
Hi Y'all! Amber from Bluebonnets & Brownies here. Jamie's been torturing me for a week with her photos of St. Lucia, but I sure am glad she got to relax for a bit. No one I know works harder at this whole blogging thing than her.
Who remembers that commercial years ago for Rice Krispie Treats where the mom splashes her face with flour and puts on an exhausted face before exiting the kitchen to thanks and cheers of joy from the family? *raises hand*
When Jamie asked me to guest post and I mentioned making these squares, I kinda felt like that mom. I've not done any crazy hard work here, y'all. The most creative thing that happened was me viewing the cereal aisle at the grocery store the same way Jamie views the candy aisle: full of possibility.

When I spotted the new Honey Bunches of Oats cereals from Post, I was pretty excited. Raspberry and Peach happen to be two of my favorite flavors, and together they are magical!
You can also get a Blueberry and Banana combination, but I ignored that all together because I'm of the opinion that blueberries are from the devil. However, if blueberries are your thing, I'm pretty sure swapping it in for the raspberry peach cereal would float your boat too.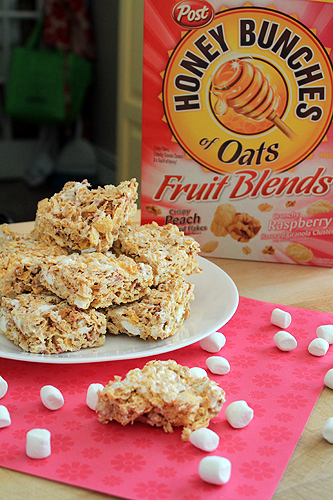 Did you ever wonder how Starbucks gets those big chunks of marshmallows in their krispie squares? I certainly did. So when I went to make these for you, I decided to experiment a little.
First I was going to add the little marshmallows at the last second before adding the cereal, hoping they wouldn't melt entirely. Then it hit me – mixing them in with the cereal first was the way to go.
It worked perfectly. The cereal tempers the already melted marshmallows just enough for them not to melt the baby marshmallows entirely. They get just gooey enough to be sticky, but retain their shape. So as you bite through the Raspberry Peach Marshmallow Squares, you'll get bigger bites of gooey marshmallow goodness. You're welcome!
Raspberry and Peach are perfect Springtime flavors, and these squares are a great after-school treat, for you AND the kids. I hope you love them!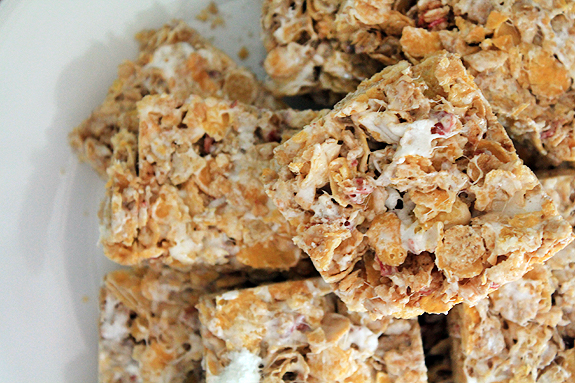 [pinit]
Raspberry Peach Marshmallow Squares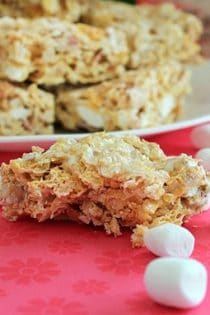 Ingredients:
1/4 cup (1/2 a stick) butter
1 10.5 oz bag of large marshmallows
1 14.5 oz box Raspberry Peach Honey Bunches of Oats Fruit Blends cereal
1/2 10.5 oz bag of small marshmallows
Directions:
1. Spray a 9 x 13 metal or glass baking pan with cooking spray and set aside.
2. In a large soup pan or French oven, melt butter on low heat.
3. While butter melts in the pan, combine entire contents of cereal box and 1/2 a bag of mini marshmallows together in a large bowl. Toss with your hands until the mini marshmallows are well distributed.
4. When the butter has completely melted, add the entire bag of large marshmallows to the pan. Spray a wooden spoon with cooking spray and then use it to stir the marshmallows occasionally until they are all completely melted.
5. When all the marshmallows have melted into a smooth cream in the pan, remove it from the heat. Spray the wooden spoon with cooking spray again. Dump the contents of the bowl into the marshmallow cream, then stir stir stir with the wooden spoon until all the cereal has a nice coating of marshmallow and has begun to stick together.
6. Spoon the cereal-marshmallow mix into the sprayed baking pan. Spray your wooden spoon again and use it to press the cereal firmly down into the corners of the pan and to flatten the surface. When the cereal is in a fairly even layer, refrigerate the pan.
7. Allow the treats to cool for at least 30 minutes to an hour. When they appear firm and crisp, remove the pan to a counter top. Flip the pan over and tap it a few times until the entire pan of cereal pops out in one large piece.
8. Turn the block of cereal over, then use a sharp knife to cut the block into squares, roughly 6 vertical cuts, then each strip into 4 squares, for 24 roughly even squares.
Notes:
- Keep in an airtight container. A ziptop bag is appropriate.
- These treats keep best and longest if refrigerated, but it is not necessary.
All images and text ©
Follow Jamie on Instagram. We love to see what you're baking from MBA! Be sure to tag @jamiemba and use the hashtag #mbarecipes!