Red Velvet Cupcakes In A Jar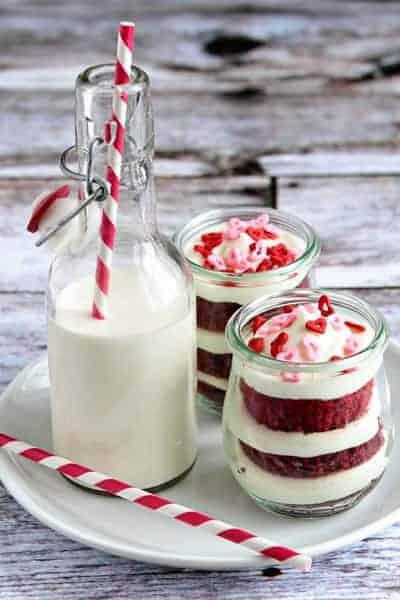 I know, I know, I've said it a gazillion times, I don't really do the girly pink thing for Valentine's Day. Having two 8-year old girls in the house over Valentine's Day weekend quickly changed things. My friend's daughter, Lexi, and her friend were with us this weekend which compelled me to get in touch with my girly, glittery, and pink loving side.
For breakfast I indulged them in pink, heart-shaped pancakes which evoked little 8-year-old squeals and lots of photos on their iPods. We did the whole shopping, lunch, and picking out Valentines thing and I decided that I couldn't let the weekend pass by without making them a sweet and yes, girly Valentine's Day dessert. At first I thought I might do something delicious and simple like my No Bake Cookies, but then I decided to really go with the holiday theme.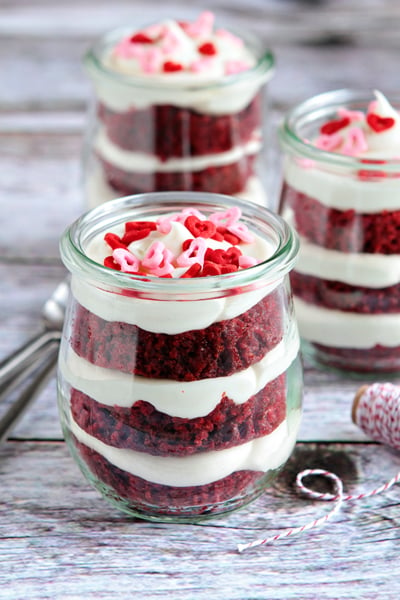 I have made this recipe for Red Velvet Cake countless times. It's adapted from the New York Times, and in my opinion, is one of the best Red Velvet recipes out there. Instead of making a traditional cake or cupcakes, I thought I'd jazz up this sweet treat by layering slices of cupcake with cream cheese frosting in my favorite Weck Tulip Jars. Finishing them off with a sprinkling of pink and red heart-shaped candies gave them a swoon-worthy finish.
Whether you're baking for 8-year olds or your sweetheart, I'm fairly certain that just about anyone will fall head over heels for Red Velvet Cupcakes in a Jar.
Red Velvet Cupcakes In A Jar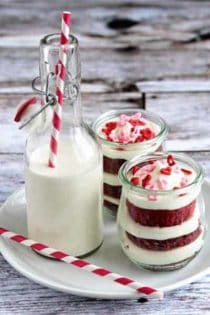 Ingredients:
For the Cupcakes
1 cup cake flour
2 tablespoons unsweetened cocoa powder
1/2 teaspoon kosher salt
2/3 cup vegetable oil
3/4 cup granulated sugar
1 egg
1 teaspoon pure vanilla extract
2 tablespoons red food coloring
1/2 cup buttermilk
1/2 teaspoon baking soda
3/4 teaspoon white vinegar
For the Cream Cheese Frosting
8 ounces cream cheese, softened to room temperature
3 tablespoons butter, softened to room temperature
1 pound confectioners' sugar (about 3 ¾ cups), sifted
2 teaspoons clear vanilla extract*
Directions:
For the Cupcakes
Preheat oven to 350 degrees. Line 12 cupcake wells with paper liners or spray pan with spray with nonstick cooking spray.
Sift together cake flour, cocoa powder, and salt.
In the bowl of a stand mixer fitted with the whisk attachment, combine oil and sugar until well-blended. Add egg and mix until combined.
Turn your mixer down to the lowest speed and add vanilla, then slowly add in the food coloring. Note: If you are using liquid food coloring, it will take about 2 tablespoons of coloring to get a dark red shade. I used about 1 tablespoon of gel dye to achieve the shade in the photographs. Add the dye slowly and color according to your preference.
Add flour mixture alternately with buttermilk in two batches; scrape down the side of the bowl. Continue mixing until just combined, taking care not to over mix.
Place baking soda in a small dish, stir in vinegar and add to batter with the machine running. Beat for about 10 seconds.
Using a medium scoop (about 3 tablespoons), divide batter between the 12 wells, filling each well about 2/3 full of batter. Bake for 20-24 minutes or until a toothpick inserted comes out clean. Be careful not to over bake.
For the Cream Cheese Frosting
In a the bowl of a stand mixer fitted with the paddle attachment, cream together cream cheese and butter until well combined.
With the mixer on low, gradually add the confectioners' sugar until thoroughly incorporated and smooth. Add vanilla and mix to combine.
To Assemble in Jars
Slice cupcakes horizontally to create layers. Each cupcake will yield 2-3 layers depending on how thick you want your layers to be.
Place one cupcake layer into the bottom of your jar, pipe a layer of cream cheese frosting directly onto the cake layer. Repeat the layering process until you reach the top of your jar. If desired, garnish with festive sprinkles or red velvet cake crumbs.
Notes:
Clear vanilla extract was used in the cream cheese frosting recipe to maintain a bright white color. Feel free to substitute pure vanilla extract in its place.
I used a Wilton 1A tip to pipe the frosting into the jars.
The sprinkles are made by Wilton.
Jars seen in photos are Weck Tulip Jelly Jars.
This cupcake recipe has been scaled down from the original recipe by The New York Times. Follow the link provided to view the full recipe.
All images and text ©
Follow Jamie on Instagram. We love to see what you're baking from MBA! Be sure to tag @jamiemba and use the hashtag #mbarecipes!

This post may contain affiliate links. We are a participant in the Amazon Services LLC Associates Program, an affiliate advertising program designed to provide a means for us to earn fees by linking to Amazon.com and affiliated sites.