A delicious, refreshing, and patriotic sangria that is perfect for any 4th of July celebration or summer bbq.
For me, it's not officially summer until the lightning bugs come out. Those amazing little bugs that twinkle in the humid night sky. The harsh winter has seemed to push everything back this year. Well, last week I finally saw my first one! And although I don't catch them in mason jars and keep them by my night stand anymore (I know I'm not alone here), they still fascinate me. They also trigger fond memories of summers past…family cookouts, swimming, parties, and particularly the 4th of July.
I think that the 4th of July has to be the best party all summer. What could be better than celebrating your country by spending time with family and friends outdoors? This year, I'm hoping the weekend is filled with sun, eating, drinking, and tons of fireworks. I know you're going to need something thirst-quenching to pair with your barbecue…
When you're planning your 4th this year, think about adding this delicious sangria to the menu. It couldn't be easier to make, just pour everything into a pitcher and throw in sliced fruit. The recipe can also easily be multiplied for any size party you may be having. It's very refreshing, and it's red white and blue!
Have a wonderful and safe 4th of July, everyone!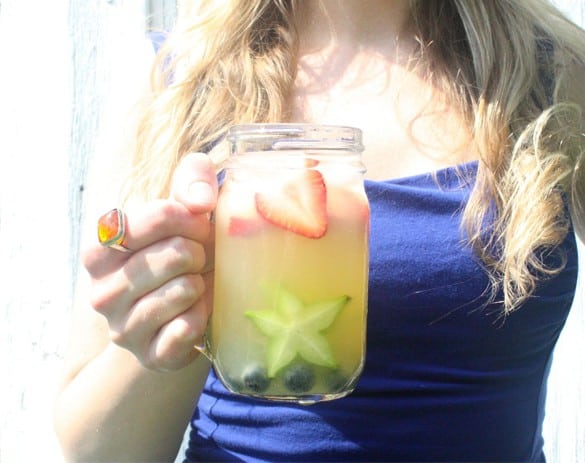 We hope you enjoy this cocktail recipe as much as we do! If you decide to make this or any other cocktail that we've shared with you, please stop back and let us know your experience in making the drink.
Snap a picture of your delicious creation and share it on our Facebook page or use the hastag #mbarecipes on Twitter and Instagram! Have a cocktail or "mock-tail" idea you'd love to share? Follow us on Pinterest. We'd love to mingle with you!
Red White and Blue Sangria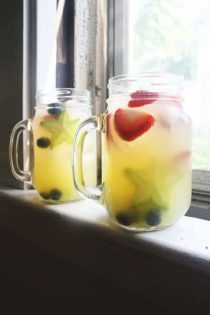 Ingredients:
1 bottle of crisp white wine such as Sauvignon Blanc
1/2 cup Elderflower liqueur such as St. Germain or St. Elder
1/2 cup orange flavored liqueur such as triple sec or Cointreau
The juice of 1 lemon
The juice of 1 lime
The juice of 2 oranges
Soda water, to top off drinks
1/2 cup blueberries
1/2 cup sliced strawberries
2 Starfruit, sliced
Directions:
In a large pitcher mix together wine, liqueurs, and juices. Add sliced fruit. Pour into glasses with ice and top off with soda water. Enjoy!
Notes:
*If you don't like, or cannot find Elderflower liqueur, you could substitute limoncello, peach schnapps, or any other sweetened fruity or floral liqueur of you choice.
*Star fruit can be substituted with white grapes.
All images and text ©
Follow Jamie on Instagram. We love to see what you're baking from MBA! Be sure to tag @jamiemba and use the hashtag #mbarecipes!