Roasted Poblano Beef Stew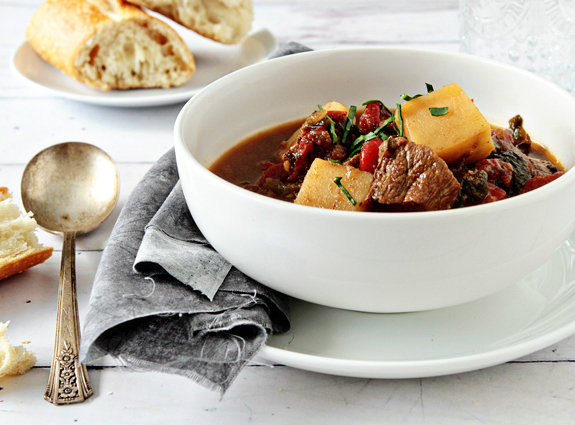 One of the many things that I adore about my co-workers is that they all have a thing for food. They're always willing to test my latest creations and willing to share theirs. In one breath we're raving about amazing cookie recipes while we're at the gym and in the next, we're ranting about the fact that our pants are a little snug – vicious circle I tell ya.
A few weeks ago, my co-worker, Wendy, was talking about a Poblano Beef Stew that her husband made for dinner. Immediately I was intrigued, not only because her husband made it (bonus points to husbands that cook), but because I adore Poblano peppers and Brian has fondness for beef, so this sounded like a win-win. Wendy made a copy of the recipe which I lost and found about five times because it was in my bottomless hole of a purse along with like 20 tubes of lip gloss and a gazillion receipts.
After several failed attempts to actually get this on our dinner table – I finally followed through with the recipe yesterday and it was just as delicious as I made it out to be in my mind. Rich, hearty, and of course – beefy – for Brian.
While the stew takes a bit of time and effort, every bite is worth it. Enjoy this Roasted Poblano Beef Stew with a loaf of crusty bread and you'll have the perfect dinner for a chilly February evening.
Come join SoupaPalooza at TidyMom and Dine and Dish sponsored by KitchenAid, Red Star Yeast and Le Creuset.
[pinit]

Roasted Poblano Beef Stew
Yield: 6 servings
Prep Time: 40 minutes
Cook Time: 2 hours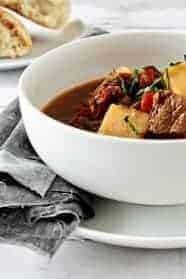 Ingredients:
5 poblano peppers
1 boneless beef chuck roast (2.5 to 3 pounds), cut into 1-inch cubes
2 tablespoons olive oil
1 medium onion, chopped
3 garlic cloves, minced
32 ounces beef broth
1 14.5-ounce can of diced tomatoes (I used Hunts Fire Roasted with garlic)
1/3 cup minced fresh cilantro
2 teaspoons Worcestershire Sauce
1 tablespoon chili powder
1 teaspoon salt
1 teaspoon ground cumin
1/4 teaspoon red pepper flakes
1/2 teaspoon freshly ground black pepper
2 large potatoes, peeled and cut into 1-inch cubes
Directions:
1. Broil poblano peppers 4 inches from the heat until skins blister, about 5 minutes. With tongs, rotate peppers a quarter turn. Broil and rotate until all sides are blistered and blackened. Immediately place Poblano peppers in a medium bowl; cover with bowl with plastic wrap and let stand for 20 minutes.
2. Peel off and discard charred skins. Remove the stems and seeds and coarsely chop the peppers.
3. In a Dutch oven, heat oil over medium-high heat, brown beef in batches. Remove beef and keep warm. Reduce heat to medium, in the same pan, saute the onion until tender. Add in the garlic and cook for 1 more minute.
4. Pour in broth; stir in the tomatoes, cilantro, Worcestershire Sauce, chili powder, salt, cumin, red pepper flakes, pepper, Poblanos and beef.
5. Bring the stew to a boil. Reduce heat; cover and simmer 1-1/2 hours or until beef is tender. Add potatoes; cook 20-30 minutes longer or until potatoes are tender. Skim fat.
Notes:
- Instead of canned tomatoes, you can substitute 2 medium fresh tomatoes. Just chop them up and toss them into the pot
- This stew is a little on the soupy side, but you could definitely thicken it up with a little corn starch and cold water. We chose to eat it as is.
My Baking Addiction adapted from Taste of Home.
39 Responses to "Roasted Poblano Beef Stew"