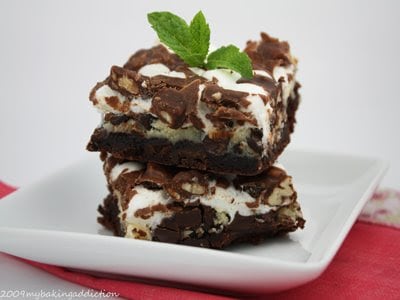 One thing I absolutely love about being a food blogger is meeting all sorts of fantastic people from all over the world. Another thing I love is getting feedback and recipe recommendations from my readers…in my opinion it's very cool when people take time out their hectic schedules to email me recipes that they think I will enjoy or to let me know about their successes with recipes from my blog! When a reader named Jenn, emailed me about a recipe for Rocky Road Bars, I knew I had to make them that day! They sounded amazing plus she said they were so addictive, it was necessary to give them away or run I would run the risk of eating them all! I did have to stop at the market on the way home from work to pick up a couple of ingredients, so I doubt this is something you can whip together with items in your pantry…unless of course yours is well-stocked. Next time I make these…yes, there will be a next time…I am going to try a graham cracker crust, this would make them like s'mores which would be the perfect summer bbq treat! Thanks so much to Jenn for leading me to this fantastic recipe! If ya have any tried and true recipes, I would love to hear from you! Have a beautiful day and thanks so much for stopping by!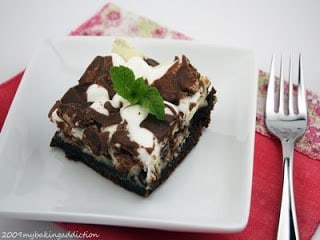 Notes: I did cut the frosting for this recipe in a half and simply drizzled over the bars.
Rocky Road Bars
Recipe Source: Betty Crocker
Cookie Base
1 pouch (1 lb 1.5 oz) Betty Crocker® double chocolate chunk cookie mix
1/4 cup vegetable oil
2 tablespoons water
1 egg
Filling
1 package (8 oz) cream cheese, softened
1/2 cup granulated sugar
1/4 cup butter or margarine, softened
2 tablespoons Gold Medal® all-purpose flour
1 teaspoon vanilla
1 egg
1/4 cup chopped pecans
1 cup semisweet chocolate chips (6 oz)
1 1/2 cups miniature marshmallows
Frosting
1/2 cup butter or margarine
1/4 cup unsweetened baking cocoa
1/3 cup milk
3 cups powdered sugar
1 teaspoon vanilla
1 cup chopped pecans
1. Heat oven to 350°F. Spray bottom and sides of 13×9-inch pan with cooking spray.
2. In large bowl, stir cookie base ingredients until soft dough forms. Press dough in bottom of pan. Set aside.
3. In large bowl, beat cream cheese, granulated sugar, 1/4 cup butter, the flour, 1 teaspoon vanilla and the egg with electric mixer on medium speed until smooth. Stir in 1/4 cup pecans. Spread over cookie dough base. Sprinkle with chocolate chips.
4. Bake 26 to 28 minutes or until filling is set. Sprinkle evenly with marshmallows. Bake 2 minutes longer.
5. In 2-quart saucepan, melt 1/2 cup butter over medium heat. Stir in cocoa and milk. Heat to boiling, stirring constantly. Remove from heat. With wire whisk, gradually stir in powdered sugar until well blended. Stir in 1 teaspoon vanilla and 1 cup pecans. Immediately pour over marshmallows, spreading gently to cover. Cool 30 minutes.
6. Refrigerate about 2 hours or until chilled. For bars, cut into 6 rows by 4 rows. Store covered in refrigerator.