This is a Sponsored post written by me on behalf of Diageo for SocialSpark. All opinions are 100% mine.
Judging from my recipe index, you can kind of figure out that I have a little fear of yeast breads. I can rock out homemade naan and pizza dough with ease, but making a loaf of bread by hand is something that I have yet to master. Sure, I can toss all of the ingredients into my bread maker, but there is something so rewarding and relaxing about working a giant piece of dough with my own two hands.
I also have a fear of my pantry, but decided to brave (clean) that whole situation the other day only to find two big boxes of raisins. So I after the pantry was all spiffed up, I decided I'd try my hand at yeast bread and use up some of those raisins in Rum Raisin Bread.
I don't claim to have any clue about yeast breads and I refuse to tweak with the ingredients, method, etc. so I called Amber to walk me through the process over the phone. She had recently visited King Arthur Flour and their lovely bakers were able to rid Amber of her own yeast anxiety disorder, so I thought maybe- just maybe- she could help me out with my anti-yeast way of thinking.
The one issue Amber and I had when looking at all the recipes I wanted to use is that they were written specifically for bread machines. I was adamant though – I wanted to do this the old fashioned way – well, sort of, I wanted to use my KitchenAid Mixer.
Luckily, King Arthur Flour has a hotline you can call or chat online with – about any sort of baking question ever. Isn't that amazing? I chatted with one of their Baking Experts online this weekend, and this is what they had to say about converting a bread maker recipe to a by-hand recipe:
"You can easily convert bread machine recipes to "manual" recipes by reading the ingredients, then combining them the way you usually do.

Dissolve the yeast in the liquid, add other "wet" ingredients (e.g., eggs, honey, butter), add the flour and other dry ingredients, knead, then knead in any "extras" (raisins, nuts, chocolate chips, etc.). Let the bread rise once in the bowl, then transfer it to a pan and let it rise again. Bake for about 30 minutes in a preheated 350°F oven.

A bread machine recipe for a "large" machine, calling for 3 cups of all-purpose or bread flour or 4 cups of a whole-grain/all-purpose flour mix, will make a 1-lb. (8 1/2" x 4 1/2") loaf.

A bread machine recipe for a "small" loaf, calling for 2 cups of all-purpose or bread flour or 3 cups of a whole-grain/all-purpose flour mix, will make a 10- to 11-ounce loaf (a 7 3/8" x 3 5/8" pan)."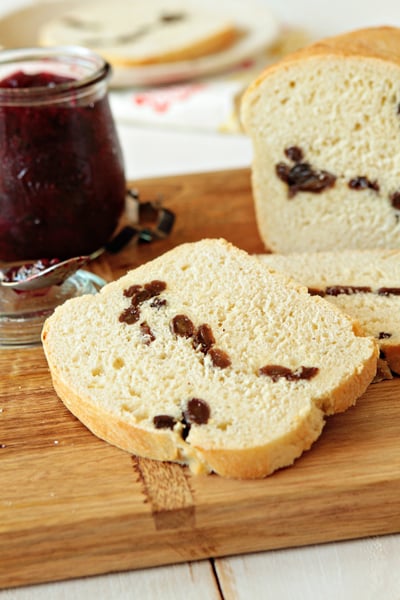 So, I rolled up my sleeves, measured everything out, mixed it according to Amber's and King Arthur Flour's instructions and waited, and waited, and waited. About an hour went by and my loaf was certainly not rising; however my house was frigid, so I decided to put it into the oven on the bread proofing mode and after about 40 minutes it was perfect.
The bread had great crumb, crisp crust and slight chewiness that I found to be quite lovely. The rum soaked raisins added a little something special to the bread that we really enjoyed. Now, if only I can figure out why most of my raisins snuggled up next to each other in the center of the loaf. Overall, I consider this a victory and I'm pretty certain that I be obsessed with yeast for at least a few more weeks.
Are you ready to conquer your fear of yeast? Let's do it together!
Rum Raisin Bread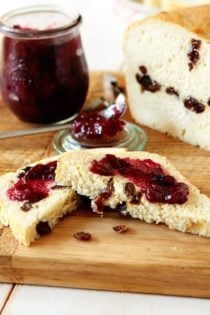 Ingredients:
2 tablespoons (1 ounce) premium dark rum
1/2 cup (3 ounces) raisins
3/4 cup (6 ounces) water
2 tablespoons (1 ounce) heavy cream
2 teaspoons butter, melted and cooled
1/2 teaspoon pure vanilla extract
1 large egg, lightly beaten
2 teaspoons brown sugar
2 teaspoons instant yeast
3 cups (13 ounces) unbleached bread flour
2 tablespoons (3/4 ounce) nonfat dry milk
1 teaspoon salt
Directions:
1. In a small bowl, combine rum and raisins, set aside for at least 30 minutes.
2. In the bowl of a stand mixer fitted with the dough hook, combine water, heavy cream, butter, vanilla, egg, brown sugar and yeast. Mix to combine.
3. In a small bowl, add the flour, dry milk and salt and whisk to combine. With the machine on low speed, gradually add the dry ingredients. Turn the mixer to medium speed and "knead" for approximately 7 minutes or until you have a smooth dough ball that has cleaned the sides of the bowl. Drain raisins and add them to the dough, mixing to combine.
4. Place the dough in a lightly greased bowl, cover the bowl with a moist towel, and allow it to rise until it has about doubled in size, about 1 to 2 hours. My house was really cold, so I used the bread proofing function on my oven.
5. Gently deflate the dough and shape into a loaf. Spray an 8 1/2" x 4 1/2 bread pan with nonstick cooking spray and place your loaf into the pan. Gently press the dough into the corners of the pan. Cover and allow to rise for another 1 1/2 hours.
6. Preheat oven to 350 degrees and bake loaf for 30-35 until it is golden brown, and its internal temperature registers 190°F on an instant-read thermometer.
7. Allow bread to cool in the pan for 5-10 minutes before removing it from the pan.
All images and text ©
Follow Jamie on Instagram. We love to see what you're baking from MBA! Be sure to tag @jamiemba and use the hashtag #mbarecipes!
Zacapa premium rum