Chocolate Cupcakes filled with homemade caramel sauce, topped with decadent vanilla buttercream and finished with a piece of salted caramel? Yes, I went there and these Salted Caramel Cupcakes were worth every single step.
As I have stated before, I love caramel! I'll take it in gooey liquid form over a scoop of vanilla ice cream, a sticky coating on a Granny Smith apple, or a homemade square of the delicious salted variety. Heck, I'm no food snob, I'll even partake in the caramel goodness of a Cow Tail.
Have you ever had a Cow Tail? Oh. My. Word. If not, get yourself to the corner gas station and buy yourself one immediately. Just don't be fooled with its nasty spin-off of the Caramel Apple variety, it's less than amazing. While you're there, don't be afraid to pick up a Nerds Rope, which is another personal fave!
This post is not your typical MBA post; meaning there is no recipe. This is more like a framework which will help you to build your caramel masterpiece. I'll link you some of the components, but you add in your favorite cake and frosting recipe.

Making Salted Caramel Cupcakes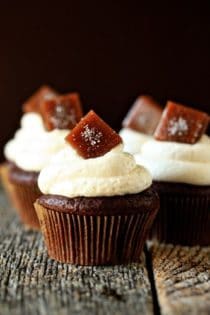 Ingredients:
- made one of my favorite chocolate cupcake recipes according to the recipe directions (you'll see my fave in an upcoming fundamentals post). Use whatever recipe floats your boat. Yellow cake would be equally as amazing.
- find a basic vanilla buttercream recipe. I usually combine 3 sticks of softened unsalted butter, 1 tablespoon clear vanilla extract, 2 pounds of confectioners' sugar and enough milk to reach the desired consistency (about 4-5 tablespoons).
Directions:
- hollow out a small circle in the center of each cupcake; I use an apple corer because I am anal and obsessed with symmetry. You can also use this piping tip from Wilton which allows you to inject frosting into cupcakes.
- add in a bit of homemade caramel sauce to the hollowed center and replace the small piece of cake you removed from the center.
- top the cupcake with buttercream frosting
- finish with a square of homemade Vanilla Bean Fleur de Sel Caramel.
Notes:
- homemade caramels can get a little pliable when sitting at room temperature, add these to your cupcakes right before serving.
- you can definitely cheat a little and use store bought caramel, heck you can even use high quality caramels
- I piped the frosting using the large round tip from bake it pretty. You can check out my video piping tutorial found in this post.
All images and text ©
Follow Jamie on Instagram. We love to see what you're baking from MBA! Be sure to tag @jamiemba and use the hashtag #mbarecipes!