[pinit]
Have you ever baked a sweet dessert with herbs? I'll be honest, this is the first time I've tried it and I don't think I'm ever going back to my non-herb baking days. These Rosemary Lemon Shortbread Cookies are a surprise with every bite. Buttery shortbread infused with sweet and tangy citrus and a subtle earthy herbal note from the rosemary. All of these flavors are set off by the slight crunch of the sparkling sugar at the edge of each little cookie. Seriously, these cookies will continue to delight you even as you find yourself eating the entire batch all by yourself. I'm not admitting to anything other than the fact that I may need a cookie intervention.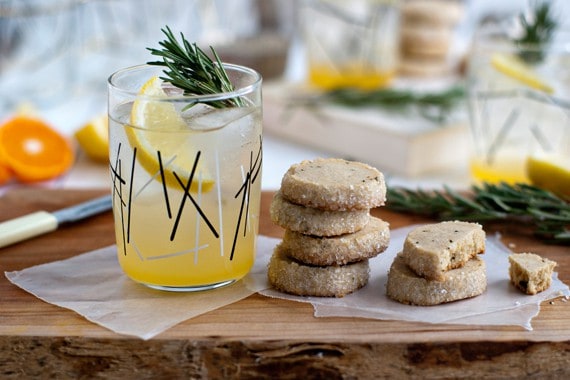 Along with my cookie intervention I may need an intervention for all of my 'kicks' this year. And by kicks, I mean short lived obsessions during which I explore and cook and bake with a certain ingredient until my family can't stand to even look at it anymore. And then I move on. Luckily, each kick has gently given way to the next one so that the previous is not thought about in completely negative light, but rather thought of fondly. At least I like to think that's the case. I just can't help myself. I get so into a particular ingredient or food and I can't quite seem to think about anything else until I've exhausted all of my ideas; or at least until the next shiny ingredient comes along and turns my head.
These Rosemary Lemon Shortbread Cookies seem to embody several of my kicks, especially when paired with my Rosemary Citrus Spritzers. I have been on a crazy citrus kick lately, going from Meyer lemons to key limes and now a combination of lemon and mandarin orange. The Rosemary Lemon Shortbreads are also giving way to my latest kick: baking with herbs. Stay tuned for more of that because if I know myself at all, this isn't over by a long shot. But you should definitely try them for yourself. I'm quite sure you won't be sorry that you did.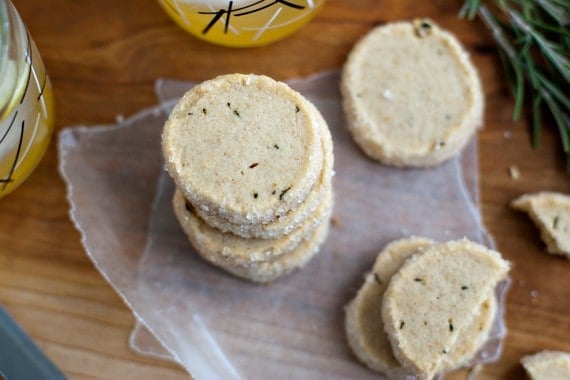 Do you have any ingredients that you just can't get enough of? Please tell me I'm not the only one.


Rosemary Lemon Shortbread Cookies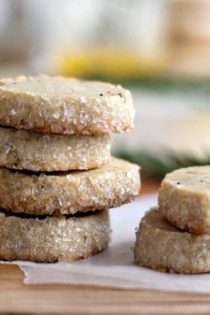 Ingredients:
2 sticks unsalted butter, softened
3/4 cup sugar
1 tablespoon lemon zest (from 1 lemon)
1 teaspoon vanilla extract
1 egg
1 1/2 cups all purpose flour
1 cup white whole wheat flour
1 Tablespoon fresh rosemary, minced
3/4 teaspoon salt
Sanding sugar for rolling, optional
Directions:
In the bowl of a stand mixer, cream together butter and sugar until light and fluffy. Add lemon zest, vanilla and egg and beat until incorporated.
In a medium bowl, whisk together both kinds of flour, salt and rosemary.
With the mixer on low, gently add dry ingredients into butter mixture. Mix until ingredients are well combined and a stiff dough is formed.
Cut two 12×16 inch pieces of plastic wrap. Divide dough in half placing one half of the dough on each piece of plastic wrap. Use your hands to form two 1 ½ inch diameter logs. Open the plastic wrap and sprinkle logs with sanding sugar (if using) and roll a bit more to coat the logs well in the sugar. Wrap logs tightly in the plastic wrap, place on baking sheet and freeze logs for 1 hour or until firm.
Preheat oven to 375°F. Line baking sheets with parchment paper and set aside.
Remove dough logs from the freezer and remove the plastic wrap. Slice dough into ¼ inch thick slices and place on prepared baking sheets 1 inch apart.
Bake until cookies are just golden at the edges, about 16-18 minutes. Allow cookies to cool on wire racks. Store cookies in an air tight container for up to 4 days.
Follow Jamie on Instagram. We love to see what you're baking from MBA! Be sure to tag @jamiemba and use the hashtag #mbarecipes!