I rarely post entrées on my blog because we tend to eat later in the evening and by the time dinner is prepared, it's too dark in my kitchen to photograph. However, sometimes our schedules work out to my advantage and we are able to nosh before the sun sets.
Yesterday, I made a simple shrimp pasta that fulfilled my garlic craving and was so scrumptious I just had to share it with you! I thought I could snap a few photos using natural light, but it just did not work out. Since this was so delicious I decided head into the garage to lug out the Lowel Ego Lights to capture a few pics.
I served this alongside crunchy garlic bread and a fresh mixed greens salad. For dessert we had rich, decadent chocolate souffle, so stay tuned for that recipe!
Thanks for stopping by and have a fantastic day!

Shrimp Pasta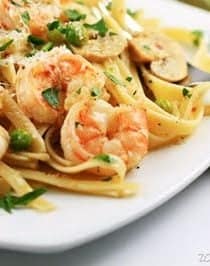 Ingredients:
Vegetable oil
1 tablespoon kosher salt plus 1 1/2 teaspoons
3/4 pound linguine
3 tablespoons unsalted butter
2 1/2 tablespoons good olive oil
1 1/2 tablespoons minced garlic (4 cloves)
1 pound large shrimp (about 16 shrimp), peeled and deveined
1/4 teaspoon freshly ground black pepper
1/3 cup chopped fresh parsley leaves
1/2 lemon, zest grated
1/4 cup dry white wine
the fresh lemon juice from 1/2 lemon
1/3 cup peas
1/4 cup canned mushrooms (what I had on hand…sauteed would be much better)
1/8 teaspoon hot red pepper flakes
Directions:
1. Drizzle some oil in a large pot of boiling salted water, add 1 tablespoon of salt and the linguine, and cook for 7 to 10 minutes, or according to the directions on the package.
2. Meanwhile, in another large (12-inch), heavy-bottomed pan, melt the butter and olive oil over medium-low heat.
3. Add the garlic. Saute for 1 minute. Be careful, the garlic burns easily!
4. Add the shrimp, 1 1/2 teaspoons of salt, and the pepper and saute until the shrimp have just turned pink, about 5 minutes, stirring often.
5. Add wine and cook for about 30 seconds.
6. Remove from the heat, add the parsley, lemon zest, lemon juice, peas, mushrooms and red pepper flakes. Toss to combine.
7. When the pasta is done, drain the cooked linguine and then put it back in the pot. Immediately add the shrimp and sauce, toss well, and serve.
Notes:
- This is VERY garlicy, so if you are not a garlic lovah, cut it back a tad maybe 2-3 cloves as opposed to 4.
- Next time I may add a tad more lemon juice, but check out Ina's recipe which uses more lemon juice and no wine.
- from Ina Garten
All images and text ©
Follow Jamie on Instagram. We love to see what you're baking from MBA! Be sure to tag @jamiemba and use the hashtag #mbarecipes!
[pinit]