I am very methodical when I bake…I always have Food Network on in the living room and I wear a "uniform" which is comprised of comfy sweats, a v-neck t-shirt and my Ugg boots. Sounds super hot, right? Anyway, I came home from work on Friday, slipped into my uniform and flipped on the Food Network, only it was not the Food Network, it was Bravo.
I scanned the guide and realized that Food Network was no longer an option through AT&T. I had a moment where I do believe I may have shed a tear; seriously this is pretty much the only channel I watch. I stewed for a few minutes then called AT&T. They informed me that they were trying to reach a "fair agreement" with Scripps Network to bring back the programming. Not. Good. Enough. I guess I'll be switching cable providers next week. In the meantime I'll watch reruns from the DVR, especially the new show Dessert First with Anne Thornton. Have you watched this one yet? It is fabulous…and seriously, how adorable is she?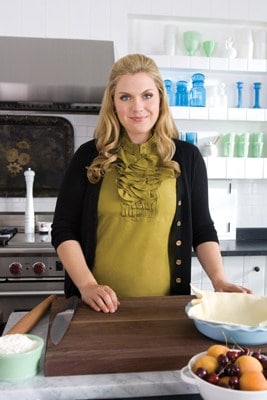 I was given the opportunity with Food Network to have a one on one phone interview with Anne. She was a doll and such a great interview. I wanted to keep the interview laid back and fun, so I kept most of my questions short and sweet. I also wanted to make one of Anne's recipes and decided on her fudge, it's ridiculously easy and oh so delicious. I hope you tune in on Sunday at noon to watch Dessert First and if you do, think of me fondly, because unfortunately I'll miss it until this AT&T debacle gets handled or I switch providers. Have a fabulous day…and go make some fudge!
Q & A with Anne Thornton
MBA: I see that you and I are both from the Cleveland area; are you a Browns fan?
Anne: For sure, Sunday (10/24/10) was a great day, my show premiered and the Browns won!
MBA: What types of desserts can viewers expect to find on Dessert First?
Anne: Everything! I have a great variety of desserts like breakfast tarts, a creamy caramel sauce and so much more.
MBA: I know you worked in a different field before branching out into the pastry world, do you have any advice for others looking to make this type of career change?
Anne: Yes, I worked for Apple Computers before working as a pastry chef. My advice is to take the leap of faith.
MBA: Favorite restaurant?
Anne: Ballato in New York City
MBA: Your least favorite dessert or dessert component to make is?
Anne: Nothing I love to make it all!
MBA: Are you currently reading anything interesting?
Anne: Yes, I'm reading The Ask by Sam Lipsyte, it's a great book.
MBA: What was the last song you downloaded?
Anne: Ludacris My Chick Bad
MBA:What would we find your in refrigerator right now if we opened it?
Anne: Butter, spicy sausage fusilli and cookie dough.
MBA: Best go to dessert when you have unexpected guest?
Anne: I always have fudge in my freezer.
MBA: What is your biggest dessert failure?
Anne: Hmm, I can't really think of one, but I always have ice cream in the freezer for back up, who wouldn't be happy with ice cream?
MBA: What's more important to you presentation or taste?
Anne: I think they are equally as important.
MBA: Your favorite guilty pleasure?
Anne: Honestly, I don't believe in guilt.

Simple Fudge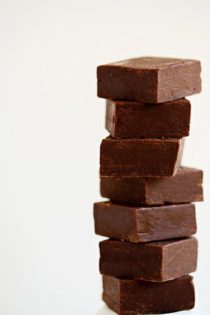 Ingredients:
2 cups semisweet chocolate chips
1 cup milk chocolate chips
1 (14 ounce) can sweetened condensed milk
1/4 teaspoon vanilla sea salt (fleur de sel)
1 cup chopped nuts (optional; see cook's notes)
1 1/2 teaspoons pure vanilla extract
Directions:
1. Line an 8- or 9-inch-square baking pan with foil; set aside.
2. In a heavy-bottom saucepan, over low heat, melt chocolate chips with sweetened condensed milk and salt. Remove from the heat, stir in optional nuts and vanilla. Spread evenly into prepared pan. Chill for 3 hours or until firm.
3. Remove the fudge from the pan and place onto cutting board; remove the foil from the bottom and cut fudge into squares. Store covered in the refrigerator or freezer.
Notes:
- Anne says she likes to add toasted and salted walnuts to the fudge for crunch and flavor contrast.
Adapted from Anne Thornton via the Cleveland Plain Dealer
All images and text ©
Follow Jamie on Instagram. We love to see what you're baking from MBA! Be sure to tag @jamiemba and use the hashtag #mbarecipes!