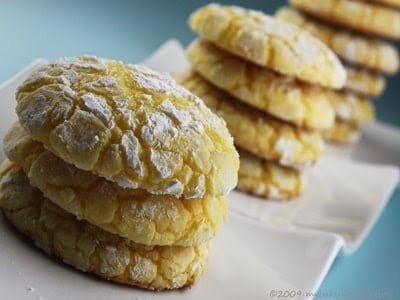 Well I have been staring at a random box of lemon cake mix in my pantry for months now. I am not a huge fan of cake mixes and for the life of me I cannot remember why I purchased it in the first place. However, I was determined to use the mix this weekend and started browsing the web for ideas. I came across a recipe from allrecipes that used boxed lemon cake mix to make cookies. The reviews were mixed; some stating they were delicious, while others complained they tasted like Froot Loops. I happen to thoroughly enjoy Froot Loops, so I decided to give these a try with a couple of minor substitutions. Here is the verdict: The texture of these cookies was amazing- nice, crisp outsides with a chewy center! The taste was really quite good, not too tart and not too sweet. This is not a cookie I would make on a weekly basis, but it was good nonetheless. So, if you have a random box of lemon cake mix, make these…I bet you could use the base of cake mix, 2 eggs and vegetable oil with other cake mixes as well. Happy Baking!

Simple Lemon Cookies
Adapted from

allrecipes
Ingredients
1 (18.25 ounce) package lemon cake mix
2 eggs
1/3 cup vegetable oil
2 teaspoons lemon zest
2 TBS fresh lemon juice
1/2 teaspoon lemon extract
1/3 cup confectioners' sugar for decoration

Directions
1. Preheat oven to 375 degrees F (190 degrees C).
2. Pour cake mix into a large bowl. Stir in eggs, oil, and lemon juice, lemon extract and lemon zest until well blended.
3.Drop teaspoonfuls of dough into a bowl of confectioners' sugar. Roll them around until they're lightly covered. Once sugared, put them on an

ungreased

cookie sheet.
4. Bake for 6 to 9 minutes in the preheated oven. The bottoms will be light brown, and the insides chewy.