Oooey Gooey S'Mores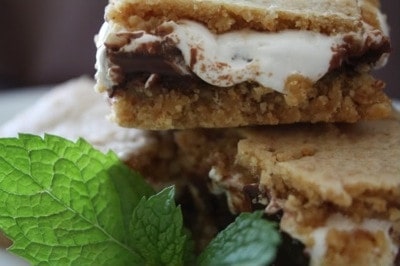 When I think of summer desserts, S'mores immediately come to mind! However, I am lacking a fire pit, I despise camping and quite frankly, I am not the outdoorsy type. So, when I saw this recipe, it sounded like a great way to enjoy S'mores, sans covering myself in citronella and sunscreen.
I found this incredibly easy recipe on Baked Perfection and I had most of the ingredients on hand. I used Hershey's Milk Chocolate Bars, packaged graham cracker crumbs and Kraft Marshmallow Creme. The tip you find with the recipe about rolling the dough in a ziplock is ingenious and worked perfectly! So if you do not fancy the outdoors, but love s'mores…try these the indoor way! Enjoy!
Keep checking my blog because next week I am going to have a fun little giveaway for a kitchen gadget that pertains to the recipe!
[pinit]
This post may contain affiliate links. We are a participant in the Amazon Services LLC Associates Program, an affiliate advertising program designed to provide a means for us to earn fees by linking to Amazon.com and affiliated sites.