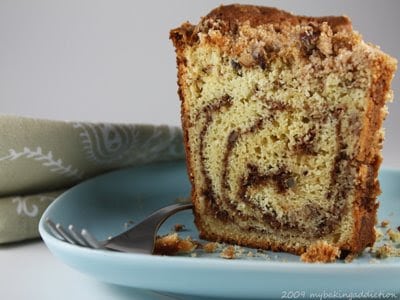 I am posting an amazing recipe for a sour cream coffee cake. I stumbled across this recipe in the January 2009 issue of Fine Cooking magazine and immediately knew I wanted to make it. From December through February, I probably flipped back to this recipe a dozen times with the best of intentions. However, life got in the way and this divine coffee cake was chucked to the back burner. Yesterday I had a few hours on my hands, which is a rarity these days and I thought it would be the perfect opportunity to dust off that January issue of Fine Cooking magazine and whip this baby up! There are a couple of reasons this recipe remained in my thoughts for so long…1.) I am a sucker for a streusel topping 2.) the cake is made with sour cream and I love to use sour cream in baked goods and 3.) a toasted pecan filling…Need I say more? When I looked at the directions for this recipe, I thought it would be a tad bit time consuming, but actually it was a breeze and came together in no time. Well aside from the fact that I ran out of sugar…how the hell does someone with a serious baking addiction run out of freaking sugar?!? I still have not figured about the answer to that question, but the problem was quickly remedied with one simple phone call. Once the sugar was in my hands, I proceeded with the cake portion of this recipe. All three components of this recipe smelled amazing and I could not wait to taste the outcome of this coffee cake. While baking, this cake filled my home with the sweet smells of cinnamon, butter and brown sugar…which was the perfect aroma for a frigid March evening. If you are looking for a seriously delicious palette pleasing dessert make this sour cream coffee cake today! Enjoy!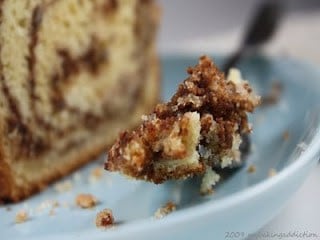 Click Here for the Sour Cream Coffee Cake recipe.
Click Here for the great article that accompanied the recipe.

Here is the link to the recipe on recipezaar, apparently the previous Fine Cooking link no longer works.