These Soy-Ginger Meatballs are going to be your new favorite meatball recipe. Serve them with zucchini and snow pea fried rice for a complete and delicious seasonal meal.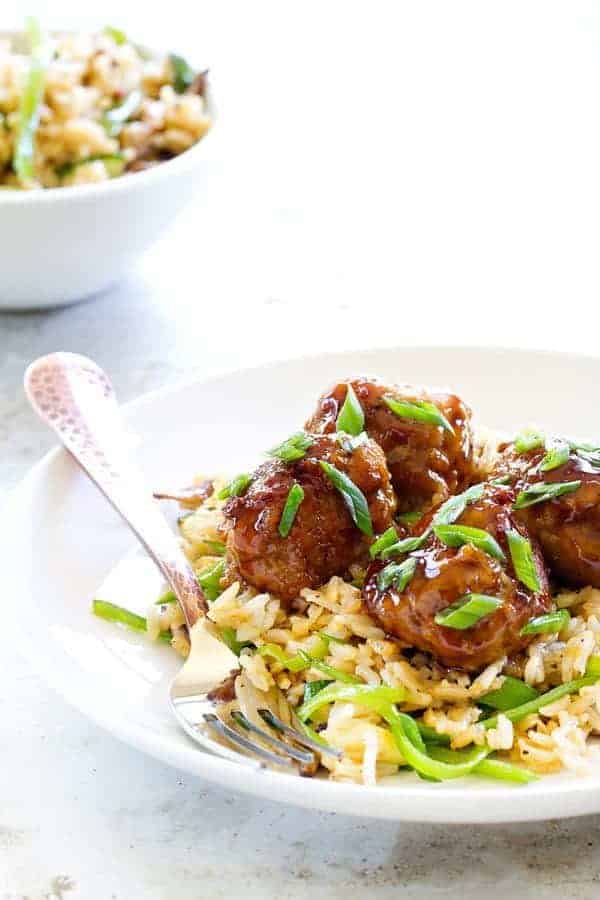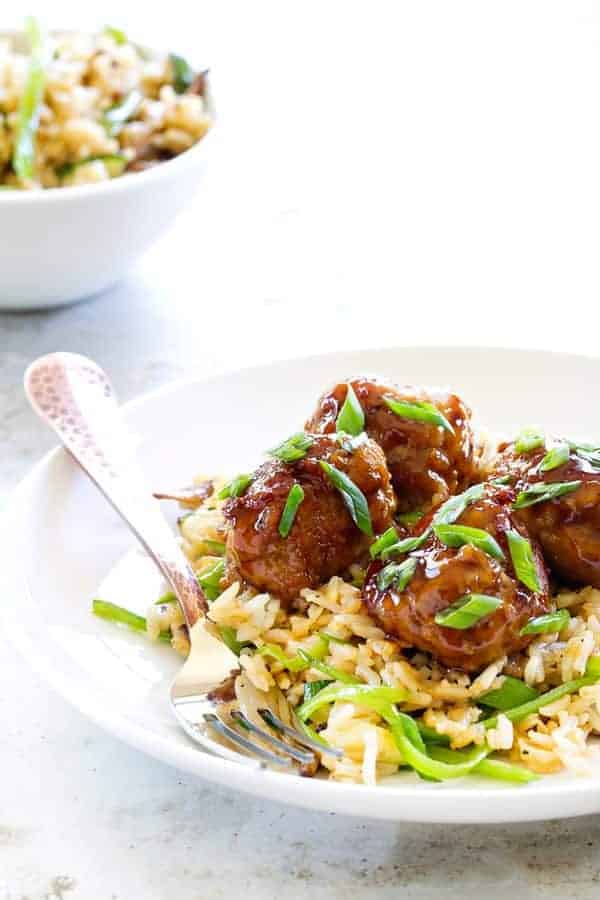 This is a sponsored post on behalf of Blue Apron. All thoughts and opinions are my own. Thank you for continuing to support the brands that make My Baking Addiction possible.
Can we chat about meal planning? I'm fairly certain that I am the absolute worst at it. I have a cute meal planning notepad and colorful pens to match, but regardless of how great that notepad is, it doesn't cook our meals or do the grocery stopping. So, my plan usually stops after I've spent a good hour predicting what we'll want to eat the next week.
Not only am I the worst meal planner, I kind of stink as a grocery shopper too.
Even though I have a handy list categorized by each section of the grocery store (I didn't say I wasn't efficient), I inevitably forget a key ingredient. Which typically means that I end up bribing Eric to make a "super quick" grocery run for me.
Which also means I send him a barrage of texts asking him to grab "just one more thing."
I'm seriously trying to get better at not only planning my meals, but also following through with making them, but sometimes a girl just needs a little help.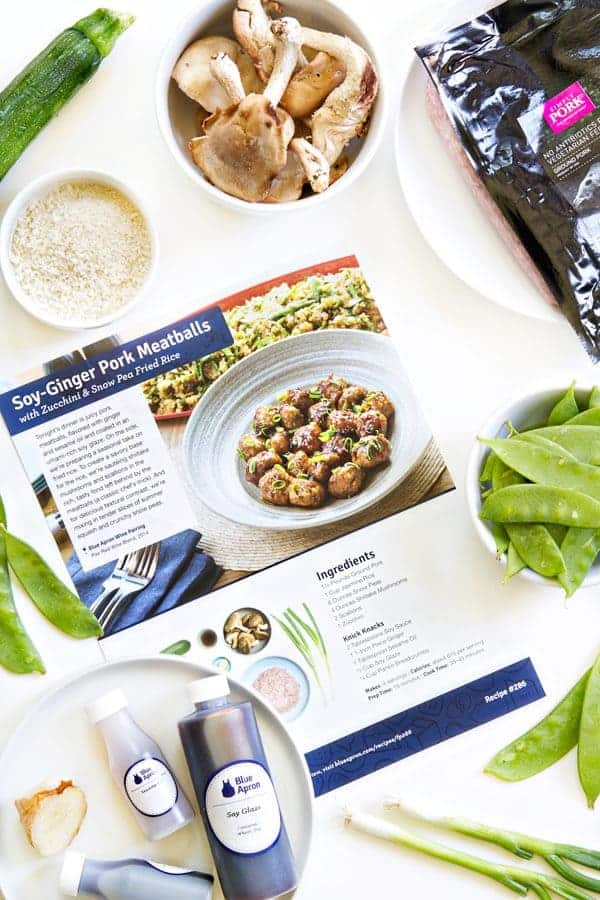 You guys know that I love subscription box services of all kinds, and we even get weekly deliveries of organic fruits and vegetables. But there's something really fantastic about getting a Blue Apron box, where all these amazing foods are premeasured, and I don't even have to think hard about how I'm going to put all of them together.
You don't realize until you have both people working from home, just how hard it is to plan three meals a day for you all to eat. It's exhausting. I found that we were getting to dinner time and making something nutritious for Elle, but phoning it in for ourselves – bowls of cereal were also not uncommon. That's not a healthy impression to leave on my little babe, and Blue Apron has really saved the day.
The chef-designed recipes have appealed to all of us. We use the family plan, but if you don't have little ones running around, the 2-person plan may be perfect for you.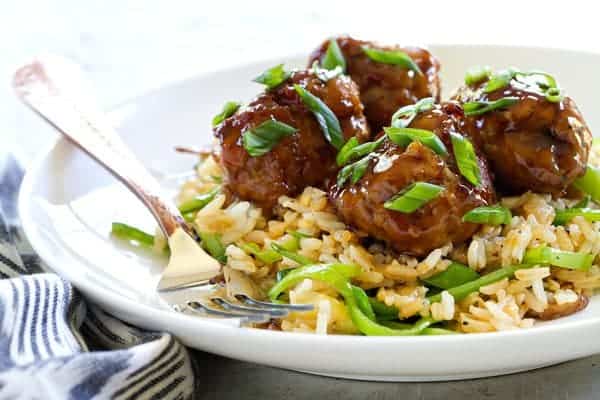 We're home all the time, so delivery isn't an issue for us, but I do love that it comes in a stay-fresh refrigerated box, just in case we're not home when it is delivered.
I don't have to give up part of my day to make sure I'm home to bring the package in right away. We had tried another, similar service before, and one thing that bugged me was all the packaging. But Blue Apron offers a recycling program, which makes it a no-brainer.
When we went on vacation last month, I was a little worried about what we'd do with the shipments. The nice thing is, all I had to do was hop on the website and skip our deliveries while we were away. Seamless!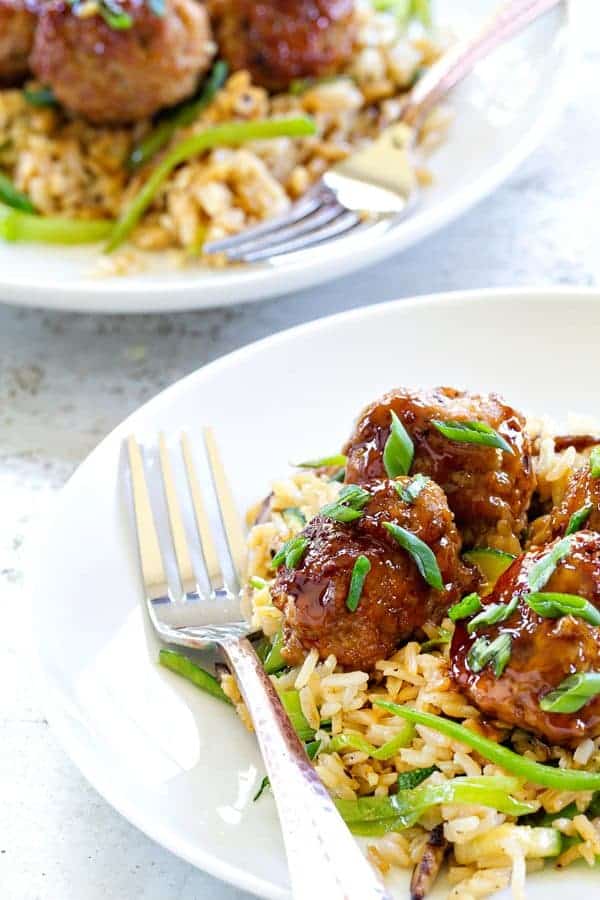 We've been subscribed to Blue Apron for about a year and we've found every single meal to be pretty darn delish, but these Soy-Ginger Meatballs were something special, so I had to share the recipe with you.
The meatballs are flavored with fresh ginger and sesame oil and then coated in a flavorful soy glaze. They're seriously, melt in your mouth amazing. And the zucchini and snow pea fried rice was equally as incredible. It's loaded with shiitake mushrooms, scallions, zucchini and crunchy snow peas.
We've already made this meal twice since it came just a couple of weeks ago. I think these pork dumplings would also be a great addition to this easy meal and I just came across this tutorial on how to roll spring rolls. We are definitely adding those next time.
You can find more delicious recipes, how-to videos and interactive recipes pages on the Blue Apron site.
If you're interested in signing up for Blue Apron, the first 25 readers will get 3 free meals – just click here!
But seriously, make these Soy-Ginger Meatballs, I pinky promise you'll love them as much as we do!