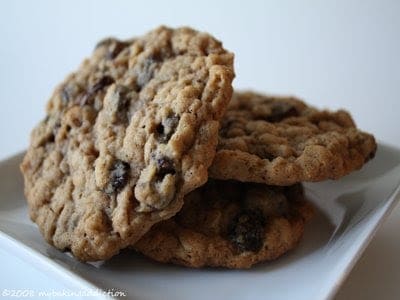 After a long cookie hiatus, it seems as though that is all I am making these days. In recent weeks I have made made Chocolate Chip, Chocolate Whopper Malted Drops, Chocolate Chunkers, Chunky Peanut Butter Oatmeal Chocolate Chipsters and now Spiced Oatmeal Raisin. I found this recipe on allrecipes and adapted it slightly…in my opinion this is the perfect Oatmeal Raisin Cookie. The recipe is very easy to prepare, the flavor is amazing and the soft chewy texture is to die for. The original recipe calls for cinnamon as well as ground cloves. I did not have any ground cloves on hand, plus I am not a huge fan of the clove flavor; I find it to be a tad overbearing. So, I upped the cinnamon to 1 1/2 teaspoons and subbed 1/2 teaspoon of nutmeg for the cloves. I also soaked my raisins in hot water to rehydrate them a bit. The spices added to this cookie got me excited for fall baking!
Spiced Oatmeal Cookies (Adapted from allrecipes)
Ingredients
1/2 cup butter, softened
1/2 cup butter flavored shortening
1 cup packed light brown sugar
1/2 cup white sugar
2 eggs
1 teaspoon vanilla extract
1 1/2 cups all-purpose flour
1 teaspoon baking soda
1 1/2 teaspoons ground cinnamon
1/2 teaspoon nutmeg
1/2 teaspoon salt
3 cups rolled oats
1 cup raisins
Directions
*Preheat oven to 350 degrees F.
*In a large bowl, cream together the butter, butter flavored shortening, brown sugar, white sugar, eggs, and vanilla until smooth.
*Combine the flour, baking soda, cinnamon, cloves, and salt; stir into the sugar mixture. Stir in the oats and raisins.
*Drop by rounded teaspoonfuls onto ungreased cookie sheets.
*Bake 10 to 12 minutes until light and golden. Do not overbake. Let them cool for 2 minutes before removing from cookie sheets to cool completely.
*Store in airtight container.
Enjoy!