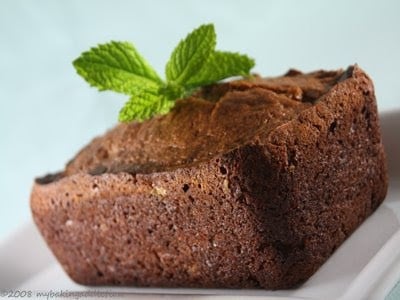 I do not know what my problem is, but it seems as though I cannot consume my bananas before they hit that nasty, brown, spotted stage. Maybe I subconsciously let them turn that way so I have an excuse to bake. Well, whatever the reason I had some bananas to use up, so I hit up

allrecipes

, dug into my recipe box and made one of my favorite Banana Bread recipes. I had all of the ingredients on hand, so I whipped this baby up in no time making some very simple revisions. The recipe is super easy and yields a

deliciously

moist banana bread. I added some cinnamon, nutmeg and vanilla to give it a little

oomph

and impart a touch of fall. This bread is great toasted, slathered with whipped butter and served with a piping hot cup of coffee or tea. I hope you enjoy this one as much as I do!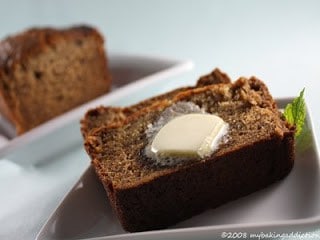 Adapted from
Allrecipes

Ingredients
2 cups all-purpose flour
1 teaspoon baking soda
1/4 teaspoon salt
1 teaspoon cinnamon
1/4 teaspoon nutmeg
1/2 cup butter
3/4 cup brown sugar
2 eggs, beaten
1 teaspoon pure vanilla extract
2 1/3 cups mashed overripe bananas

Directions
1. Preheat oven to 350 degrees F. Lightly grease a 9×5 inch loaf pan.
2. In a large bowl, combine flour, baking soda, cinnamon, nutmeg and salt. In a separate bowl, cream together butter and brown sugar. Stir in eggs and mashed bananas and vanilla until well blended.
3. Stir banana mixture into flour mixture; stir just to moisten. Pour batter into prepared loaf pan.
4. Bake in preheated oven for 60 to 65 minutes, until a toothpick inserted into center of the loaf comes out clean. Let bread cool in pan for 10 minutes, then turn out onto a wire rack.