I warned you yesterday when I posted No Knead Pizza Dough that I am officially on a flatbread kick. My mind has been consumed with all the delicious combinations I can put on top of that wonderful dough to knock it out of the park – and this first recipe is no exception. Spicy Chicken and Pepper Jack pizza made with Sargento Pepper Jack cheese is the perfect flatbread pizza for game night – it's a real guy pleaser, and a Jamie pleaser too.
Brian tells me there's some sort of NBA final coming soon. I wouldn't know, because I don't really follow sports. But I know enough to know that he'll be begging me to make these for him and his buddies while they watch the game.
I'm feeling pretty prepared for that now, with the dough recipe I shared and my constant lust for different kinds of cheese. If you looked in my fridge right now, you'd see everything from Feta to Dubliner. I'm pretty much prepared for any cheesy recipe that strikes my fancy. So when Sargento Cheese asked me to partner up with them on some cheese-loving recipes, I didn't have to think twice. I scoured their extensive recipe collection and stumbled upon Thin Crust Pepper Jack Pizza.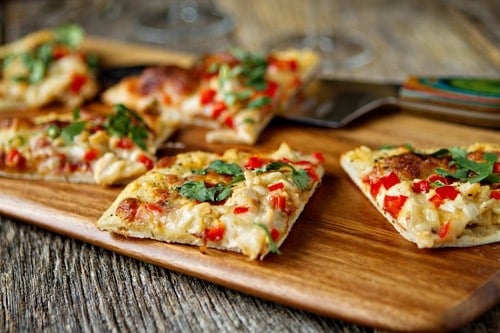 My idea of pizza heaven – cheezy, spicy, saucy. I headed to the market to pick up a few items including Sargento Shredded Pepper Jack Cheese.
I think you all know me well enough to know I can't leave well enough alone – I played around with Sargento's original recipe, adding some of my favorite ingredients to theirs. The outcome was knock-your-socks-off good! The recipe of course starts with the No Knead Pizza Dough Recipe. The addition of chicken made it hearty enough for my meat lovin' man, and the spicy kick from the Pepper Jack Cheese and salsa made this heat lovin' girl just as content.
Adding cilantro and dried oregano gave it just the right twist with Mexican influence to make this feel like more than just a "pizza". If you wanted to really kick up the smokey flavor, you can also add cumin and chili powder. Trust me, after you start making your own pizzas, the boxed stuff just won't do it for you anymore!
Disclosure: This post is sponsored by Sargento; however, the opinions expressed are my own.
Spicy Chicken and Pepper Jack Pizza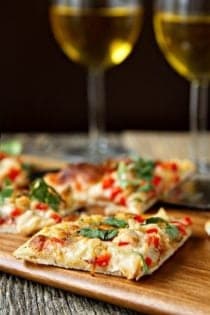 Ingredients:
1 Tbsp. canola or olive oil
1/2 cup chopped sweet onion
3 cups diced fresh red, yellow and green bell peppers (I used all red)
1 (13.8 oz.) tube refrigerated pizza dough (I used 1lb of homemade crust)
1/2 cup salsa (I used fresh salsa)
2 cups (8 oz.) Sargento® ChefStyle Shredded Pepper Jack Cheese
Chopped cilantro or dried oregano (optional)
1 ½ cups cooked and shredded chicken
Directions:
1. Heat oil in a large skillet over medium heat. Add onion; sauté 2 minutes. Add bell peppers; sauté 5 minutes or until crisp-tender.
2. Meanwhile, unroll pizza dough onto a 15 x 10-inch jelly roll pan coated with cooking spray; press dough evenly to all edges of pan. Bake in preheated 425°F 8 minutes. 3. Stir salsa into cooked vegetables; spread over partially baked crust. Top with chicken and cheese.
3. Bake 10 to 12 minutes or until crust is deep golden brown. Cut into squares; garnish with cilantro or oregano if desired.
Notes:
- adapted from Sargento
All images and text ©
Follow Jamie on Instagram. We love to see what you're baking from MBA! Be sure to tag @jamiemba and use the hashtag #mbarecipes!