The title of this post may have gotten your attention, but these are not brownies in the typical sense. I was making dinner last Sunday and wanted a quick appetizer that was something outside the box. I remembered reading about these "brownies" and decided to give em a go. The "brownies" are savory and more along the lines of a quiche. They are tasty, easy and a great appetizer served warm or room temperature. I made quite a few alterations to the original recipe, but I have also linked you to the unaltered version on allrecipes. We really enjoyed these, they are something different and I even stuck a leftover as a quick breakfast the following morning. Not to mention anything with bacon is stellar in my book!!!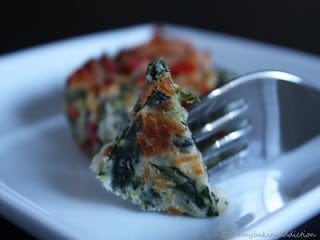 Spinach Brownies
Ingredients
(10 ounce) frozen package spinach
1/2 cup all-purpose flour
1/2 teaspoon salt
1/2 teaspoon baking powder
1 egg
1/2 cup milk
1/4 cup butter, melted
1/2 onion; chopped
1/2 medium red pepper; chopped
1 clove garlic
2 pieces of bacon; chopped
1/2 cup shredded mozzarella cheese
Directions
1. Preheat oven to 375 degrees F (190 degrees C). Lightly grease a 8×8 inch baking dish.
2. Place spinach in a medium saucepan with enough water to cover. Bring to a boil. Lower heat to simmer and cook until spinach cooked, about 5 minutes. Remove from heat, drain thoroughly and set aside.
3. Sautee red peppers, onions, garlic and bacon in a pan over medium heat until vegetables are slightly softened.
4. In a large bowl, mix flour, salt and baking powder. Stir in egg, milk and butter. Mix in spinach, pepper mixture and mozzarella cheese.
5. Transfer the mixture to the prepared baking dish. Bake in the preheated oven 30 to 35 minutes, or until a toothpick inserted in the center comes out clean. Cool before serving.