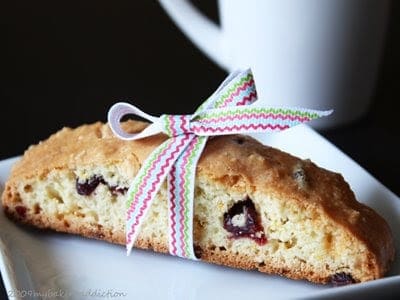 Of all the things I have baked in the past 10 months since starting my blog, I have never made biscotti. Well out of utter boredom I decided to make a batch on Monday night. Back in my college years I worked at a small Mediterranean restaurant which also owned a coffee shop that had wonderful biscotti. It was crunchy and nutty and full of anise flavor. When I inquired about its origin, I was shocked to find out this yummy-licious treat came prepackaged from Sam's Club. Because it's been freezing here is Ohio, I wanted something spring-y, something bursting with bright flavors, thus I was not looking for the traditional anise biscotti I loved from Sam's Club. I hit up my favorite recipe website and after a minute I located a recipe that struck my fancy! I came across a recipe called Spring Biscotti, and it immediately caught my eye. This recipe is chock full of cranberries, orange zest, white chocolate and pistachios…but since I did not have any pistachios on hand I subbed in slivered almonds. The smell of the dough was intoxicating, but damn it was sticky. I put it in the fridge for the specified thirty minutes, but that did not seem to lessen the goo factor. I tried forming it at the thirty minute mark, but ended up with more dough on my hands than on the pan. I then stuck in the freezer for 20 minutes and this seemed to help reduce the stickiness and the dough was formed without issue. The biscotti dried out nicely and had a fantastic texture and paired perfectly with a morning cup of coffee. I will definitely make this one again and play around different fruit and nut combinations.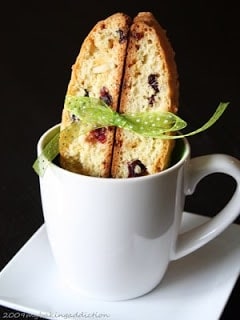 SPRING BISCOTTI adapted from allrecipes
Ingredients
1/4 cup butter
3/4 cup white sugar
1 tablespoon orange zest
1/2 teaspoon vanilla extract
2 eggs
1 egg white
2 cups all-purpose flour
1 1/2 teaspoons baking powder
1/4 teaspoon salt
2 ounces white chocolate, chopped
1/2 cup dried cranberries
3/4 cup slivered almonds, chopped
Directions
1. In a large bowl, cream together butter, sugar, orange zest, and vanilla with an electric mixer until light and fluffy. Mix in eggs and egg white one at a time, beating well after each addition. Sift together the flour, baking powder, and salt; gradually blend into the creamed mixture using a wooden spoon. Stir in the white chocolate, dried cranberries, and almonds. Cover, and chill for 30 minutes, or until dough is no longer sticky.
2. Preheat oven to 325 degrees F (165 degrees C). Line a baking sheet with parchment paper.
3. Turn dough out on a lightly floured surface, and divide into halves. Form each half into a flattish log about 12 inches long by 3 inches wide. Arrange logs at least 3 inches apart on baking sheet.
4. Bake for 30 minutes in preheated oven, or until pale gold. Allow logs to cool on the baking sheet until cool enough to handle. On a cutting board, cut logs crosswise on a diagonal into 1 inch thick slices. Arrange on baking sheet.
5. Bake for an additional 15 minutes, or until golden. Transfer biscotti to wire racks, and cool completely. Store in an airtight container at room temperature.