Brunch. It's one of my favorite activities. Whether I'm hosting, going to a friends, or going to a restaurant; it's one the best ways to kick off your Sunday. I love the combinations of food and sweets, and I love that it's socially acceptable to have a cocktail (or two) at 11am.
Mimosas are usually my go-to brunch beverage for a few reasons, but it's nice to switch it up. My experiences with Bloody Marys usually involve an overly salty and "sludgy" mixed drink that I take a few sips of and pour out. Most Bloody Mary mixes are also ruined for us vegetarians because they contain worcestershire sauce which has anchovies as an ingredient.
Recently, I've decided that I need to give Bloody Marys another shot though, so I started making my own mix using tomato juice, fresh citrus, herbs, and spices. The result is a fresher, lighter drink. I also love that you can control the amount of salt and the amount of heat.
Speaking of heat; who doesn't love Sriracha? It is absolutely delicious in Bloody Marys. Wouldn't you know, they now make Sriracha flavored vodka, so I had to give it a shot. It adds a great chili-garlic flavor without being too hot.
So, next time you brunch, or are just in the mood for a Bloody Mary, make your own mix. It's more fun to personalize the flavor and it's great for entertaining.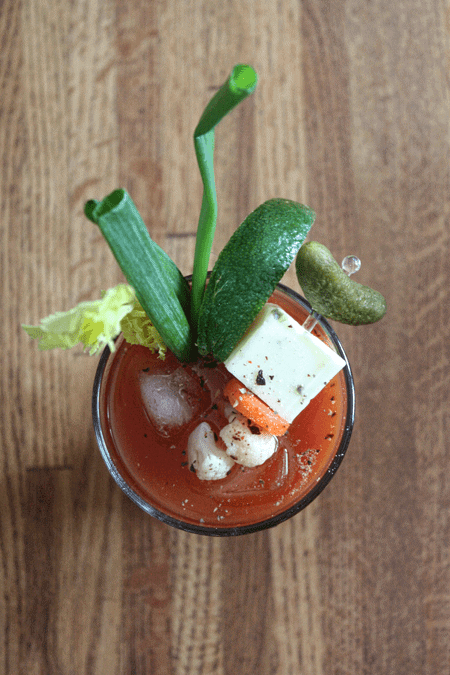 Sriracha Bloody Mary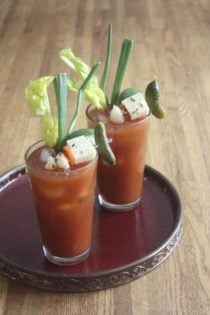 Ingredients:
1 1/2 oz UV Sriracha Vodka
4-5 oz Low Sodium Tomato or Tomato/Vegetable Juice
1/2 oz Fresh Lemon Juice
1/2 oz Fresh Lime Juice
2 dashes Worcestershire sauce (the generic store brand I found didn't contain anchovies)
1/2 tsp horseradish (optional)…for those that like an extra kick!
Pinch of Celery Salt
Pinch of Black Pepper
Pinch of Cumin
Garnishes of your choice
ex: celery, green onion, cheese cubes, lemon and lime slices, dill pickles, giardinara, olives, bacon, salami
Directions:
Measure all ingredients into a cocktail shaker. Give it a few shakes and pour over ice. Add your garnishes and enjoy!
Notes:
*If you can't find UV Sriracha, you can substitute any vodka and Sriracha hot sauce.
All images and text ©Lindsay for My Baking Addiction
Follow Jamie on Instagram. We love to see what you're baking from MBA! Be sure to tag @jamiemba and use the hashtag #mbarecipes!