This past Saturday was my 31st birthday…I don't really feel older, I just hear my biological clock ticking MUCH louder! I opted for a low key night out to dinner with three of my favorite people, Brian, Jamie & Brittani. It was a great way to spend my 31st and was full of food, drinks and laughs.
For my birthday, Brian, my brother and my parental units chipped in to purchase me the 60mm f/2.8 Macro lens that I have been lusting after for over a year. Needless to say, I was pretty pumped with my new piece of camera gear and have really enjoyed experimenting with this lens. I will be sure to post some macro shots in the very near future.
I also received the Perfect Brownie Pan from my fab friend, Jo. Yup, it's the pan from the infomerical and I was stoked to put it to use. Although I am pretty leery of infomercial gadgets and the uber cheesy personalities (Slap Chop Guy) that try to push them down my throat at 3 am, this product is actually quite rad! It worked like a charm and is pretty darn easy to use. It makes slicing and serving the brownies a breeze and I am excited to add this to my ever-growing collection of pans! Thanks, Jo!
Since I had a new pan, I had to put it to good use and make some brownies for St. Patrick's Day. This recipe was recommended to me through a tweet from Carrie of the blog Kitchen Vixen. They turned out fabulous…rich, chocolatey and fudgy…just how we like our brownies. I topped them with ganache and some white and green sprinkles to dress them up for St. Patrick's Day and I think they turned out pretty cute! If you have a free sec, be sure to head over to my Facebook Fan Page and become a fan…then check back tomorrow for a sweet giveaway! Thanks for stopping by, have a fabulous St. Patrick's Day! If you're going out, remember to drink responsibly and drive safely!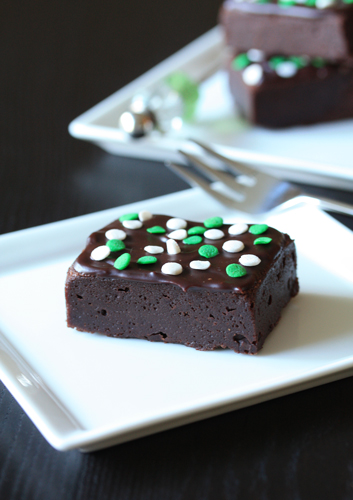 Fudgy Brownies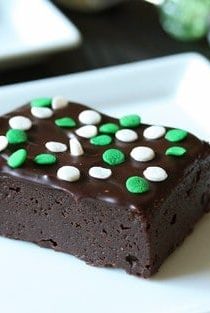 Ingredients:
1 cup of butter (2 sticks)
4 squares of baking chocolate.
2 tsp of instant coffee
1 tbsp of chocolate liqueur
2 tsp of hot water
3 eggs
1 cup of flour
1/2 cup of cocoa
2 cups of brown sugar
Directions:
1. Grease two large mini-muffin tins (24 capacity) with butter. Preheat oven to 350F (I used my Perfect Brownie Pan, but a 9×13 would work too)
2. Melt butter and chocolate together over a double boiler. As mixture is melting, dissolve coffee into hot water and add to mixture, along with chocolate liqueur. Once mixture is melted, stir in brown sugar, and let sit.
3. In a large bowl, sift together cocoa and flour.
4. Once chocolate mixture is lukewarm, add in eggs, one at a time, stirring until mixture is glossy.
5. Pour mixture into flour and cocoa. Stir until well combined.
6. Using a tablespoon, scoop mixture into greased mini-muffin tins. Bake at 350F for 10 to 12 minutes, until centre is just barely set. Let cool slightly before removing from pan. (I baked for 23 minutes in the Perfect Brownie Pan)
Follow Jamie on Instagram. We love to see what you're baking from MBA! Be sure to tag @jamiemba and use the hashtag #mbarecipes!
[pinit]