I've forever been a procrastinator, it's kind of my thing. I've always needed the pressure of a deadline to get my butt in gear. In college, I was that girl that would stay up for 2 days straight chugging coffee and eating Combos while cranking out a 20 page paper. Not much has changed – but instead of papers, I'm all kinds of last minute with holiday themed blog posts.
I wanted to make St. Patrick's Day goodies for our Irish themed potluck at work, so I hit up Pinterest for a little inspiration. I fell in love with themed Gumball Tubes when I saw Bloom's Blow Me A Kiss Tubes for Valentine's Day. Seriously adorable and so incredibly creative!
I ordered my tubes from Bloom's Etsy Store, purchased the gumballs from the party store and downloaded these cute party tags designed by The Tom Kat Studio. The tags are totally free to download – which is pretty fantastic. I'm guessing most you don't have plastic tubes laying around, but I think these would be pretty adorable and equally as festive packaged in small cellophane bags.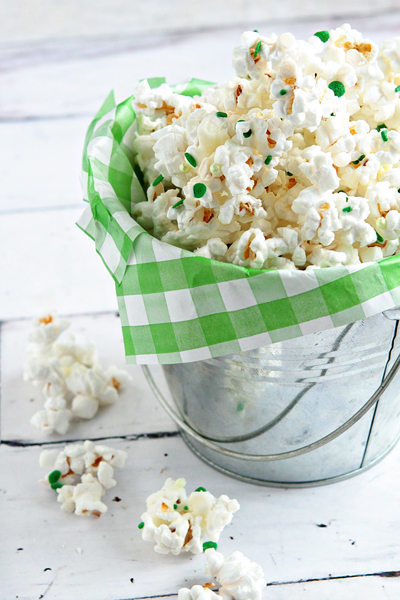 Next, I whipped up a batch of Party Popcorn from She Wears Many Hats. I've been dreaming about this sweet and salty creation since Amy posted it a couple of weeks back. I raided my stash of green and white sprinkles and within a few minutes created a deliciously addictive snack that is sure pair perfectly with all that green beer!
If you're also a procrastinator, I say embrace it because although these treats are pretty last minute – I couldn't be more pleased with the outcome. Have a safe and happy St. Patrick's Day weekend.