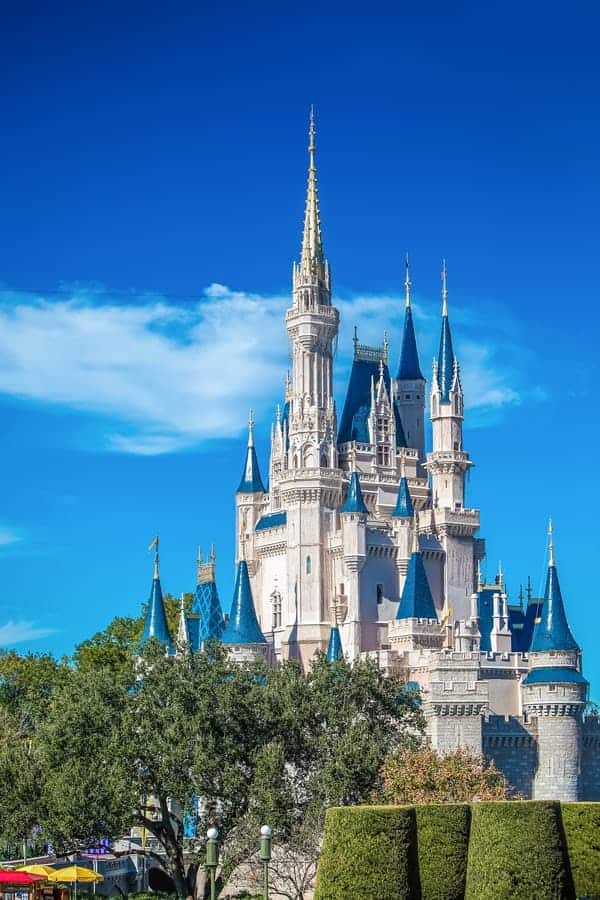 If you follow me on Instagram, you might remember seeing some photos and video of Elle's 3rd birthday celebration at Disney. Yep, we packed up the family, including my parents and their significant others, boarded a plane, and headed for sunny Orlando.
Let me start by saying that we aren't Disney fanatics and shockingly enough, Elle isn't even really into the whole realm of Disney princesses – yet. However, she loves spending our summer days licking ice cream cones and riding rides at Cedar Point, so we naturally thought she'd love the whole Disney experience. We had taken her once before, back in October, but just for one day to Disney's Hollywood Studios to take in everything Doc McStuffins.
Since we knew we wouldn't be going to the park every day, we decided to stay off property. The cost of 3 hotel rooms was pretty steep, even at the moderately priced resorts. Once we factored in the costs of park admission, meals, souvenirs, etc., we knew we'd go way over over budget if we decided to stay at a resort on property.
I've had several readers reach out to me about where we stayed and what our experience was, so I decided to give you guys all the details about the rental property we chose. I'll be sharing a bit more about our trip in another post, but decided to break them into two separate posts, or this post would be eleventy million words long.
THE VACATION RENTAL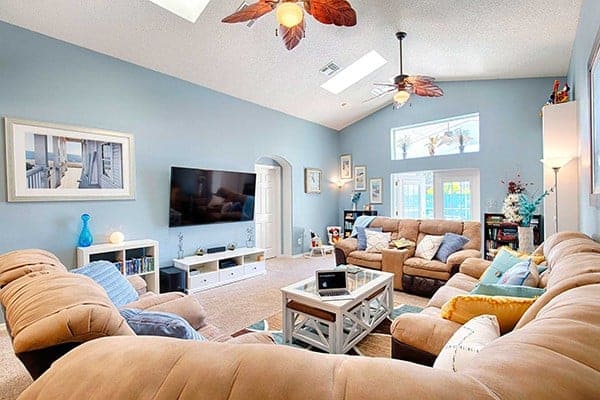 After searching VRBO for weeks for places to stay near Disney World, one day, we stumbled upon this lovely vacation home just 4 miles from Disney. We knew it was the one as soon as we realized it had 5 bedrooms, 3 of them with king sized beds AND their own bathrooms. I'm a firm believer that when you travel with family, the bathrooms definitely need to be separate.
The gorgeous pool and hot tub were definitely a bonus.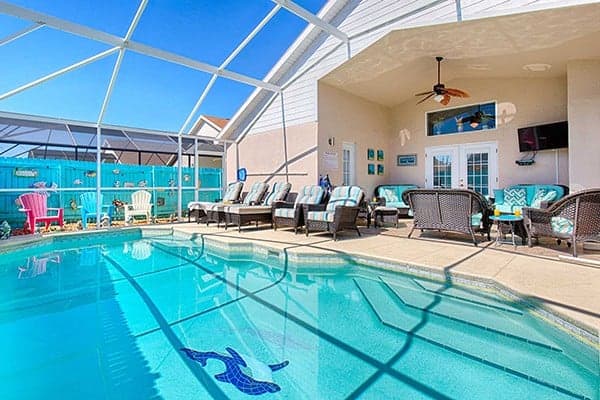 Once we spoke with the owner, Sarah, from Orlando Insider Vacations, her delightful personality and willingness to answer any and all questions, pretty much sealed the deal. We booked our stay at Serendipity at Indian Creek and couldn't wait to head to Florida.
Judging from the photos and reviews on VRBO, we knew the house would be pretty stocked with essentials, but we had no idea just how stocked it truly was.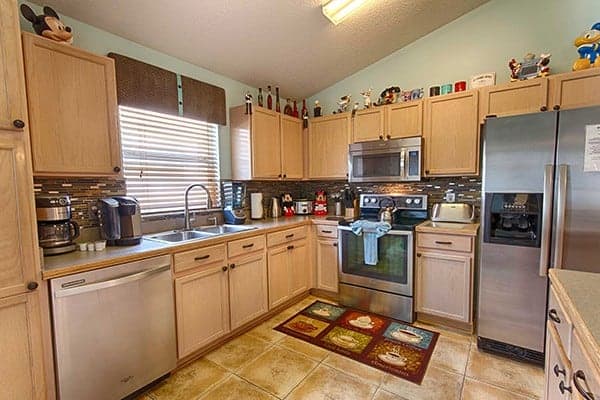 The kitchen was an absolute dream to cook our meals in – complete with quality pans, utensils and even items like an immersion blender and a food scale. You could seriously whip up just about anything, but we ended up using the outdoor grill the most because we wanted to soak up as much poolside time as possible. Sarah even had a little basket of essential groceries waiting for our arrival. And there were items like milk and eggs in fridge – such a thoughtful touch.
We knew we didn't want to waste time at the grocery store, so we actually use Shipt grocery delivery service to have a grocery order delivered an hour after our arrival. We simply chose our items from Publix, arranged a delivery time everything arrived on our door step. I seriously cant wait until this service becomes available in our area.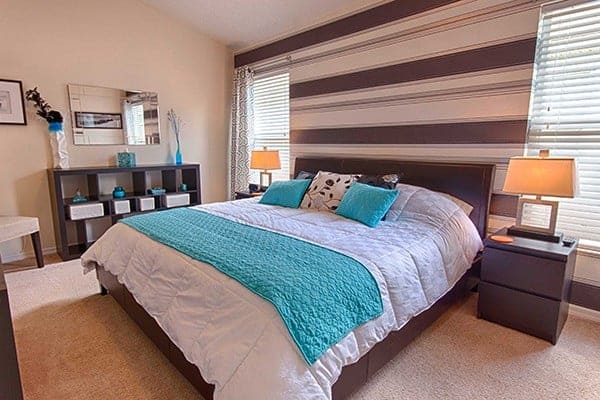 The bedrooms were tastefully decorated and the beds were pretty darn comfortable. There are even 2 kid-themed bedrooms – one with Shrek decor and one with Finding Nemo decor. Although Elle liked the bedrooms, she absolutely loved the Frozen themed game room – complete with a pool table, air hockey table, and tons of other items to play with.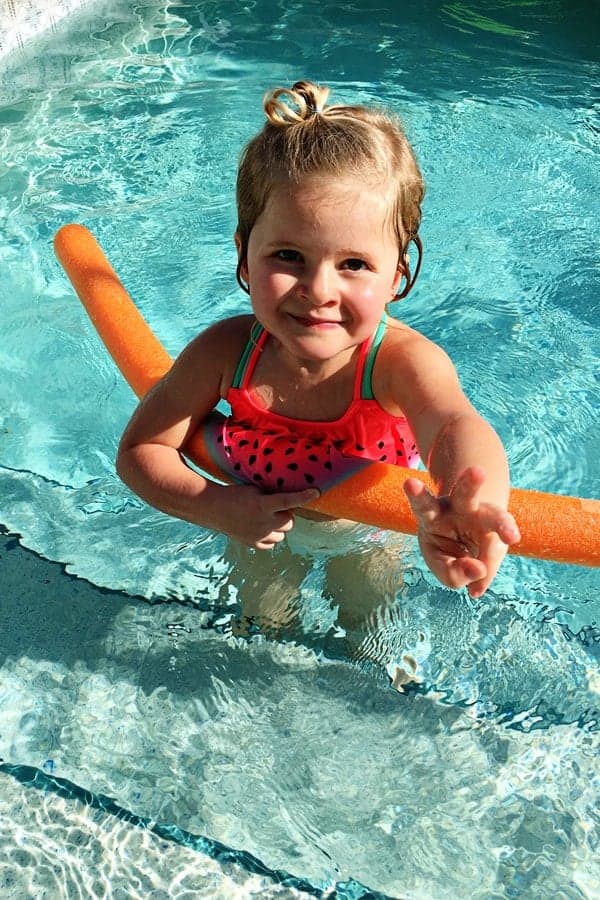 But the star of the house was definitely the pool. Elle would've have stayed in the pool all day every day if we would've let her. She even cried one morning when we were heading to Magic Kingdom, because she wanted to go swimming instead. She's keeps asking when we're going back to the Disney Florida House so she can go swimming in the dolphin pool.
Overall, we can't recommend the Serendipity at Indian Creek rental house enough – especially if you're looking for places to stay near Disney World. From start to finish, the process was incredibly simple and we honestly couldn't have asked for more thoughtful, kind, or helpful owners. They ensured we had a comfortable and delightful stay and we'll definitely be returning very soon.
Note: The some of the images in this post are not my own. The were either purchased from Svenson Images, or used with permission from the owner of the vacation rental. Unfortunately, my camera was super glitchy while on vacation and I didn't fix the issue until our final day.