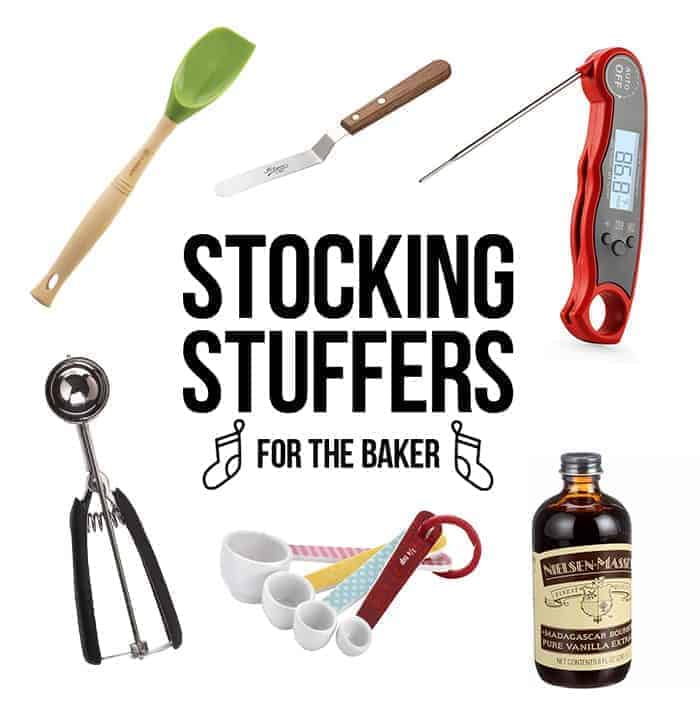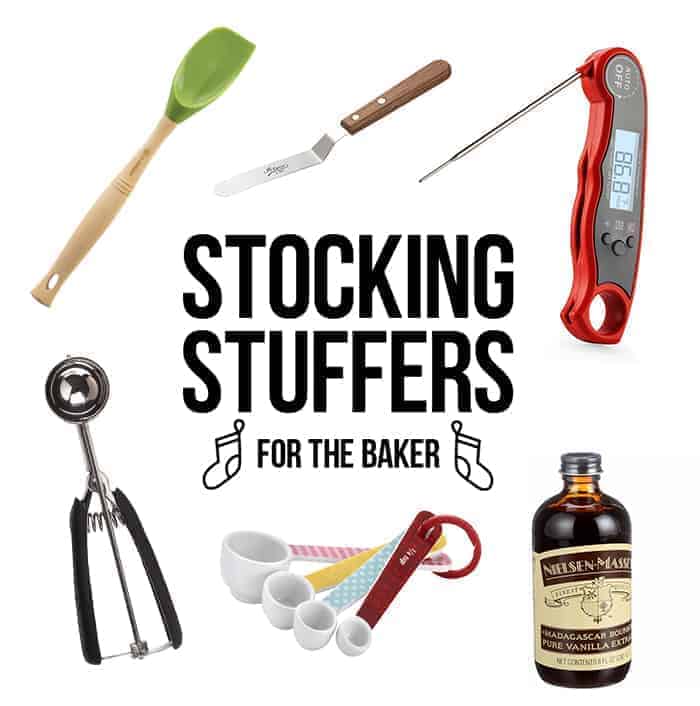 It's here! The biggest shopping season of the year, the time to shower your friends and family with gifts you know they'll love.
For the baker in your life, baking tools, gadgets and fun pans can be the best gifts. They'll get used all year long and each time the item gets used, they'll think of you!
Kitchen tools can be used for years, making them the gifts that keep on giving. And as a baker myself, I know that sometimes, I really can't justify buying a second, (or third) set of measuring cups, or spoons for myself – but if my bestie gets them for me? BEST GIFT EVER.
So don't be afraid to buy them something they already have. Every baker knows that having multiples of a tool makes it easy to batch bake. And then everybody wins, because HELLO, COOKIES!
I've teamed up with my friends at eBay and their Fill Your Cart with Color campaign to share some of my absolute favorite stocking stuffers for anyone that loves to bake.
These are some of my absolute favorite gifts that just so happen to fit perfectly into stockings!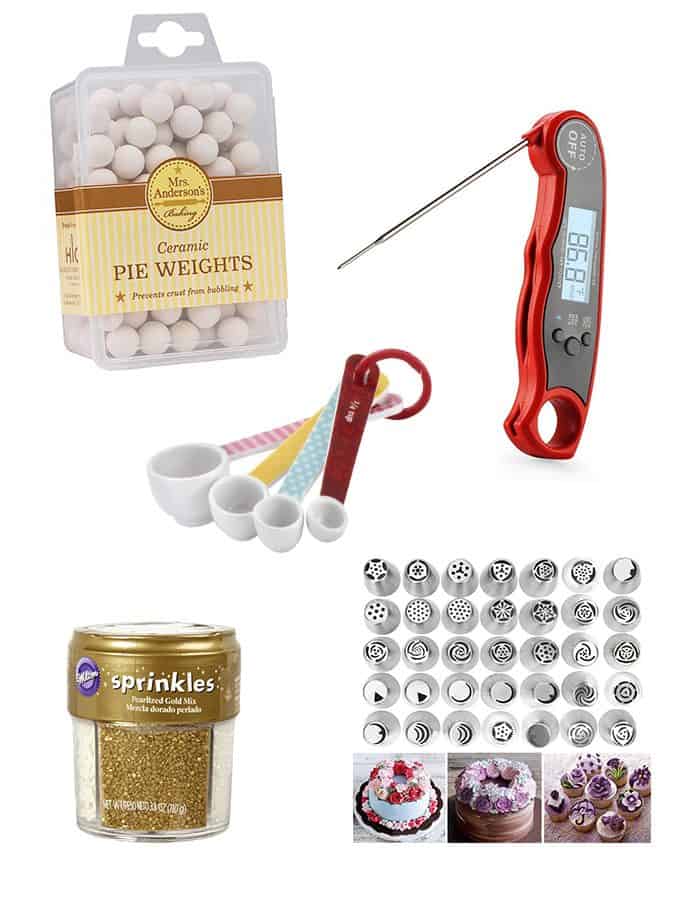 1. Sure, you could use a bag of dry black beans, but I received a set of proper pie weights years ago in a Secret Santa gift exchange and I still love them to this day.
If you've never used pie weights, they help keep pie crust from bubbling up and shrinking during the process of blind baking. Which really just means pre-baking the bottom crust. Any pie baker on your list will love a set!
2. Sure an instant read digital thermometer comes in handy when you're cooking different types of meats, but I also love mine for candy making and baking with yeast.
They're simple to use and easy to read, so you get the perfect temperature every single time.
3. Does someone on your list love to make cupcakes, cookies, or cakes?
Homemade gorgeous swirls of buttercream, and beautifully frosted sugar cookies are totally achievable with the help of a piping tips.
I love the Wilton 1M for beginners, it's definite must-have for any cupcake baker. However, these Russian Piping Tips are some of my new favorites and are so fun to use!
4. What baker doesn't love sprinkles? From custom blends to simple sparkling sugar, any baker is sure love a few bottles of colorful sprinkles tucked into their stocking!
5. I think every baker should have a couple of sets of measuring cups and spoons. Sure you can get along fine with just one, but having a couple on hand make holiday baking and cooking a lot easier.
Colorful ones with fun prints and details are the perfect stocking stuffer!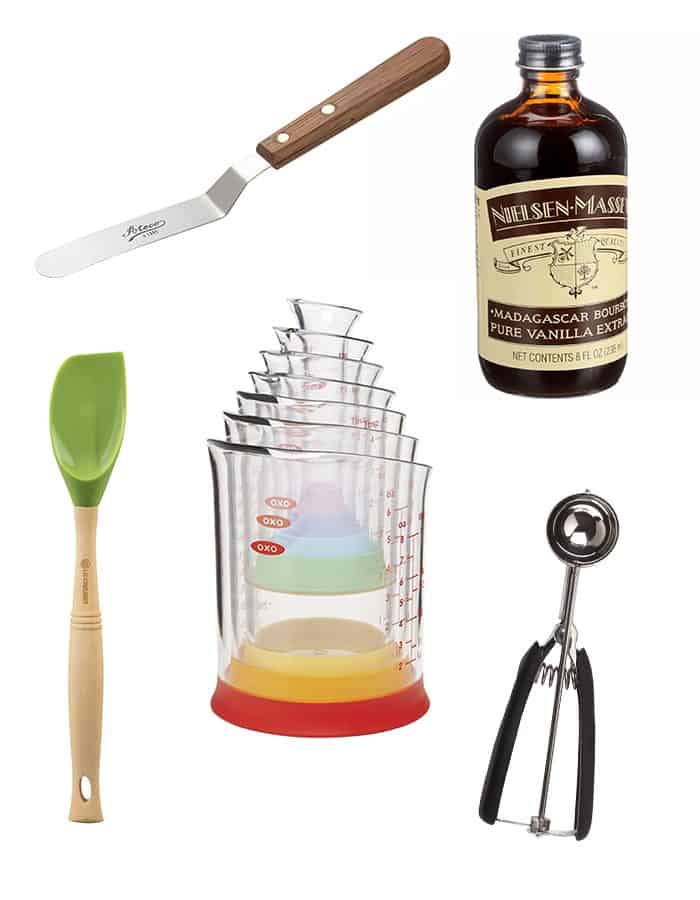 6. An offset spatula is perfect for slathering dreamy buttercream onto cake layers and cupcakes.
They're also great spreading ganache, icing and just about anything else you can whip up. I recommend purchasing a couple of sizes, so your has the perfect tool for any task.
7. One ingredient that I'm never run out of is pure vanilla extract. From cakes and cookies to ice cream and buttercream frosting, good quality vanilla extract is a must for anyone that loves to bake.
If your baker is well-stocked with vanilla, I also recommend lemon, almond, chocolate and peppermint extracts.
8. If you could see the inside of my baking tool drawer, you'd quickly realize that I am mildly obsessed with cookie scoops. Let's just say I have a pretty decent collection going on.
If the baker in your life is cookie lover, I definitely recommend a medium size scoop. It will allow them to create perfectly portioned and even cookies with ease.
If you love baking cupcakes, go with a large scoop for perfectly portioned cupcakes every single time you bake! These are a definite must-have for any baker.
9. The OXO Good Grips Liquid Measuring Cups are one of my favorite things in the kitchen. Instead of one measuring cup, I have 7, each with a non-slip base and clear, bold measurements that are easy to read. I can measure out all my liquid ingredients in advance, and just pour as I go. They're super easy to clean, because they're dishwasher safe!
10. Trust me when I say that you can never have enough rubber spatulas – especially if they're in bright and cheery hues! From scraping the sides of your mixing bowls to folding chocolate chips into brownie batter, rubber spatulas are a must have in any kitchen. And they just so happen to the perfect size for just about any stocking.