I'm guessing that you have caught on to the fact that I am not a big fan of beer; however, toss in some sugar and chocolate and I am all about it. These espresso stout cupcakes were inspired by an actual bottle of espresso stout beer I found at my local market.
Although it was $4.99 a bottle, I thought it would be the perfect addition to Stout Week and immediately placed it into my cart. Before baking the cupcakes, I had my buddy, Corey, taste a small sip of the beer to find out if the espresso note was detectable. He concluded that although it was slightly noticeable, it was definitely not overpowering.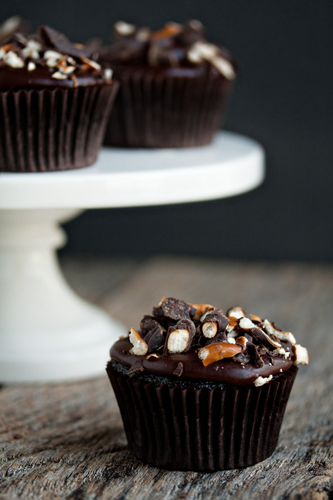 I pumped up the espresso factor by adding instant espresso granules to the batter. Espresso acts to intensify the flavors of cocoa and stout, without overwhelming.
I gave the cupcakes a quick dip in a pool of glossy ganache, but they still needed a little something. Sifting through my collection of cupcake decor, I had a moment of brilliance (however fleeting!) and remembered the bag of dark chocolate covered pretzels I'd stashed (read: hidden from myself) in the pantry.
Seriously, what goes better with beer than PRETZELS?

Stout Cupcakes with chocolate covered pretzels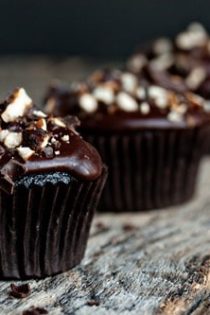 Ingredients:
For the cupcakes
1 (12-ounce) bottle stout (I used espresso stout)
1/2 cup milk
1/2 cup vegetable oil
1 tablespoon pure vanilla extract
2 teaspoons instant espresso granules dissolved in two teaspoons warm water
3 large eggs
3/4 cup sour cream
3/4 cup unsweetened dark cocoa powder (I used Hershey's Special Dark)
2 cups granulated sugar
2 1/2 cups all-purpose flour
1 1/2 teaspoons baking soda
For the Ganache
12 ounces good quality semisweet chocolate; chopped
1 cup heavy cream
1 teaspoon pure vanilla extract
Finishing Touches
Chopped chocolate covered pretzel twists
Fine grain sea salt
Directions:
For the cupcakes
1. Preheat the oven to 350°F. Line muffin tin with paper liners or spray with nonstick cooking spray.
2. In a large mixing bowl, combine the stout, milk, vegetable oil, vanilla and espresso.
3. Beat in the eggs, one at a time until thoroughly incorporated. Add in the sour cream and mix until combined.
4. In a large mixing bowl, whisk together the cocoa, sugar, flour, and baking soda. Gradually mix the dry ingredients into the stout mixture. Batter will be thin.
5. Bake for 18-22 minutes, until risen and set in the middle but still soft and tender. Cool completely on wire rack.
For the Ganache
1. Place chocolate in a large heat safe bowl. Set aside.
2. In a medium saucepan, heat heavy cream over medium heat until it just begins to boil. DO NOT walk away from the stove. The cream could boil over and you will be with a big mess to clean up.
3. Immediately pour hot cream over chocolate and let it sit for five minutes.
4. Begin stirring the cream with a wooden spoon or whisk starting in the center of the bowl and working your way outward. As you stir, you will see the cream and chocolate come together. Allow your ganache to cool for 15 minutes and stir in vanilla. Let ganache sit at room temperature for another 3-45 minutes before topping cupcakes.
To decorate cupcakes
Invert the top of the cupcake into the bowl of cooled ganache, use a spoon or offset spatula to spread evenly. Finish cupcakes with chopped chocolate covered pretzels and a tiny pinch of fine grain sea salt.
Notes:
- Cupcakes are best served the day they are made due to the fact that the pretzels will soften overnight.
- adapted from Dave Lieberman
All images and text ©
Follow Jamie on Instagram. We love to see what you're baking from MBA! Be sure to tag @jamiemba and use the hashtag #mbarecipes!