I purchased a bunch of really great strawberries from the market and I wanted to do something with them before they were past their prime. I did a little googling and came across a recipe on Martha Stewart's site for Sprinkles Strawberry Cupcakes. I am sure most of you are aware of Sprinkles Cupcakes, but if you are not, they are one of the first cupcake boutique~type bakeries in California. They offer a pretty extensive menu of flavors that rotates throughout the week. Sprinkles has become such a huge phenomenon, they now offer their mixes which can be purchased from their website or at Williams Sonoma and even have a Sprinklesmobile which delivers cupcakes in the Beverly Hills area.
Now on to the cupcakes…this recipe is very straight forward and easy to make. I put the strawberries in my Magic Bullet and had the strawberry puree done in a snap. The cupcakes baked up evenly and had a good texture. I found them to be a bit on the dry side, but Bri's co-workers raved over them!
The true star of these cupcakes was the frosting, which I adapted from the Sprinkles recipe. I threw in a brick of cream cheese in place of a stick of butter and made a few more minor adjustments. This frosting came out amazing and according to others tastes like homemade strawberry ice cream.
Although I believe the cupcake recipe needs a little tweaking, this frosting will remain a regular in my kitchen…I think it would be amazing on a layered cake or as a filling for strawberries! Thanks for stopping by…have a great day!
Click Here for the Cupcake Recipe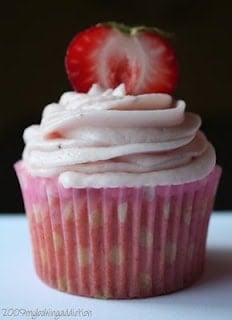 Strawberry Cream Cheese Icing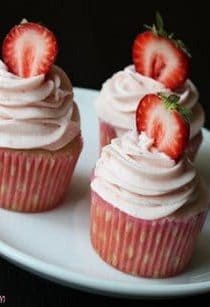 Ingredients:
1/2 cup whole strawberries
1 stick unsalted butter, firm and slightly cold confectioners' sugar, sifted
1 8-ounce package of cream cheese, slightly cold
1/2 teaspoon clear vanilla extract
4 cups confectioners' sugar, sifted
Directions:
Place strawberries in the bowl of a small food processor; process until pureed.
In the bowl of an electric mixer fitted with the paddle attachment, beat butter on medium speed until light and fluffy.
Add in the cream cheese and beat until combined.
Reduce mixer speed and slowly add confectioners' sugar; beat until well combined.
Add vanilla and 3 tablespoons strawberry puree (save any remaining strawberry puree for another use); mix until just blended.
Notes:
Do not overmix or frosting will incorporate too much air.
The frosting is able to be piped, but is on the soft side and definitely needs to be refrigerated!
Follow Jamie on Instagram. We love to see what you're baking from MBA! Be sure to tag @jamiemba and use the hashtag #mbarecipes!