[pinit]
Because I'm completely unoriginal and had a random box of Rice Krispies taking up space in my pantry, I present you with an incredibly simple dessert for your favorite sweetie.
I don't know what it is about Rice Krispie Treats that always make them a crowd favorite. Maybe it's the nostalgia factor – ya know of the old school commercial with the mom tossing flour on her face to give the impression that she slaved over a no bake dessert?
Or maybe it's the fact that they're oozing with melted marshmallows and butter – either way, they're always a welcomed dessert in my house.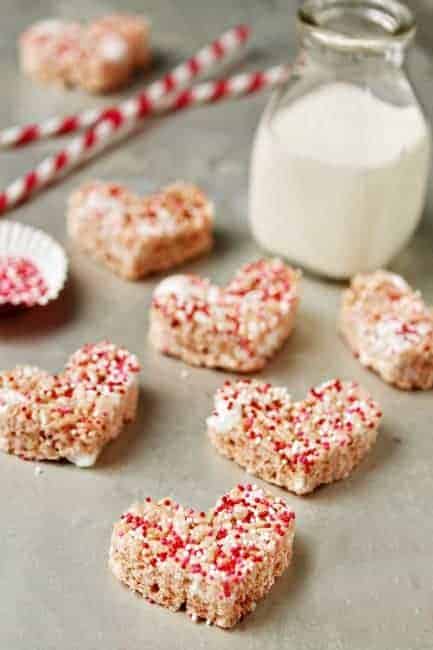 While wandering through the Valentine's Day section at Walmart, I happened upon a lonely bag of strawberry marshmallows. And since I simply cannot let a random food fad pass me by, I snatched up the bag immediately and tossed those puffy, pink, heart-shaped marshmallows into my cart.
And then they fell into the back of pantry and I forgot about them until I couldn't push the roll out shelf into place.
Obviously I had to do something with them, and Rice Krispie Treats seems like an obvious, if completely uninspired solution! Whether you're looking for a way to use up that random box of Rice Krispies or you want a last minute treat for your Valentine – Strawberry Rice Krispie Treats are sure to to bring a smile to your sweetie's face!
[pinit]

Strawberry Rice Krispie Treats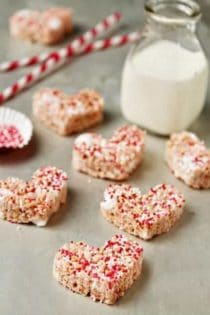 Ingredients:
3 tablespoons unsalted butter
1 8-ounce bag Kraft Jet-Puffed Strawberry Heart Mallows
1 teaspoon pure vanilla extract
5 cups Rice Krispies Cereal
festive Valentine's Day sprinkles
Directions:
1. Line a 9x13x2 inch baking pan with foil or parchment paper. Spray lightly with nonstick cooking spray.
2. In a large saucepan, melt butter over low heat. Add in marshmallows and stir until marshmallows are completely melted. Remove pan from heat and stir in vanilla extract. Add Rice Krispies and stir until well incorporated.
3. Using a silicone spatula sprayed with nonstick cooking spray, spread the mixture evenly into pan. If desired, sprinkle the sop with festive Valentine's Day inspired sprinkles. Allow treats to cool. If desired, cut treats out using a heart shaped cookie cutter. Enjoy!
Notes:
- Rice Krispie Treats are best served the day they are made.
All images and text ©
Follow Jamie on Instagram. We love to see what you're baking from MBA! Be sure to tag @jamiemba and use the hashtag #mbarecipes!