I've been so excited about this post since the moment I contacted Maria D., the winner of the American Express Dinner @ 6 contest. Maria's entry for Savory Stuffed Mushrooms was randomly selected as the winning appetizer out of over 350 submissions. I was thrilled with all of the entries and am so relieved that the winner was randomly selected – the recipes are all so incredible that there is no way that I would've been able to choose just one.
Maria's Savory Stuffed Mushrooms are loaded with flavor and disappeared from our Sunday barbeque within minutes. Baby Bella mushrooms are filled with a creamy mixture of goat cheese, cream cheese and roasted red peppers. They are then topped with Panko bread crumbs and Parmesan cheese and baked until golden brown.
Maria says that food has always been an integral part of her life, but never thought it would be a focal point. After starting her professional life with a Master's degree in Clinical Psychology, she felt stuck and decided to switch gears. Since she always loved food and cooking, she got a job at Trader Joe's (I love this store!).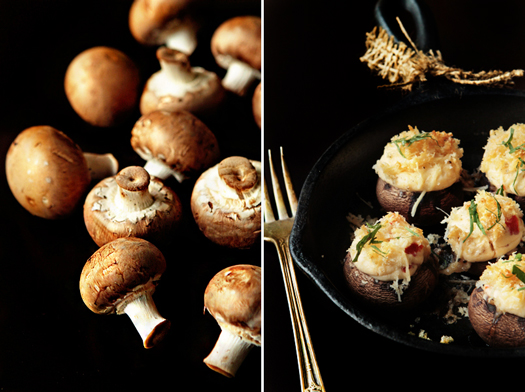 Maria found joy in her work because she was able to talk about food all day long, do food demonstrations, cook for the crew, and share recipes. She became the resident food and cooking nerd, but wanted to learn more about the business side of the industry. She decided to take some structured cooking classes so that she could beef up her technique and food knowledge. She ended up working in the sales department of the natural foods manufacturer, Earth Island, where she again gets to talk about food all day and be involved in the business side of it. Sounds like a win-win to me!
So let's talk about these Savory Stuffed Mushrooms
Maria's mother is a vegetarian and she created this recipe because she wanted to make her mom an appetizer that was really meaty, creamy and satisfying. Trust me, these mushrooms are definitely all of those things!
Give us your description of this recipe
"They are little nuggets of creamy richness! I love when they come out of the oven and the bread crumbs are nice and crisp and the cheese is bubbling. What's great is their versatility. You can serve them as an appetizer or you can turn them into a side dish if you use Portobello mushrooms."
Maria's Tips for Fool-Proof Stuffed Mushrooms
Make sure not to take too much out of the mushrooms when you are scooping out the gills. If you pierce the mushroom from the inside, the hot cheese mixture will run out during cooking. You also want to make sure that you don't run the mushrooms under water when you are cleaning them. Mushrooms are like little sponges and you don't want water-logged mushrooms.
A Little More About Maria
"I was raised on Greek food and it's very dear to my heart. My mother taught me her secrets on how to make the most delicious Greek food. Even though I love Greek food, I really enjoy Southern and classic American cuisine. Meatloaf, mac 'n cheese and fried chicken are some of my favorites. Whatever I make, I try to add my own Mediterranean flair.
Although Maria does not have a blog, you can find her on Facebook at My Big Fat Greek Kitchen.
Whether you serve these mushrooms at your next barbecue or as a starter for your upcoming holiday table, I think you and your guests will adore this recipe. It couldn't be more beautiful and satisfying.