The month of October seems to be exiting as quickly as it entered. Since autumn is definitely my favorite season here in Ohio, it saddens me to see the gorgeous leaves hitting the ground and the temperature rapidly descending.
The month of October is not just about the turning leaves, the warm sweaters, and the pumpkin baked goods. October is about something much bigger than those things.
It's the spreading of awareness about a disease that has probably impacted each and every one of us in one way or another.
For me, breast cancer is the disease that took my grandmother away thirteen years ago. It's a disease that I fear… a disease I hope to never fight.
Remember early detection is key – schedule your yearly breast exam!
Looking to make a difference? Check out the Susan G. Komen for the Cure site to find out how to contribute to Breast Cancer Awareness.
Check out Cupcake Bites, and make sure to get some Breast Cancer Awareness Sprinkles! Seriously, how cute are they?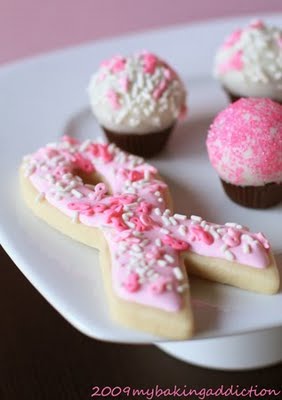 Pretty in Pink Sugar Cookies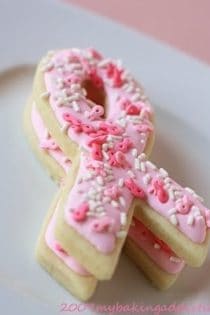 Ingredients:
1 1/2 cups butter, softened
2 cups white sugar
4 eggs
1 teaspoon vanilla extract
5 cups all-purpose flour
2 teaspoons baking powder
1 teaspoon salt
Directions:
1. In a large bowl, cream together butter and sugar until smooth. Beat in eggs and vanilla. Stir in the flour, baking powder, and salt. Cover, and chill dough for at least one hour (or overnight).
2. Preheat oven to 400°F (200°C). Roll out dough on floured surface 1/4 to 1/2 inch thick. Cut into shapes with any cookie cutter. Place cookies 1 inch apart on ungreased cookie sheets.
3. Bake 6 to 8 minutes in preheated oven. Cool completely.
Notes:
- Sugar Cookie Icing can be found on the Hungry Housewife. I like it… I like it a lot! Check out Leslie's post, she has some fabulous tips for sugar cookies!
Follow Jamie on Instagram. We love to see what you're baking from MBA! Be sure to tag @jamiemba and use the hashtag #mbarecipes!
[pinit]