I've talked to you before about how obsessed my family is with Girl Scout cookies. Those tiny she-devils with badge-laden sashes are too hard to resist, I tell you. Visions of Thin Mints and Tagalongs start filling my dad's dreams as soon as we're done with New Year's Day festivities.
This is also one of those situations where our eyes are definitely bigger than our stomachs. We tend to buy so many boxes among the family (That's four households: Jared, my mom, my dad, and me), that there are a ton of boxes left over long after the novelty of availability has worn off.
What do I do to solve this overabundance of Girl Scout Cookie goodness? Cupcakes, of course! Tagalong Cupcakes!
C'mon, you know me by now. If I can turn it into a cupcake, I will.

These cupcakes came courtesy of Dad and Jared though, because Brian refused to ante up our boxes of Tagalongs for any cupcake shenanigans. He wanted to eat his Tagalongs and be left in peace. (Good luck with that!)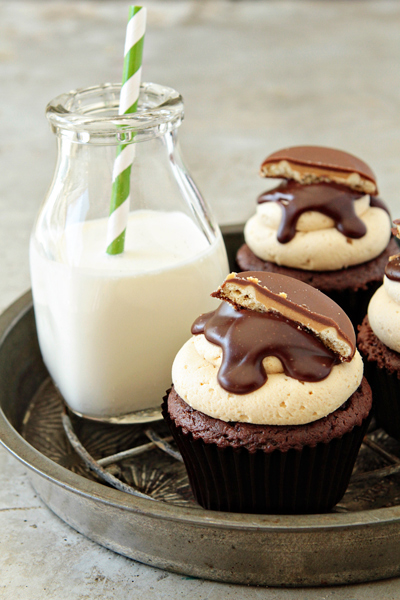 You'll really love this recipe because no matter the flavor of Girl Scout cookies you have in Spades, this cupcake recipe can be adapted to it. Of course, I'm partial to the peanut buttery goodness of Tagalong Cupcakes, but Samoas, Thin Mints and Trefoils are all fair game here.
That is, if you actually have any leftover Girl Scout cookies. Though a little birdie tells me Keebler makes copycat versions of most of our favorites, so you can make these year round! Bonus.

Tagalong Cupcakes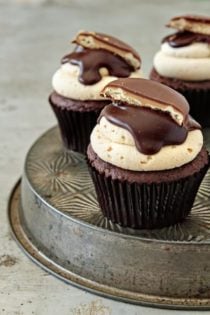 Ingredients:
For the Cupcakes
1 (18.25 ounce) package devil's food cake mix
1 (5.9 ounce) package instant chocolate pudding mix
1 cup sour cream
1 cup vegetable oil
4 eggs, lightly beaten
2 teaspoons pure vanilla extract
1 tablespoon instant espresso granules dissolved in 1/2 cup warm water or 1/2 cup warm coffee
36 Tagalong Cookies (24 for cupcake centers; 12 (each cut in half) for garnish
For the Peanut Butter Buttercream Frosting
3 sticks unsalted butter, softened
1 cup creamy peanut butter
2 tablespoons vanilla extract
2 pounds confectioners' sugar, sifted
6-8 tablespoons heavy cream (if using milk, amount will be less)
For the Chocolate Glaze
4 oz bittersweet chocolate, chopped into very small pieces
1/2 cup heavy cream
2 tablespoons honey
2 tablespoons light corn syrup
2 teaspoons pure vanilla extract
Directions:
For the Cupcakes
1. Preheat oven to 350 degrees F. Line muffin tin with paper liners or spray with non-stick cooking spray.
2. In the bowl of a stand mixer or a large bowl with a hand mixer, add the cake and pudding mixes, sour cream, oil, eggs, vanilla and espresso water mixture or coffee. Mix on medium speed for about 2 minutes until all ingredients are well combined and the batter is mostly smooth.
3. Spoon about 2 tablespoons of batter into 24 cupcake wells. Add a Tagalong (or any Girl Scout) cookie on top of the batter. Cover the cookie with one more tablespoon of batter in each well.
4. Bake in preheated oven for 18-22 minutes or until the tops of the cakes spring back when lightly touched. Allow cupcakes to cool inside muffin tins for about 10 minutes.
5. Remove cupcakes from muffin tins and allow to fully cool on a wire rack. Once cupcakes are cool, prepare your frosting.
For the Peanut Butter Buttercream Frosting
1. In a large bowl with a hand mixer, or the bowl of a stand mixer, cream butter and peanut butter on medium speed until fluffy. Turn your mixer down to low speed and slowly add in the confectioner's sugar, and continue mixing until well blended.
2. Add vanilla and 4 tablespoons of heavy cream. Blend on low speed until moistened. Add an additional 1 to 4 tablespoons of heavy cream until you reach the desired consistency. Beat at high speed until frosting is smooth and fluffy
3. Pipe frosting onto cooled cupcakes.
For the Chocolate Glaze
1. In a small saucepan over medium heat, warm the heavy cream until very hot. Do not boil.
2. Place chocolate pieces in a glass bowl. Pour the hot cream over the chocolate and allow it to sit for about 5 minutes. Whisk the cream and chocolate until smooth and thoroughly combined. Whisk in the honey, corn syrup, and vanilla. Allow to cool for about 15 minutes. Do not let the glaze sit for too long or it will harden up before you spoon it over the frosting.
3. Spoon the glaze on the tops of the frosted cupcakes, allowing it to drip down the sides a little bit. Don't add too much glaze or it will drip all over your liners.
4. Top with half a Tagalong (or any Girl Scout) cookie before the glaze hardens, otherwise it will crack when you insert the cookie.
Notes:
- My favorite cake mix for this recipe is Betty Crocker Devil's Food Cake with Pudding in the mix. You will still add the additional box of pudding.
- If you don't have instant espresso granules, you can sub in 1/2 cup warm coffee.
- The espresso in this recipe really just deepens the chocolate flavor, but if you aren't into the whole coffee thing, just use 1/2 cup warm water.
- Frosting was piped onto cupcakes using the large round tip from Bake It Pretty.
- Cupcakes are best served the day they are made, but will store in a sealed container within the refrigerator for two days.
All images and text ©
Follow Jamie on Instagram. We love to see what you're baking from MBA! Be sure to tag @jamiemba and use the hashtag #mbarecipes!
[pinit]