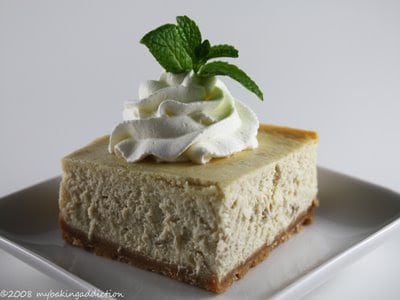 This week's Tuesdays with Dorie recipe was chosen by Anne of AnneStrawberry. Anne selected Dorie's recipe for Tall and Creamy Cheesecake. If you frequent my blog, you know I love cheesecake and have made my fair share of them. I was going to skip this week's recipe simply because I was not feeling cheesecake at the present moment. However, I started thinking about variations and read through Dorie's "playing around" section, but still none of those really did it for me either. Then I remembered a few weeks ago, the boyfriend suggested/requested that I make a banana cream pie, but I never got around to it. I thought this might be the perfect opportunity to combine two of his favorite desserts and decided to attempt a Banana Cream Cheesecake.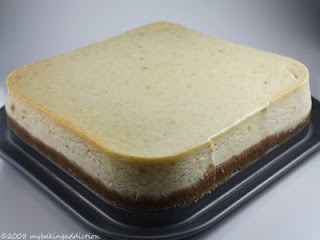 Here is what I did differently…
1.) I used Nilla Wafers for the crust (2 cups crushed plus 6 TBS melted butter)
2.) I added two mashed bananas to the batter
3.) Added 2 TBS of cornstarch from the batter
4.) Used only 3/4 cup sugar
5.) Used only 1/2 cup of heavy cream
I really loved the way this turned out. The banana flavor was subtle yet delicious and the vanilla wafers complimented the cheesecake perfectly. I will definitely make this recipe again and again. PLUS I got to use my nifty square springform pan for the first time. I have never seen these in stores, but target seems to carry a few shapes online. Click here for the one I bought. Also…here is a tip for those of you that had problems with water seeping into your springform pan from the bain–marie…I wrap my pan in foil then place the pan into an oven bag before placing into the bain-marie. Oven bags are an inexpensive way to ensure no water seeps your springform pans!

For the original recipe check out Anne's wonderful blog or flip to pages 235-237 in Dorie's book, Baking: From My Home to Yours.
Up Next…My very daring New Year's Day Yule Log!!