For as long as I can remember, I've always looked forward to Girl Scout Season for one simple reason: Thin Mints. Although they aren't the most sophisticated of cookies, they remind me of my dad and his lifelong love affair with these crisp, chocolate bites of minty goodness. I remember him ordering huge quantities of cookies and shoving our freezer full of those green boxes.
When we were kids, Jared and I much preferred the peanut butter sandwich cookies and could easily polish off an entire box in one afternoon. In fact, those Do-si-dos are one of the only ways that I am able to down milk without it being poured on cereal.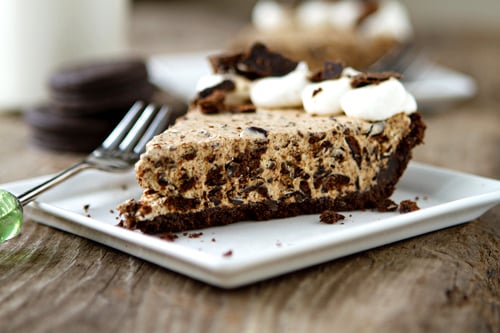 As I grew older, my tastes sophisticated (hah!) and chocolate with mint has become one of my favorite ways to enjoy chocolate. So when my co-worker presented me his daughter's Girl Scout order form, I took a cue from my dad and decided to stock pile some Thin Mints in hopes of using them as a base for a few desserts here on MBA. Yeah, I'm pretty certain that I bought more than I'll actually incorporate into baked goods, but it's pretty easy to write a check when it means support for a good cause. I've actually tried it hide the remaining cookies from myself, but that's not working out so well… I can't imagine why!
This pie truly couldn't be more simple. It's a no bake recipe, which is always a bonus when a weekday craving hits. This Thin Mint Pie recipe starts out with a Thin Mint crust which is a seriously amazing foundation for a layer of cream cheese filling that is brimming with chopped Thin Mint Cookies. Top each slice with a dollop of whipped cream a few more cookie crumbs and you'll be well on your way to enjoying a slice of minty bliss.
Links to More Girl Scout Cookie Inspired Recipes:
Tagalong Trifles from My Baking Addiction
Homemade Do-si-dos from Food For My Family
Samoa Truffles from Confessions of a Cookbook Queen

Thin Mint Pie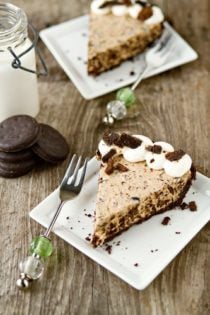 Ingredients:
45 Thin Mint Cookies, divided use
1/4 cup (1/2 stick) butter, melted
1 pkg. (8 oz.) cream cheese, room temperature
1/3 cup sugar
8 ounces thawed Cool Whip Topping
Directions:
1. Place 24 Thin Mints into the bowl of a food processor and pulse until the cookies have been crushed into fine crumbs; mix with butter until well blended.
2. Press firmly onto bottom and up sides of 9-inch pie plate. Refrigerate crust while preparing filling.
3. Coursely chop the remaining (21) cookies; set aside. Beat cream cheese and sugar in medium bowl with electric mixer on medium speed until light and fluffy. Add chopped cookies and whipped topping; folding gently until well blended. Spoon into prepared crust.
4. Refrigerate at least 2 hours or until firm. Garnish with whipped topping and additional cookie crumbs.
Notes:
- Pie will store covered in the refrigerator for up to two days.
- If you don't have access to Thin Mints, Mint or Plain Oreos can be substituted or Keebler makes their own version, called Grasshoppers.
- Recipe adapted from Kraft.
All images and text ©
Follow Jamie on Instagram. We love to see what you're baking from MBA! Be sure to tag @jamiemba and use the hashtag #mbarecipes!