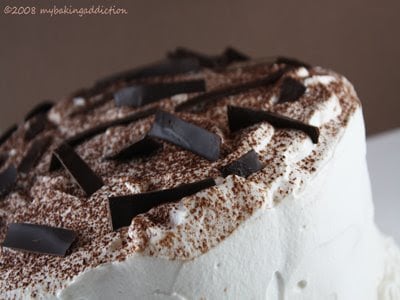 In my opinion, it is a bit early to start Christmas baking, so I am in a slight baking rut. When this happens I usually browse
tastespotting
or
foodgawker
, but sometimes I just do random google searches. Through one of these rut removal searches, I came across a recipe for a Tiramisu Layer Cake. Now, let me start by saying that this cake does use a boxed white cake mix; however do not "x" out of my page just yet because this liquor infused dessert is a real show stopper. After reading a bunch of the reviews, I made some slight changes to the recipe…basically I added more booze! This cake was quite easy to prepare and the results were amazingly delicious…this is a great alternative to traditional tiramisu. Also, it would look gorgeous on any holiday dinner table!
1. Add more liquor where ever it is called for!
2. I could not find mascarpone cheese at my grocery store, so I subbed it out with 8 oz. cream cheese, 3 tablespoons sour cream and 2 tablespoons heavy whipping cream. This worked out just fine at a fraction of the cost and without the hassle of traipsing around N.W. Ohio in search of cheese.
3. In step one, I dissolved the instant coffee granules in 2 teaspoons of hot water…I thought the granules may make it grainy.
4. I increased the frosting by 1/2 because, well, I like frosting!