Earlier in the month I told you about my teaming up with Truvia® Baking Blend to come up with some fun new recipes that might not impact your waistline quite so drastically come January.
Today I'm excited to share with you a truly delectable recipe – Gingerbread Sandwich Cookies with Cinnamon Cream Cheese filling has holiday baking written all over it. From festive spices to beautiful presentation Santa would be oh-so-happy to see next to the tree, these cookies have got it all.
The cookie itself is a delicate dough that provides a slightly soft bite. I adapted the recipe from Truvia®'s own catalog of recipes directly, but changed up the cookie texture because I didn't love the idea of filling oozing out of a crispy cookie. I think you'll really like the texture these little guys offer.
Then there's the filling. Let's be honest: sandwich cookies are always about the filling. Cinnamon cream cheese tucked inside gingerbread will not disappoint your palate, or Santa's.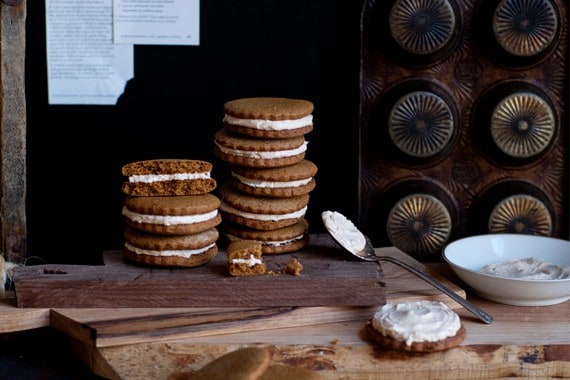 But truly, my favorite thing about these cookies is that they're made with Truvia® Baking Blend – so they have much less sugar – without compromising taste OR texture. And I don't know about you, but I'd rather not have my belly resemble a bowl full of jelly, and baking with Truvia® Baking Blend could have an impact on that.
What kind of cookies are you leaving out for Santa this year?
Disclosure: My Baking Addiction has teamed up with Truvia to develop recipes using Truvia® Baking Blend. This is a sponsored post written as part of that program. All opinions about Truvia Baking Blend are my own.
[pinit]

Gingerbread Sandwich Cookies with Cinnamon Cream Cheese Filling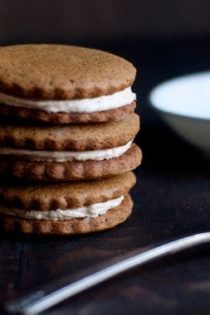 Ingredients:
For the Cookies
1⁄4 cup Truvía® Baking Blend
1⁄2 cup butter
1 1⁄4 tsp ground ginger
1 1⁄2 tsp ground cinnamon
1⁄4 tsp ground cloves
1⁄4tsp salt
1 tsp baking soda
1⁄4 cup molasses
1 large egg
2 cups all-purpose flour
For the Filling
8oz of Neufchâtel cheese (or reduced fat cream cheese), softened
1/2 cup of Truvía® Baking Blend
1 teaspoon of cinnamon
Directions:
For the Cookies
1. In a large bowl, whisk together flour, baking soda, salt and spices. Set aside.
2. In the bowl of a stand mixer fit with the paddle attachment, cream together Truvía® Baking Blend and butter on medium speed for 2 minutes or until light and well blended.
3. Add molasses and egg and beat for another 1-2 minutes until well blended.
4. With the mixer on low, gently add dry ingredients to butter mixture. Mix until just combined.
5. Divide mixture in half and form into two discs. Wrap discs in plastic wrap and refrigerate for 30 minutes.
6. Preheat oven to 350°F. Line baking sheets with parchment paper and set aside.
7. On a lightly floured surface, roll the dough out (one disc at a time) to 1/4 inch thickness. Using a 2 1/2 inch round cutter, cut out cookies. Use a thin metal spatula to gently lift the cookies off of the rolling surface.
8. Place the cookies about 1-2 inches apart on prepared baking sheets. Bake for 10-12 minutes or until golden at edges.
9. Allow the cookies to cool for 2 minutes on baking sheet and then transfer them to wire racks to cool completely.
For the Filling
1. In the bowl of a stand mixer, beat together cream cheese, Truvía® Baking Blend and cinnamon on high speed until light and fluffy, about 3-4 minutes.
For Assembly
1. Place 1 tablespoon of filling on one cookie.
2. Top with another cookie and press gently.
3. Repeat until all sandwiches are made.
4. Serve immediately or store cookies in the fridge for up to 1 day.
Notes:
- The cookies can filling can be made up to 3 days ahead of time and stored separately (filling in the refrigerator, cookies at room temperature).
- Sandwich cookies can be assembled up to 1 day ahead of time and stored in the refrigerator.
Follow Jamie on Instagram. We love to see what you're baking from MBA! Be sure to tag @jamiemba and use the hashtag #mbarecipes!