Tuesday with Dorie? Well…not exactly!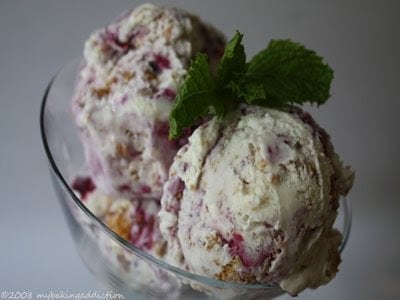 This week's TWD recipe was Blueberry Sour Cream Ice Cream. The blueberry part sounded great, the sour cream part…not so much. The thought of sour cream in my ice cream kinda made me gag a little, so I looked to my good friend Em and allrecipes. Em and I decided to skip this week's TWD recipe and instead do something along the same lines, but sans the sour cream. We located this scrumptious recipe for Blueberry Cheesecake Ice Cream and decided to go with it. The outcome was a delicious creamy cheesecake flavored ice cream with beautiful swirls of blueberries and yummy pieces of graham cracker crust. Check out Em's blog by clicking here to see her strawberry cheesecake version. If ya want the real Dorie recipe check out Delores' blog at Chronicles in Culinary Curiosity, if ya want the Dorie substitute from allrecipes, click here! Enjoy!

This post may contain affiliate links. We are a participant in the Amazon Services LLC Associates Program, an affiliate advertising program designed to provide a means for us to earn fees by linking to Amazon.com and affiliated sites.