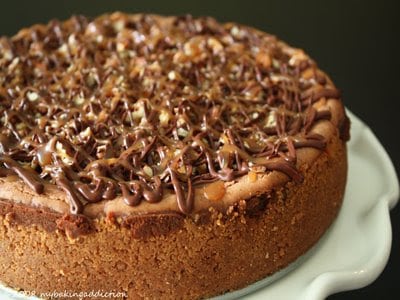 Rarely do I feel impressed with myself, but I was super proud of this cheesecake. I made this for Thanksgiving because my little bro, Jared, does not dig anything pumpkin or pecan, but he loves some cheesecake. This recipe was a first for me, but the thought of a turtle cheesecake sounded delicious to me. I turned to the

Internet

to find a recipe and settled on one from

recipezaar

. My favorite part of this cheesecake was the vanilla wafer crust and the layer of caramel and pecans that was poured onto the crust. This cheesecake was amazing…but next time I make it, I think I will leave the chocolate out of the cheesecake batter because I prefer plain cheesecake to the chocolate variety. I drizzled some caramel and melted chocolate on top and threw on some chopped pecans. If you love cheesecake, make this one…it will make your holiday season a little more delicious!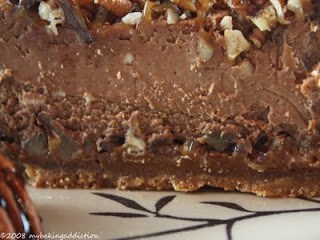 Check out the caramel layer above the crust!!!
Turtle Cheesecake
Adapted from

RecipeZaar



Ingredients
2 cups vanilla wafer crumbs
1/2 cup butter or margarine, melted
1 (14 ounce) package caramels
1 (5 ounce) can evaporated milk
2 cups chopped pecans, toasted and divided
4 (8 ounce) packages cream cheese, softened
1 cup sugar
2 teaspoons vanilla extract
4 eggs
1 cup semisweet chocolate morsels, melted and slightly cooled
whipped cream(optional)

Directions
1. Combine crumbs and butter; blend well.
2. Press into the bottom and 2 inches up the sides of a 10-inch

springform

pan.
3. Bake at 350 degrees for 8-10 minutes or until set; cool.
4. In a saucepan over low heat, melt caramels in milk, stirring until smooth. Cool 5 minutes.
5. Pour into crust; top with 1 1/2 cups of pecans.
6. Freeze for 15 minutes so ensure layer does not mix in with cream cheese layer.
7. In a mixing bowl, beat cream cheese until smooth.Add sugar and vanilla; mix well.
Add eggs, one at a time, beating well after each addition. Add chocolate; mix just until blended.
8. Carefully spread over pecans.
9. Bake at 350 degrees for 55-65 minutes or until filling is almost set.
10. Cool to room temperature. Chill overnight.
11.

Garnish

with drizzled chocolate, caramel, remaining pecans and whipped cream if desired.