Turtle Fudge is rich, delicious and the perfect addition to any holiday dessert plate. The decadent layer of caramel and pecans makes it absolutely irresistible.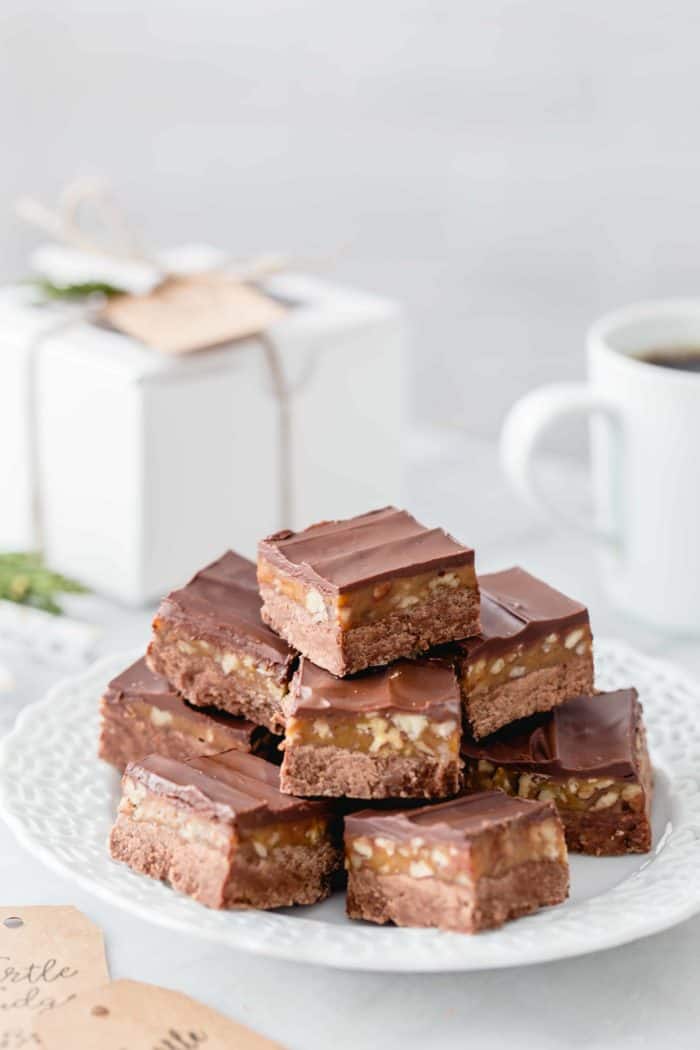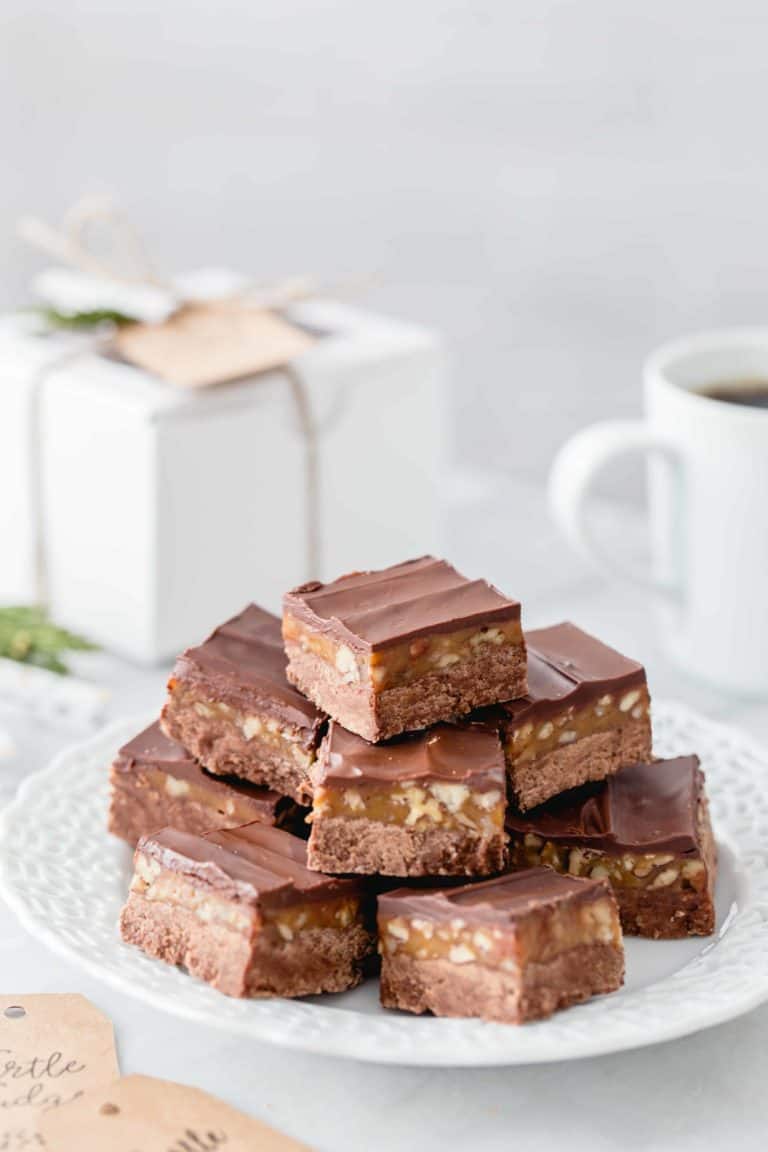 Are holiday cards still a thing? I'm one of those people that goes a little overboard in the holiday card department, but this year I'm a totally behind and still staring at a stack that needs to be sealed and mailed off tomorrow morning.
By overboard, I mean a pretty card featuring no less than three festive pictures of my sweet babe, complete with matching envelope liners, address labels, and stamps.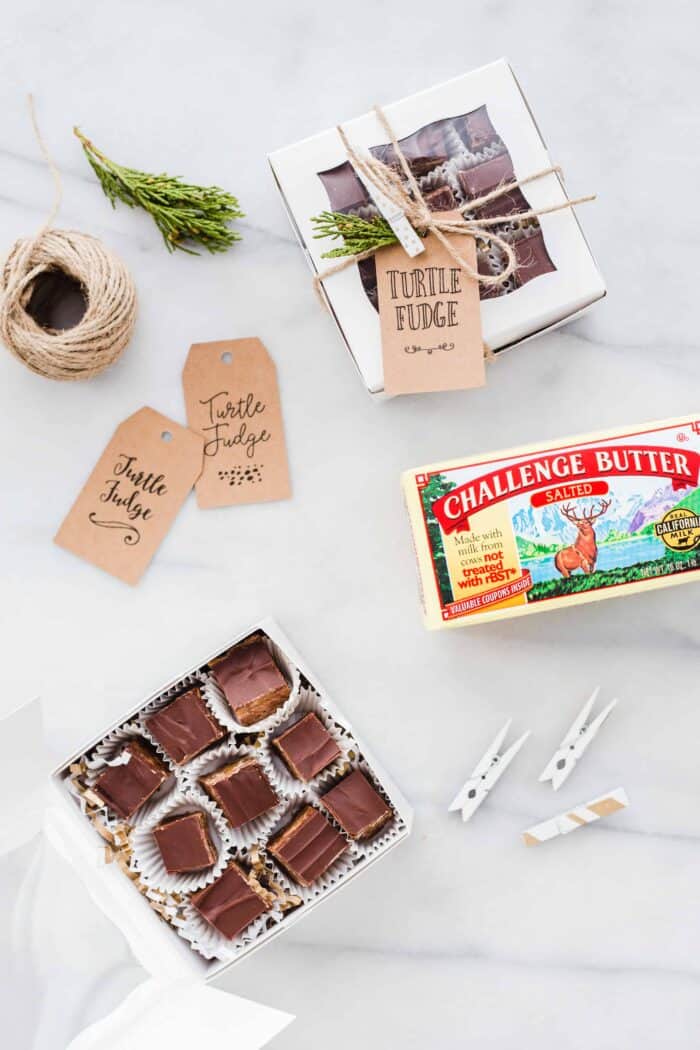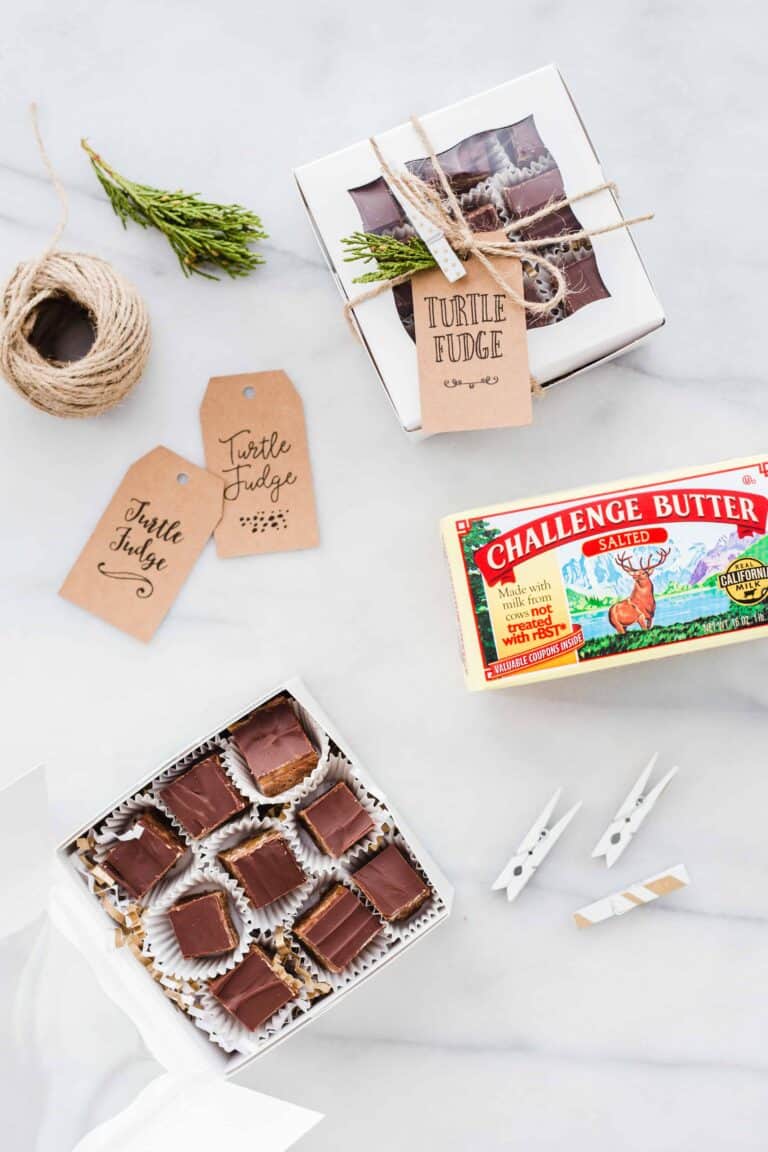 Okay, as I'm typing this, I can see that it sounds a bit more than a little overboard, but I've always been such a sucker for a beautiful card – even if most of them end up in the trash by the end of the month.
My friend and neighbor, Heather, just so happens to be a hobbyist photographer and had no qualms with braving the brisk Ohio air to make my buffalo-plaid-holiday-card-dreams a reality.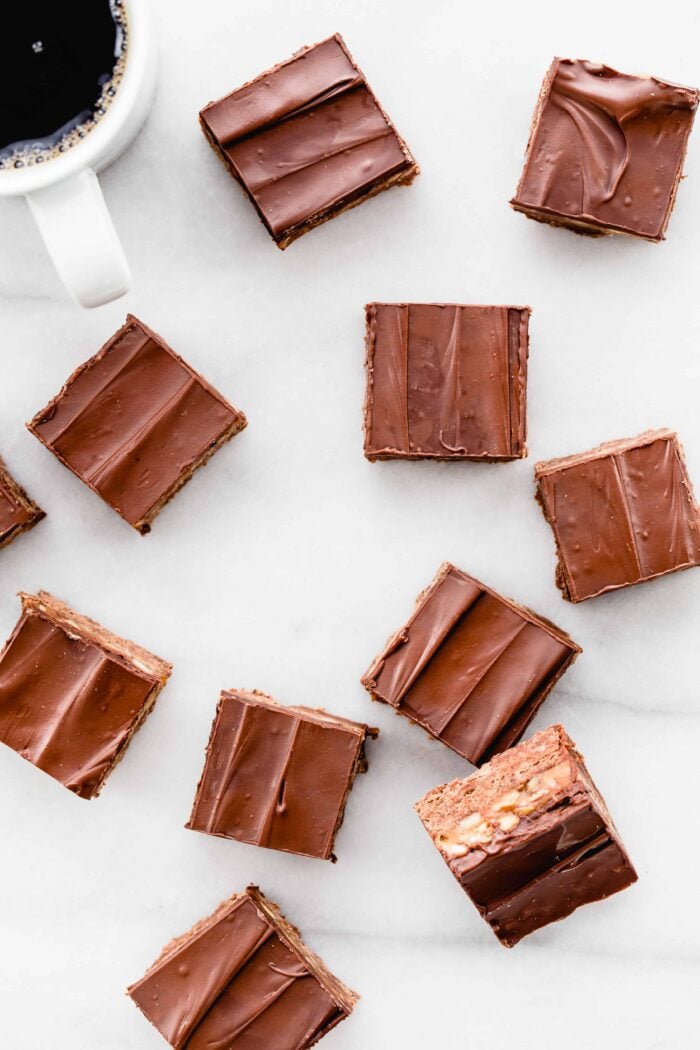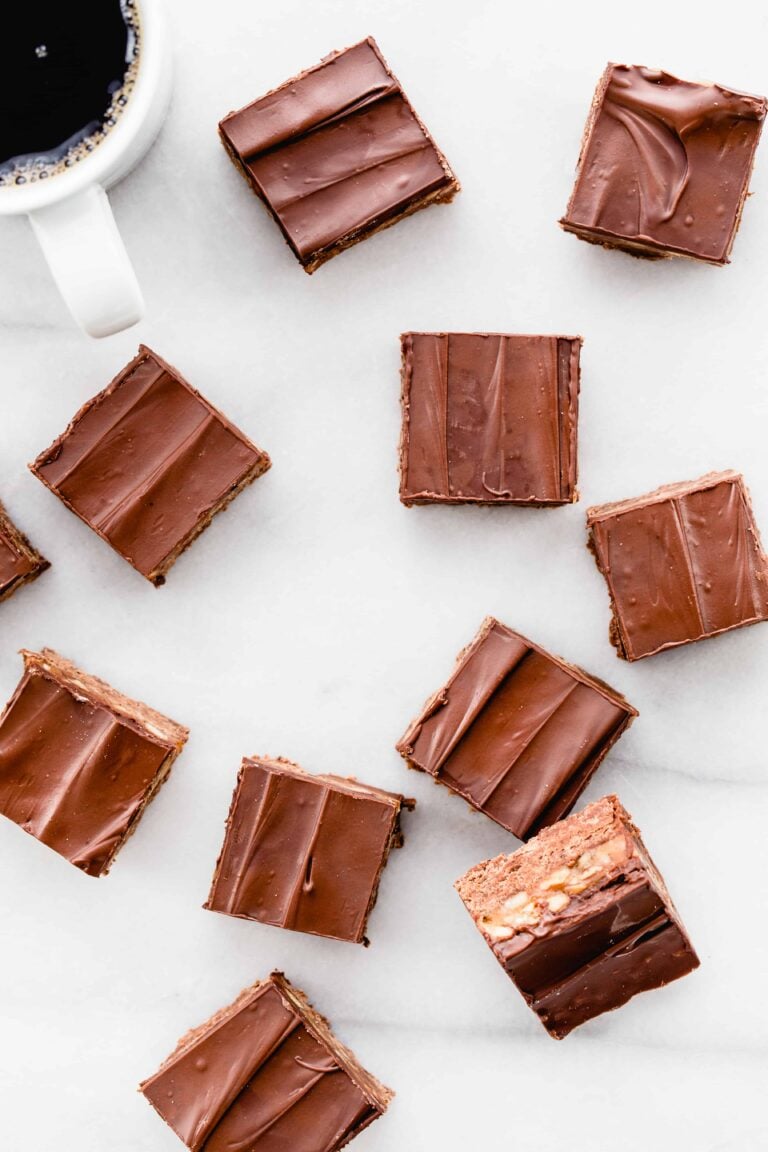 Elle and Heather's little one happen to be the best of friends, so the photo shoot was a complete breeze. Heather even captured a few shots of the girls together, and they turned out totally adorable.
Next year, I'm vowing to start them a little sooner than, oh ya know, a week before Christmas.
So tell me, do you send out cards, or are they just one of those things you don't bother with anymore?
I feel like we've only received a handful this year, but maybe people are crazy behind with all things holiday-related like I am.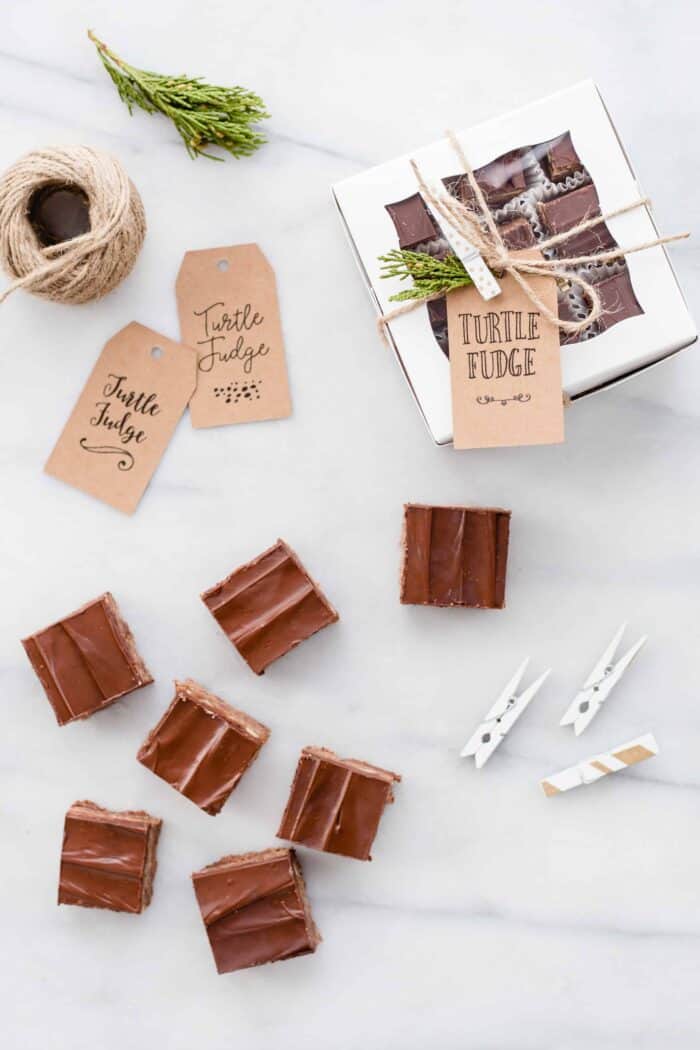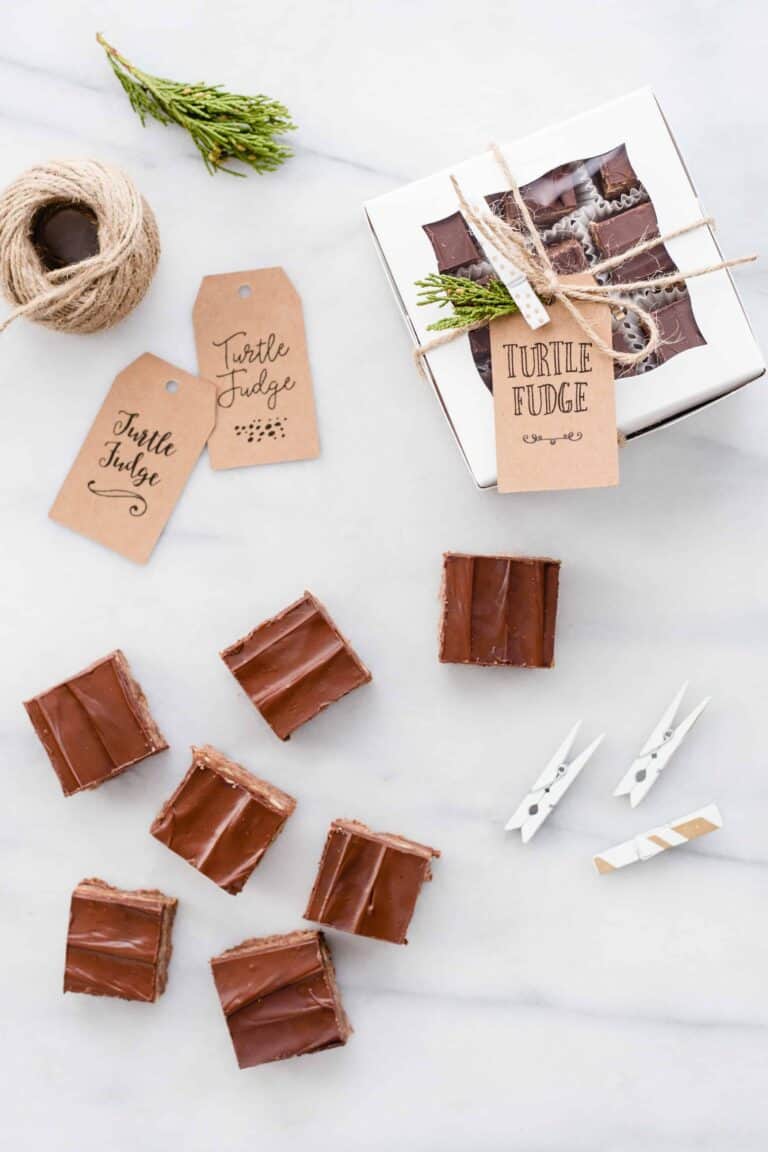 One thing I'm not behind on is my holiday treat list, which seems to grow longer by the day. Now, let's be real here, even though there are no less than 15 items on this list, I'll probably only end making 5-6 things.
I thought about having a cookie exchange to lessen the baking load, but that means I'd have to clean my house, put on real pants and actually appear to be somewhat organized.
And you guys, I just can't right now. I need to save that kind of energy and pants-wearing for Christmas Day.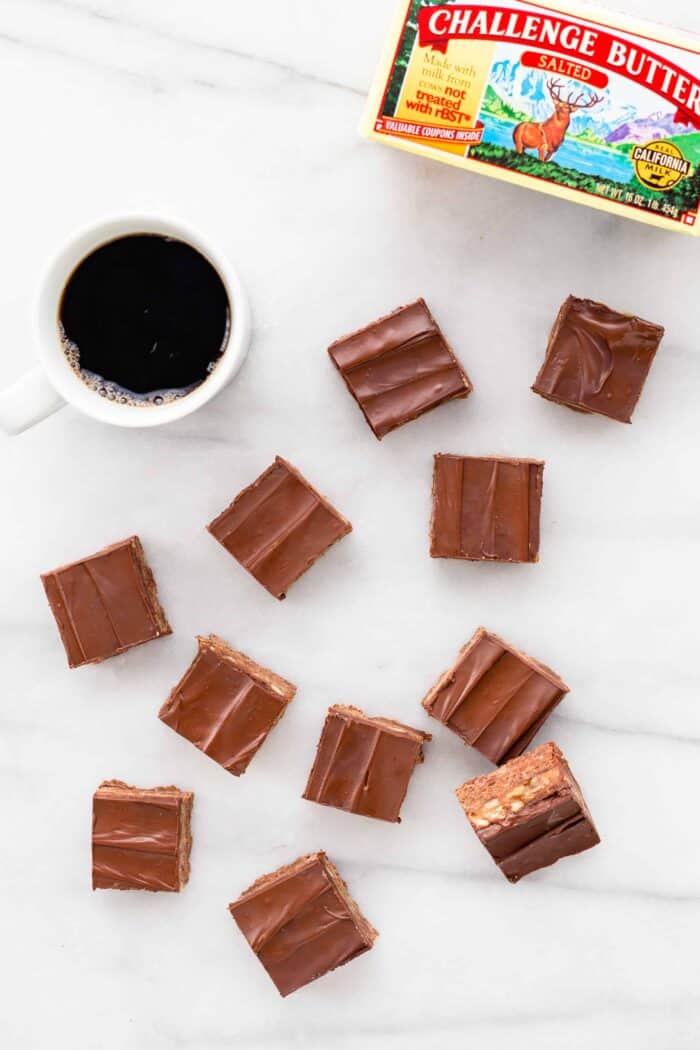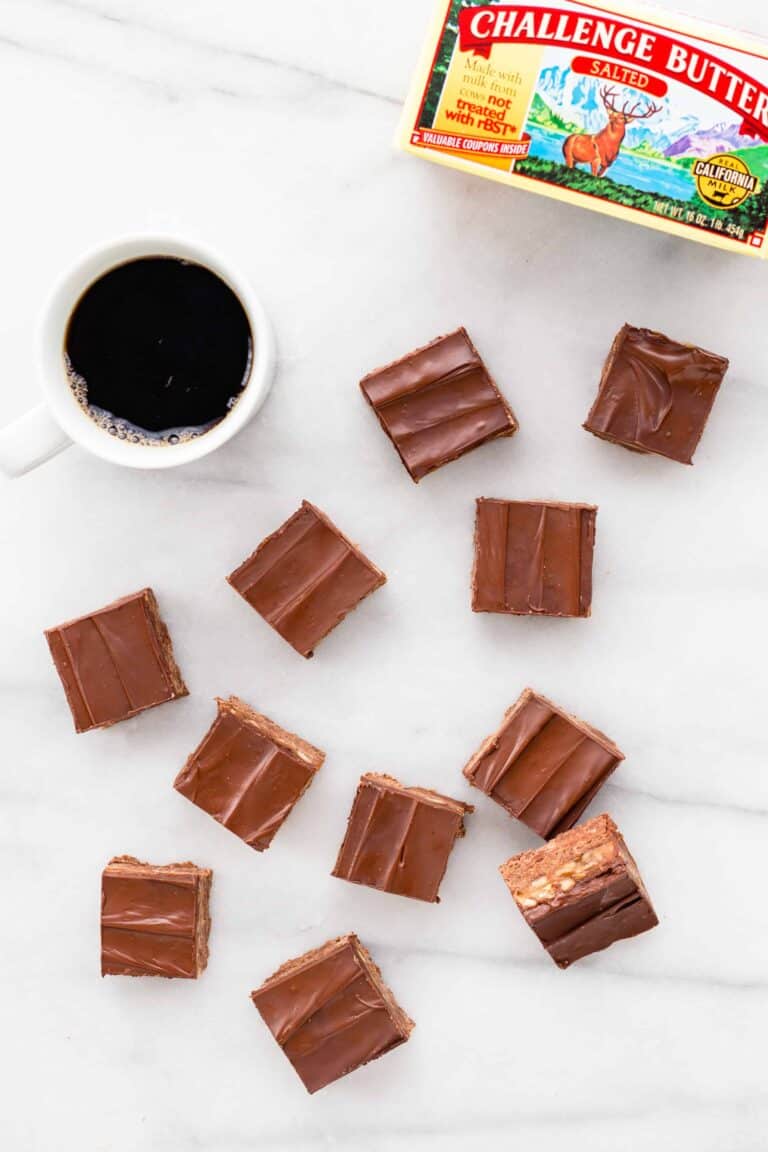 Every holiday season, I like to make a simple chocolate fudge topped with festive sprinkles, but this year, I decided to up my game with this Turtle Fudge.
A layer of rich chocolate fudge is topped with gooey caramel and crunchy pecans. And then I topped that with a layer of melted dark chocolate because more is always more!
One thing I've learned throughout my years of making fudge is that using high quality ingredients makes all the difference. From the chocolate and vanilla to the butter, better ingredients definitely creates better tasting fudge!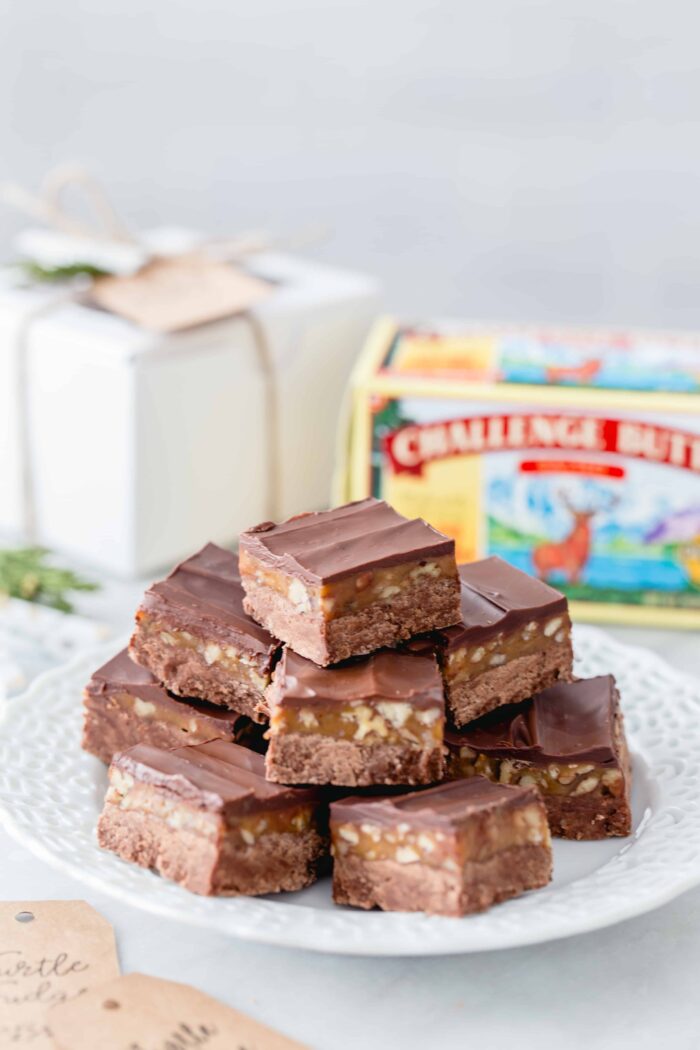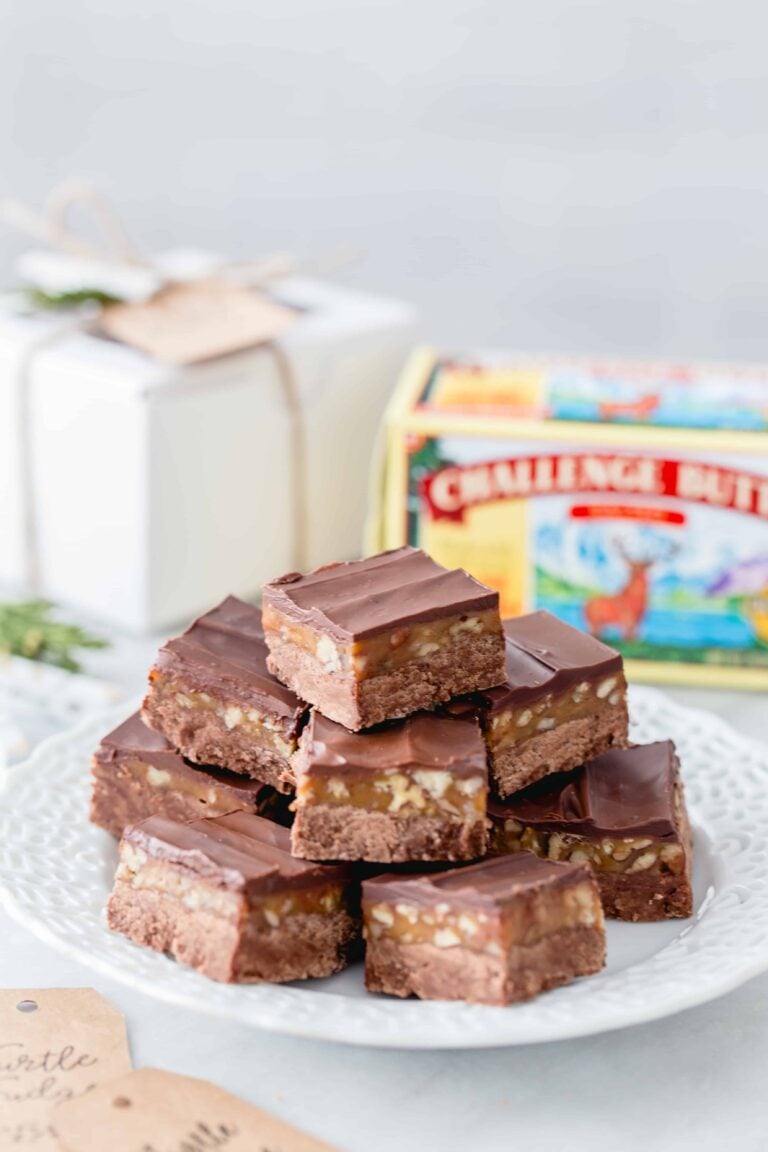 I made this Turtle Fudge using Challenge Dairy butter. I love working with their products, which is why I've partnered with them for over three years!
Challenge Butter is made the old fashioned way, from the freshest milk and cream from happy cows at local dairies.
They're the only dairy product company that controls the whole process from milking the cows, to transporting milk, to making the butter, to packaging. And that's something I can always get behind!
Oh, and if you're a cream cheese lover like I am, you seriously have to try theirs. It's the creamiest on the market!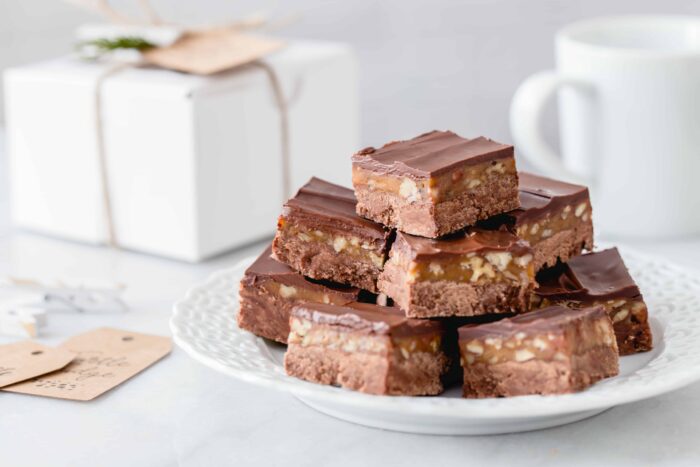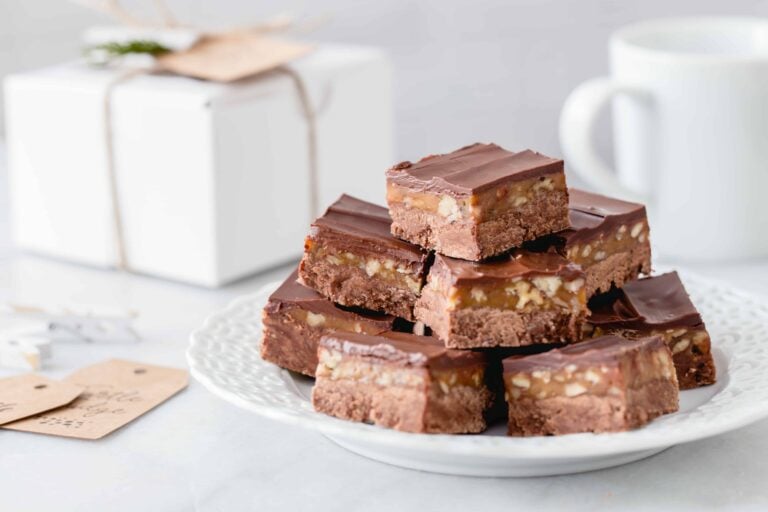 The great thing about this fudge is that since it's so rich, you can cut it into a ton of servings. Just add liners, a simple box, a cute tag with a touch of greenery and you're good to go!
Who wouldn't be happy with this delicious homemade gift?
Whether you're whipping this Turtle Fudge up for your holiday cookie swap, your neighborhood bestie, or your hard-working delivery man (he's delivered no less than 100 packages to my house in the last week), they are sure to love every single bite of this gooey treat!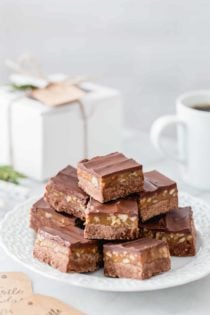 Ingredients:
For the Fudge Layer
1/2 cup salted Challenge Butter
1/4 cup packed light brown sugar
1/3 cup unsweetened cocoa powder
1/4 cup evaporated milk
3 cups powdered sugar, sifted
For the Caramel Layer
30 caramels, unwrapped
2 tablespoons evaporated milk
pinch salt
1 teaspoon pure vanilla extract
1 1/2 cups chopped toasted pecans
For the Topping
1 cup dark chocolate chips
Directions:
Line an 8-inch square baking pan with parchment or foil. Lightly spray the pan with nonstick cooking spray. Set aside.
In a medium saucepan over medium heat, stir together butter, brown sugar, cocoa powder and 1/4 cup of evaporated milk. Heat until mixture just comes to a boil. Remove from heat. Use a rubber spatula to stir in the powdered sugar until fully incorporated and mixture is smooth with no visible sugar lumps.
Use a rubber spatula to spread the fudge into an even layer in the prepared pan.
In another medium saucepan over low heat, melt caramels and 2 tablespoons of evaporated milk, stirring often until the mixture is completely melted and smooth. Remove from heat and stir in the salt, vanilla and pecans.
Pour caramel mixture over the fudge layer and spread into an even layer.
Bring about an inch of water to a simmer in a saucepan. Set a heatproof bowl onto the saucepan, making sure the water doesn't touch the bottom of the heatproof bowl. Add chocolate chips to the bowl and stir occasionally. Carefully remove the bowl from the heat when there are just a few unmelted chips remaining. Stir until smooth.
Use an off-set spatula to spread the melted chocolate over the caramel. Chill until firm.
Notes:
To cut this fudge with ease, you'll want to dip a knife in hot water for a few seconds, carefully wipe it dry with a clean towel and then get to cutting!
All images and text ©
Follow Jamie on Instagram. We love to see what you're baking from MBA! Be sure to tag @jamiemba and use the hashtag #mbarecipes!