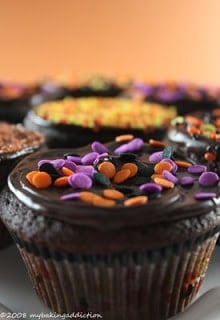 This week's TwD recipe is for one of my favorite desserts…cupcakes. If you frequent my blog, you know I have a thing for those yummy pieces of cake heaven, so I was super excited to try a recipe from Dorie. I had everything on hand to make these cupcakes, which is quite a change of pace. I am usually running (or more accurately…bribing the boyfriend to run) to the grocery store to pick up chocolate, butter or some random ingredient minutes before I plan to start baking. I was also thrilled with this recipe because it made 12 cupcakes, which seems to be the perfect amount to bake and take to work for my class. While all this anticipation and excitement was building, I read the P&Q on the TwD site. My vision of gorgeous, moist Dorie cupcakes turned into that of dry, biscuit like cupcakes. Although I hate dry cake with a slight passion, I went ahead with the recipe because I had promised my class cupcakes and I did not want to start out my work week by pissing off eight kids. I had an unopened container of marshmallow fluff in the pantry from when I made these and bought too much. So, I decided to copy from the other TwD gals and inject these suckers with some ooey gooey marshmallow fluff…how could that be a bad idea? The verdict? I did not find these to be dry at all, the kiddos enjoyed these…even though I thought they would not dig the bittersweet ganache…sometimes I think they would eat anything!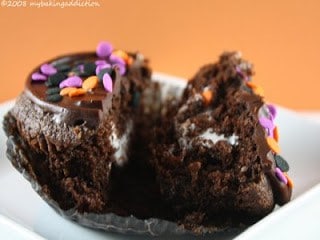 For more Chocolate Chocolate Cupcakes, check out the
TwD

site
…for the recipe, check out Clara's blog
I Heart Food 4 Thought
or turn to pages 215-217 in Dorie's book,
Baking: From My Home to Yours
.
These cupcakes will help make your day a little more delicious!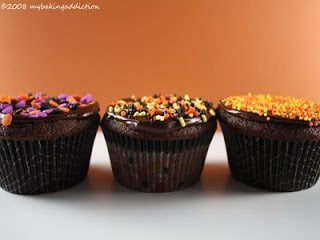 Coming up next…Pumpkin Cream Cheese Muffins and a Caramel Apple Cake!