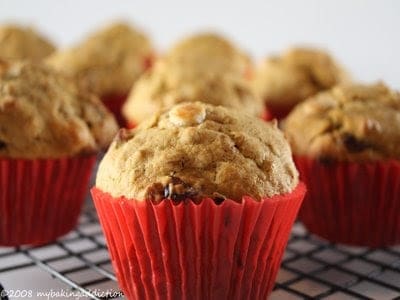 Well after being M.I.A. for a couple of weeks, I am back to my beloved baking and TwD! Life got very hectic for a quick minute and something had to give…unfortunately that something was baking and my blog. I also apologize for not posting the winner of the tarts which is…Prudy! You can click here to check out her awesome blog!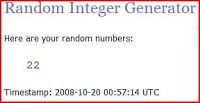 I have been all about all things fall…especially pumpkin and apples, so I was quite excited for this recipe! I could not find raw sunflower seed kernels to save my life so I just omitted them. I added pecans, craisins, and white chocolate chips to the batter. I was very impressed with the way these muffins baked up; I filled them to the brim and there was no sign of overflow…I was left with 12 huge, gorgeous muffins. All in all I really enjoyed this recipe and will definitely make these again.
-upped the cinnamon to 1 teaspoon
-upped the nutmeg to 1/2 teaspoon
-added 1 teaspoon pumpkin pie spice
-added 1/2 cup white chocolate chips
-subbed

craisins

for raisins
The Pumpkin Muffin recipe can be found on page 13 of Dorie's book, Baking: From My Home to Yours or at Kelly's blog. You can also check out the

TwD

site for more yummy versions of these scrumptious fall muffins. I hope these muffins make your day a little more delicious! Enjoy!