Hey Everyone, it's Lindsay, back with the first of a few Valentine's craft posts! Today's craft is adults-only, and oh so lovely. This would be a perfect gift for your girlfriends, to share with your boyfriend (make sure you get him alone so he doesn't have to feel embarrassed enjoying a "girly" drink), or even to serve at an "I Hate Valentine's Day" cocktail party!
I found two easy recipe ideas to use for this DIY craft. The first is Quick Strawberry Infused Vodka from Tokyo Terrace, and it's SO EASY! The second recipe is for Pink Vanilla Sugar from Somewhere Splendid and it is also crazy easy! These two recipes go together to make awesome "Martini Gift Sets". Throw in some recipe ideas and a fancy martini glass for a perfect present!
Pink Vanilla Sugar
What You Will Need:
White Granulated Sugar
Whole Vanilla Beans
Red Food Coloring
Food Processor
Sieve
Glass Bottles
How to Assemble:
Measure out sugar, 1 cup for each vanilla bean pod
Cut the vanilla bean pod lengthwise and scrap out the seeds
Add the sugar, seeds and the pod (this makes a stronger vanilla flavor) to the processor
Pulse the sugar and vanilla together
While mixing the sugar, add a few drops of coloring (one at a time, so the sugar doesn't get too wet).
Put the sugar through a sieve a few times to remove large pieces of the pod
Pour into bottles
*** If you don't have access to a food processor just put the sugar and seeds into an airtight container and give it a good shake to incorporate.
Quick Strawberry Vodka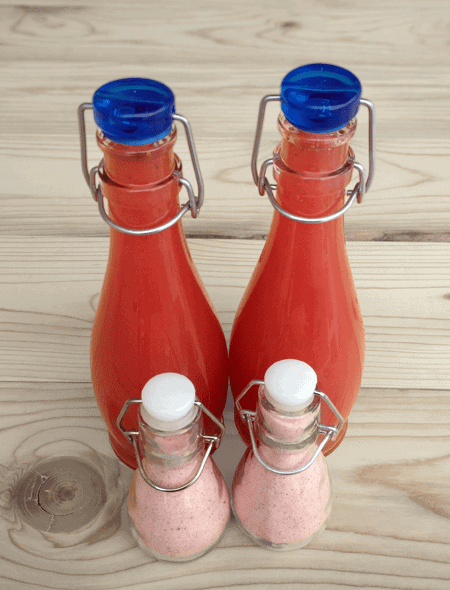 What You Will Need:
750 ml Bottle of Vodka, whatever you like, although I wouldn't go too expensive since it's getting flavored.
3 Cups of Strawberries. Fresh or frozen will work, I used frozen since they aren't in season.
Food Processor or Blender
Sieve or Cheesecloth
Glass Bottles
How to Assemble:
Puree the strawberries, I added a little of the vodka at this point to help the process
Mix with vodka
Let it infuse in a glass bottle or container in the fridge for a few days (at least overnight)
Pour through sieve or a few layers of cheesecloth to remove most of the seeds and pulp
Pour into glass bottles and keep refrigerated (do not freeze, there is enough water in the berry mixture that the vodka will freeze and could expand out of the bottle)
I'm definitely going to do this again and, with other fruit. Its adds a really natural and fresh twist to cocktails. So much better than buying pre-flavored vodka!
Here is a printable Recipe Card with a few yummy ideas to add to your gifts!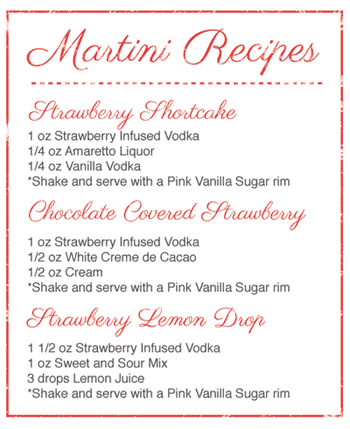 We hope you enjoy these gift ideas as much as we do! If you decide to create either of these DIY's, or any of the craft projects that we shared with you, please feel free to share your finished product with us on our Facebook page!