[pinit]
Valentine's Day is sneaking up fast, so I thought I would share a couple quick and easy decoration ideas that are great for kids and adults! Store bought decorations can get pretty boring and honestly a little (a lot) cheesy… so why not make your own? The two crafts I'm going to share with you got their inspiration from The Artful Parent with their Melted Bead Sun Catchers and The Hybrid Chick with her paper heart wreath.
"Stained Glass" Heart Sun Catchers

(of course it was cloudy and snowing on picture day)
When I read the post from The Artful Parent about making these sun catchers I know she warned about the plastic fumes and smell, and I don't think it registered with me. I, of course, put them in the oven with all of the windows closed, no fans on, etc.
WARNING: don't do that! Before you start, get some fans going, open windows (even if it's really cold) and maybe have the little ones go play in the snow. The good thing is that they melt really fast and the smell goes away quickly. On The Artful Parent blog, I saw someone recommend using the grill or taking an old toaster oven outside, both good ideas!
What You Will Need:
Translucent Plastic Pony Beads
Heart Shaped Cupcake Pan or Silicone Cupcake Molds (I would use one you won't be using for baking again even though there was no visible residue). I got the silicone hearts for three dollars at Hobby Lobby.
Fishing Line
Drill
How to Assemble:

Arrange silicone molds on a cookie sheet
Place pony beads in whatever design you would like…making sure they are all facing with the hole up.
Cook at 400 degrees for 20-25 minutes, until completely melted
Let cool (preferably outside), they should easily pop out of molds
Drill small hole at the top of the heart
Tie fishing line and hang where they can sparkle in sun!
I love the way these turned out and I will definitely be making more!
Paper Heart Wreath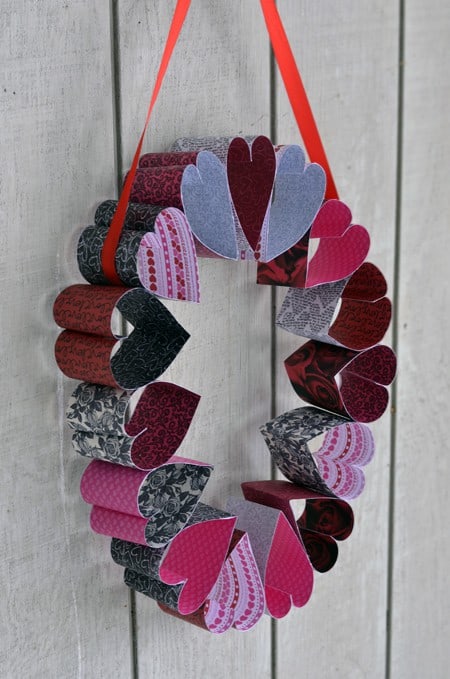 [pinit]
What You Will Need:
Card Stock, Scrapbook Paper Or, Any Other Thick Decorative Paper
Spray Adhesive
Super Glue or Strong Craft Glue
Ribbon
Scissors
How to Assemble: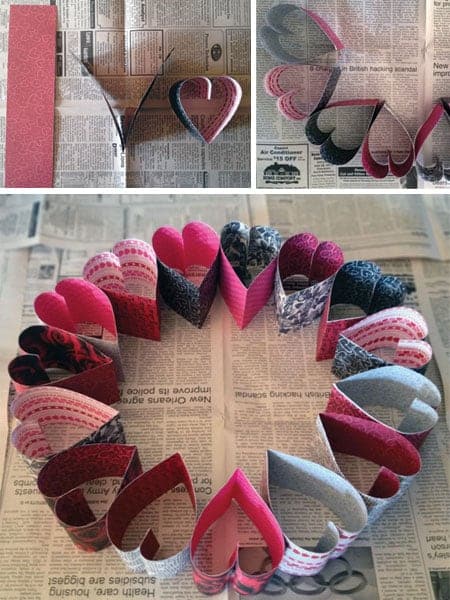 Cut paper into strips 2 inches wide and 11 inches long, I cut about 30 strips
Glue two pieces back to back to using the spray adhesive
Smooth to make sure there aren't any bumps
Fold in half
Spray a thin line of the adhesive at the top of one side and fold into the heart shape…hold for a few seconds
Do this until you have the desired amount of hearts
Place hearts in a circle and put glue drops in-between each..let dry
Add colorful ribbon for hanging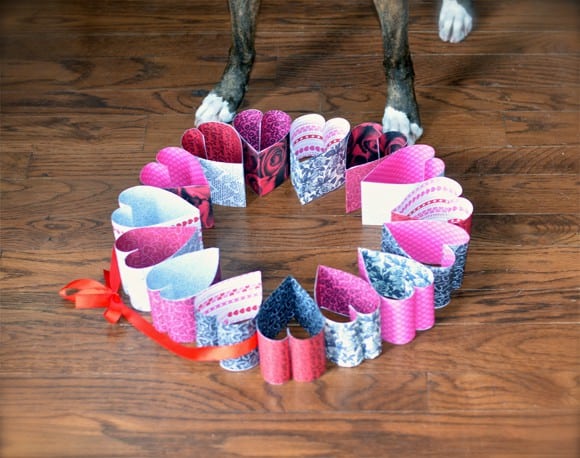 I wasn't able to get the wreath to hang in a perfect circle but, that's okay with me. I would suggest using thicker paper and making it a tiny bit smaller if you want it to be perfectly round. Or, if you come up with a way to hang other than ribbon that would work better, let me know.
We hope you enjoy these craft ideas as much as we do. If you decide to create either of these crafts, or any of the craft projects that we share with you, please feel free to share your finished product with us on our Facebook page!
Have a craft idea you'd love to share? We'd love to mingle with you on Pinterest too!