Vanilla Beans… I love them, I love the flavor, I love the intoxicating aroma and I am just smitten with those lovely black flecks. However, I do not use them very often because they are quite expensive – a whopping $10.98 per bean at my local market. Plus when I do indulge in the $10.98 beans, they always seem a tad bit past their prime. A little dry and not very aromatic. In fact two weeks ago I returned a bean to the market because it literally crumbled on my cutting board when I tried to split it in half.
So when Rob of Beanilla offered to send me a variety of beans to try out, I was all over it! My package arrived in 3 days and contained 40, yes I said 40, vanilla beans in the following varieties (as described by Rob):
Mexican Vanilla Beans
Mexican vanilla has a very smooth and creamy flavor with a hint of spice. They are very delightful and commonly used for making extract. Mexican vanilla has the familiar natural vanilla flavor that we associate with vanilla bean ice cream and other vanilla-flavored desserts. These beans are cured using sun-wilting and oven-wilting techniques.
Madagascar Vanilla Beans
Madagascar Vanilla Beans are superior, with flavor and aromatic qualities that make these beans the most popular and sought after vanilla variety. These vanilla beans are very distinct with a flavor and aroma profile unlike any other vanilla bean. The best way that I can describe them is "simply divine!" The flavor is a rich, dark, creamy flavor with an overwhelming sweet and buttery aroma. These beans are cured using the "Bourbon" method of using hot water to scald the beans rather than in the sun, oven or fire. This technique typically produces vanilla beans with higher moisture content.
Indian Vanilla Beans
Indian vanilla beans are very similar to Madagascar vanilla. Considering they use the same Bourbon curing techniques, many of the flavor and aromatic qualities are the same. However, these vanilla beans tend to carry a sweet woodsy flavor profile that is very unique, unlike other origins. Vanilla beans cultivated in some parts of India are considered by many as the world's best!
Indonesian Vanilla Beans (organic)
The organic Indonesian vanilla beans are the newest bean that we carry. They resemble Bourbon vanilla (Madagascar, Papua New Guinea, and India) but are more closely related to the flavor of Indian vanilla beans. These beans have a sweet nutty flavor and are HUGE with a large abundance of vanilla seeds. Best of all… they're organic!!!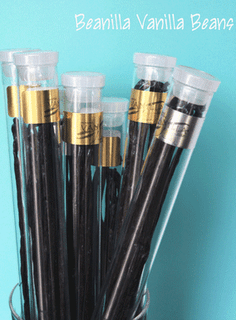 Tahitian Vanilla Beans(Papua New Guinea)
The Tahitensis or "Tahitian" vanilla beans from Papua New Guinea are truly one of a kind. They are generally shorter, plumper and contain a much higher oil and water content than Bourbon beans. The aroma is flowery, fruity and anisic with a smooth flavor. They are often described as smelling like licorice, cherries, or wine. Pastry chefs love to work with the Tahitensis variety due to the strong vanilla flavor and aroma it will provide. These are probably our second most popular bean.
Bourbon Vanilla Beans (Papua New Guinea)
The Bourbon beans from Papua New Guinea have a traditional vanilla flavor like the Madagascar vanilla beans. They are often comparable to the Bourbon-Madagascar Vanilla beans. What makes these vanilla beans taste slightly different is the way in which they are cured. The method used in Papua New Guinea involves curing the beans by placing them in the ashes of a fire until they begin to shrivel. They are then removed, wiped clean and then rubbed with olive oil and left in the open air to dry. They can be described as subtle with notes of chocolate and tobacco.
Beanilla™ Vanilla Beans (Tahitian/Bourbon blend from multi-origins)
Beanilla™ Vanilla is a unique proprietary blend of Tahitian (Tahitensis) and Bourbon (Planifolia) vanilla beans sourced from the finest vanilla producing regions around the world. By blending origin and variety, we can achieve equilibrium of flavor and aroma. The floral, fruity, cherry like notes of the Tahitian variety blend wonderfully with the nutty-chocolate character of the Bourbon type. I like to consider Beanilla™ Vanilla the perfect vanilla solution for every application.
Tonga Vanilla Beans
Tonga Vanilla Beans come from The Kingdom of Tonga. The Kingdom of Tonga is made up of several island groups in the South Pacific. Palm-fringed beaches, rainforest's, lagoons and warm blue water make up this beautiful paradise. Tonga only produces 144 tons of vanilla beans annually. Therefore, these beans are a rare and highly sought after vanilla bean (which is also why they are our most expensive vanilla bean). We are proud to be the only company to offer these one of a kind vanilla beans on the web. These beans are exceptional with a very unique aroma, which can only be described as a mixture of Bourbon and Tahitian Vanilla beans with a delicate aroma of raisins and red wine.
I am no vanilla bean expert, but Rob is which is why I asked him to provide me with a detailed description of each bean. These descriptions really helped me, but I am also loving to learn through experimentation! In fact, I made homemade vanilla extract which I will share with you in a post later this week. I can assure you that all of these beans are extremely supple with intense vanilla aromas. I was totally shocked to discover what a real vanilla bean felt and smelled like. I cannot express to how affordable and amazingly fantastic these vanilla beans are…you will definitely be seeing more of Rob's fabulous products used in my recipes, especially the Vanilla Fleur de Sel.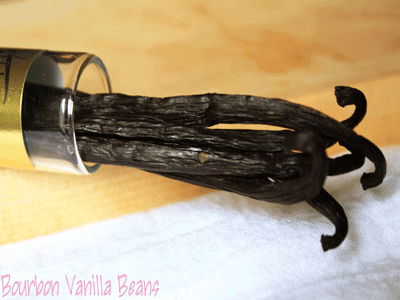 Now for the fun stuff
When I contacted Rob to thank him for the products and express my love for these beans, he offered to provide one of my readers with the same beans he graciously sent to me. This means one of you will recieve 40 vanilla beans in the varieties listed above. Plus I adore Rob, his beans and his company so much, I decided to provide one runner up with a five Madagascar Vanilla Beans and a jar of Vanilla Paste. Rob, was so excited about this giveaway, he also offered up a 10% coupon code for my readers. So, even if you don't win, you can get 10% off by simply entering the code, "bakingaddiction" at checkout.
How do you win?
Leave a comment on this post by midnight on Saturday, August 1 telling me your favorite recipe that utilizes vanilla beans (links to the recipes would be awesome). If you tweet about this post using @bakingaddiction plus a giveaway link, you can enter a second time by submitting another comment here about the tweet!
The Rules
1.) Open to USA & Canada residents only.
2.) Two winners will be chosen on 8/2/09 by using random.org.
3.) Make sure that I have a way to contact you when you leave a comment; either through your blog or an email.
4.) One comment per person, please. Plus one *tweet entry; totaling 2 entries per person.
5.) I will contact the winners via email or commenting on the winner's site.
6.) You have until 8/4/09 to claim the giveaway, or I will have to choose another winner.