Snow. Cold. Ice. It seems like it's never-ending here in Ohio. I don't know about where you are, but I am over it. Over bundling into 10 layers just to go outside and scrape 10 more layers of ice off my car. Over the sludge that builds up on the side of the road and makes everything look gray and gross.
I was going to make you another warm, boozy cocktail to help with the winter blues I'm guessing we're all suffering from by now, but I've decided to do the exact opposite. Today I'm going to share with you a tropical drink with a teeny tiny seasonal twist.
The classic Dark n' Stormy cocktail is the national drink of Bermuda, which is where I would like to transport myself – right now! Since that isn't happening any time soon, I'm bringing a taste of the caribbean to the midwest.
A traditional Dark n' Stormy consists of dark rum (preferably Gosling's Black Seal Rum), non-alcoholic ginger beer, and lime. To add a seasonal twist to this delicious drink, I substituted half of the ginger beer with vanilla-infused pear juice. Pear, ginger, vanilla and rum… sounds like the perfect combination to me!
So lose the blanket, the slippers, and that hideous 3 sizes too big sweatshirt; crank the heat, and imagine yourself on a beautiful Caribbean beach with this cocktail in hand!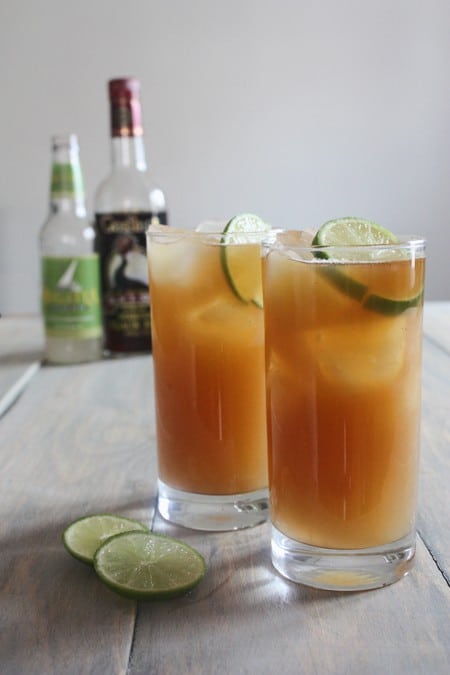 Vanilla-Infused Pear Dark n' Stormy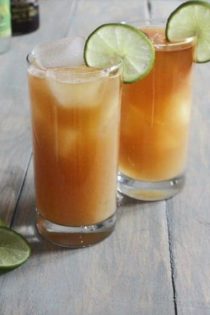 Ingredients:
Dark Rum (I recommend Goslings or another Jamaican or Bermudan Rum)
100% Pear Juice (do not use nectar,it will end up being too sweet)
1 Vanilla Bean Pod
Non-Alcoholic Ginger Beer (Jamaican or Bermudan style)
Ice
Directions:
Split the vanilla bean pod lengthwise and put in your container of pear juice, let it sit for at least an hour. This will infuse the juice with the flavor of the vanilla pod.
For each drink:
Fill a tall glass with lots of ice.
1 1/2 oz of dark rum
Top off with equal parts ginger beer and pear juice
garnish with slice of lime
Enjoy!
Notes:
Adjust the drink to your liking!
All images and text ©
Follow Jamie on Instagram. We love to see what you're baking from MBA! Be sure to tag @jamiemba and use the hashtag #mbarecipes!