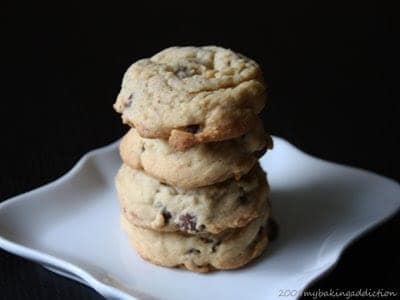 One of my best friend's mother makes one kick ass chocolate chip cookie. They're puffy, cakey, soft and oh so delicious. My friend and I tried to use her mama's recipe during the holiday season, but for some reason, they were just not the same. My friend blamed my oven; I blamed her. Long story short, we never figured out what or who was to blame, we just knew something was not right. Fast forward three months and countless baked goods later…I decided to use another recipe in an attempt to recreate this elusive cookie. The recipe I used for these cookies calls for almost identical ingredients as the original recipe, except this one uses butter as opposed to margarine and the measurements vary. The main similarity is the use of instant vanilla pudding mix utilized in it's powdered state. I truly have no idea what this ingredient brings to the cookie, but in my opinion it's something magical! One could guess it a textural thing while others may argue it's a taste thing…either way…it's just plain good! These cookies are close to what I was looking for…but I am still chasing cookie perfection!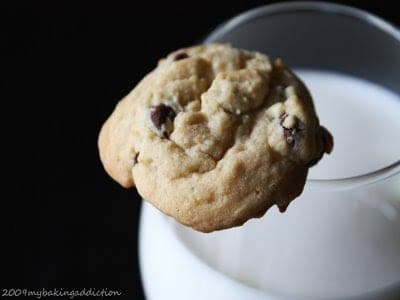 Vanilla Pudding Chocolate Chippers
Ingredients
4 1/2 cups all-purpose flour
2 teaspoons baking soda
2 cups butter, softened
1 1/2 cups packed brown sugar
1/2 cup white sugar
2 (3.4 ounce) packages instant vanilla pudding mix (I used one and a half)
4 eggs
2 teaspoons vanilla extract
4 cups semisweet chocolate chips
2 cups chopped walnuts (optional)
Directions
1. Preheat oven to 350 degrees F (175 degrees C). Sift together the flour and baking soda, set aside.
2. In a large bowl, cream together the butter, brown sugar, and white sugar. Beat in the instant pudding mix until blended. Stir in the eggs and vanilla. Blend in the flour mixture. Finally, stir in the chocolate chips and nuts. Drop cookies by rounded spoonfuls onto ungreased cookie sheets.
3. Bake for 10 to 12 minutes in the preheated oven. Edges should be golden brown.