Back in the day, I would only eat white chocolate. I remember being a kid and blissfully gnawing off the heads of my pastel colored, white chocolate, bunnies on Easter Sunday. As I grew up, the appeal of chocolate in any form diminished. In fact, to this day I can take it or leave it. Many people get chocolate cravings and indulge their senses in delectable gourmet truffles, bars and bites.
Toss this girl a bag of Skittles or Starbursts and I will be happier than well… a kid in the candy store. Although chocolate is not my favorite flavor, many people in my circle love the stuff so I definitely highlight it in my baking on a regular basis. When I was at the market last month, I picked up a bar of white chocolate with no clear culinary creation in mind and simply chucked it into my cart. I got home and tossed it into my all too full baking cupboard and forgot about it.
Then on Friday, inspiration struck me as I was thinking about making crème brûlée to accompany a steak house inspired dinner. After slaving away in the kitchen over homemade ranch dressing, impeccably seasoned New York Strip Steaks, sauteed mushrooms and a lovely balsamic reduction, I was glad that I whipped up dessert at 10 am. All I had to do was take it out of the fridge caramelize the sugar, toss on a berry garnish and dessert was served.
Crème Brûlée has always been a dessert that I swoon over. In my opinion there is nothing more simplistic that will wow a crowd and tantalize taste buds like Crème Brûlée. This one is no different, it will please your family and friends and make you look like a culinary rock star!
Thanks for stopping by and have a fantastic day!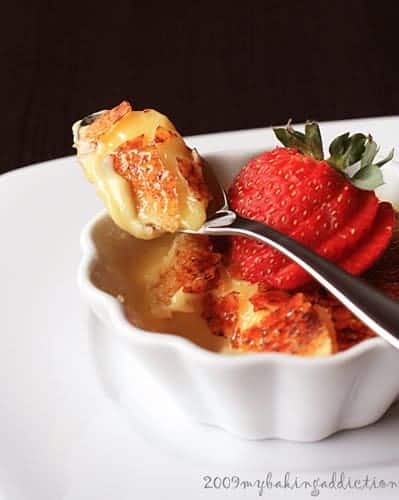 White Chocolate Crème Brûlée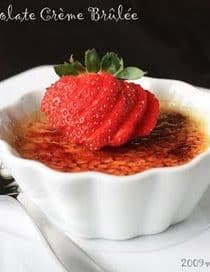 Ingredients:
5 large egg yolks
1/2 cup sugar, divided
2 cups whipping cream
3 ounces white chocolate, imported finely chopped
1/4 teaspoon vanilla extract
2 tablespoons sugar
Directions:
1. Position rack in center of oven and preheat to 300 degrees F.
2. Whisk egg yolks and 1/4 cup sugar in a medium bowl.
3. Bring cream and the remaining 1/4 cup sugar to simmer in heavy medium saucepan; reduce heat to low.
4. Gradually add chopped white chocolate to the cream mixture and whisk until smooth.
5. Gradually whisk the hot white chocolate mixture into yolk mixture, then whisk in vanilla.
6. Pour the mixture through a fine sieve, then ladle custard into four 10-oz custard cups (if you use 4 oz ramekins, it will fill about 7 of them).
7. Place the filled cups in large baking pan and add enough hot water to pan to come halfway up sides of cups.
8. Bake at 300 degrees F until the custards are set in the center, about 1 hour.
9. Carefully remove the custards from water and let cool.
10. Cover (plastic wrap works fine) and refrigerate.
11. Just before serving, preheat the broiler.
12. Sprinkle 1/2 tablespoon sugar over each custard.
13. Broil until the sugar caramelizes, watching carefully, which will take about 2 minutes. Serve hot, or refrigerate up to 1 hour and serve cold.
Follow Jamie on Instagram. We love to see what you're baking from MBA! Be sure to tag @jamiemba and use the hashtag #mbarecipes!
[pinit]