Winning game day snacks like it's your job. From hand-held apps to delectable dips, we've got you covered.
This is a sponsored post on behalf of Evite. Thank you for continuing to support the companies that make My Baking Addiction possible.
Winter is a fun time for our family. We're big sports fans, whether it's basketball, football, or anything in-between. Elle's even got a full collection of baby jerseys that she loves to rock on game days. Some say Cleveland has the best fans in the land and I must say, I totally agree!
We've had season tickets to the Cleveland Browns this year, and boy do we regret not getting season tickets to the Cavs! We've caught a few games at The Q, but we've been having a blast watching them on TV too, and if I'm completely honest with you? I like the food a whole lot more. Shocking I know.
With the big game just a few days away, I thought I'd share some delicious snacks just in case you're planning to host a Home Bowl party this coming Sunday.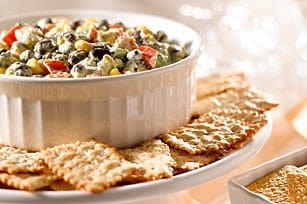 We're most definitely a dip kind of family, so we're super excited to add this Southwest Avocado Bean Dip to our menu. Pair this dip with WHEAT THINS snacks for a winning combination!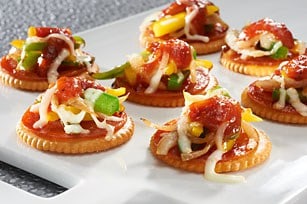 If you're short on time, I love the idea of these adorable RITZ Pepperoni and Veggie "Pizzas" – there's nothing better than bite size game day grub!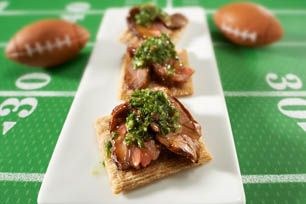 And since Eric and my dad love their meat! No Home Bowl party would be complete without a little steak. Win over your guests with this recipe for Chimichurri Steak Topper. They're spicy, full of flavor and sure to please.
We have been living it up when it comes to game day snacks, and you should too! Whether you're entertaining a crowd, or having a couple's night in on the couch, it's no reason not to have great nibbles and ice cold Coca-Cola right in front of you, from your own kitchen.
Looking for more Game Day recipes and maybe even a few desserts? Check out this Coca-Cola® Football Cake! and Evite for even more inspiration!
What's your favorite way to ramp up your game day snacks?
Disclosure: This is a sponsored post on behalf of Evite in collaboration with Coca-Cola. All opinions are 100% my own. The "Home Bowl" is not associated with or authorized by the National Football League.