Yet Another Chocolate Chip Cookie…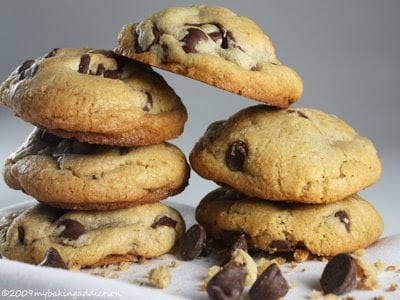 No Tuesdays with Dorie this week, we were not feeling the French Pear Tart, instead I bring you yet another chocolate chip cookie. Are you sick of the chocolate chip cookie recipes yet? If so, I truly apologize, but as I have mentioned before, I have a slight case of OCD. Therefore, when I get on some sort of kick, I become a wee bit obsessed with it until it comes out damn near perfect. I have tried countless chocolate chip cookie recipes, only a few being chronicled on this blog, but I have yet to find perfection. I was a huge fan of "The Chewy," but my search continues…
I first saw
this recipe
on Em's site, but dismissed it for months…BIG mistake, these cookies are super delicious. The cooking method produces a crisp outside, with a chewy inside…and in my opinion this combination of textures is to die for! Overall, these cookies are really tasty, I guarantee they will be gobbled up in no time!
Deryl Bear's
Bear Chocolate Chip Cookies
Here are my modifications:
-Subbed Butter Flavored Crisco for half the butter
-Left out the nuts
-Chilled overnight then rolled into balls; each weighing 1.3 ounces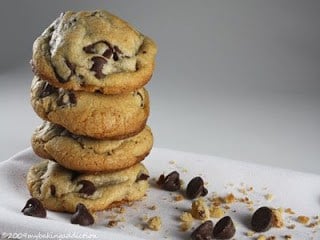 Make these cookies today, I promise someone will want to plant a big wet kiss on you for it!
This post may contain affiliate links. We are a participant in the Amazon Services LLC Associates Program, an affiliate advertising program designed to provide a means for us to earn fees by linking to Amazon.com and affiliated sites.