I am not blessed to live on a piece of land that will accomodate a large lush garden; however, I do reep the benefits of friends' overflowing crops. This arrangement is awesome because it means I have no gardening to do, and since I have the tendency to kill everything, this is a good thing!
I received fresh zucchini, cucumbers and lovely cherry tomatoes from one of my best friends and, of course, I had to make something sweet. I have not made zucchini bread in ages, but it was the first idea that popped into my mind after receiving the bag of veggies from her.
I scoured the web and settled on a recipe from my beloved allrecipes. This recipe is straight forward and very easy. The bread tasted great fresh out of the oven with a pat of butter. After it sat overnight, it was still good, but not as moist as I would have liked it to be.
This recipe is highly rated, so the dryness could have been operator error! Don't get me wrong, it was tasty, just not perfection in my eyes. If any of you have a great moist (ack! I hate that word!) zucchini bread recipe, holla by leaving a comment here, emailing me or send me a tweet!
Have an awesome day and thanks for stopping by!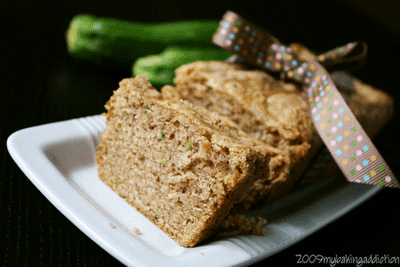 Zucchini Bread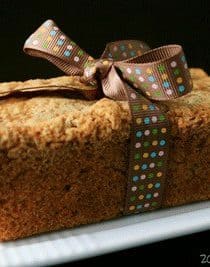 Ingredients:
3 cups all-purpose flour
1 teaspoon salt
1 teaspoon baking soda
1 teaspoon baking powder
3 teaspoons ground cinnamon
3 eggs
1 cup vegetable oil
2 1/4 cups white sugar
3 teaspoons vanilla extract
2 cups grated zucchini
1 cup chopped walnuts (I omitted these)
Directions:
1. Grease and flour two 8 x 4 inch pans. Preheat oven to 325°F (165°C).
2. Sift flour, salt, baking powder, soda, and cinnamon together in a bowl.
3. Beat eggs, oil, vanilla, and sugar together in a large bowl. Add sifted ingredients to the creamed mixture, and beat well. Stir in zucchini and nuts until well combined. Pour batter into prepared pans.
4. Bake for 40 to 60 minutes, or until tester inserted in the center comes out clean. Cool in pan on rack for 20 minutes. Remove bread from pan, and completely cool.
Notes:
- I used one 8"×4" pan and 2 mini loaf pans. My 8"×4" took around 50 minutes and the mini loaf pans took around 30 minutes.
Follow Jamie on Instagram. We love to see what you're baking from MBA! Be sure to tag @jamiemba and use the hashtag #mbarecipes!
[pinit]