30 Minute Pizza Crust + Mini Pizzas
30 Minute Pizza Crust is quick and simple because there is no need for rising time. Divide the dough into mini crusts so everyone can create their own perfect pizza snack!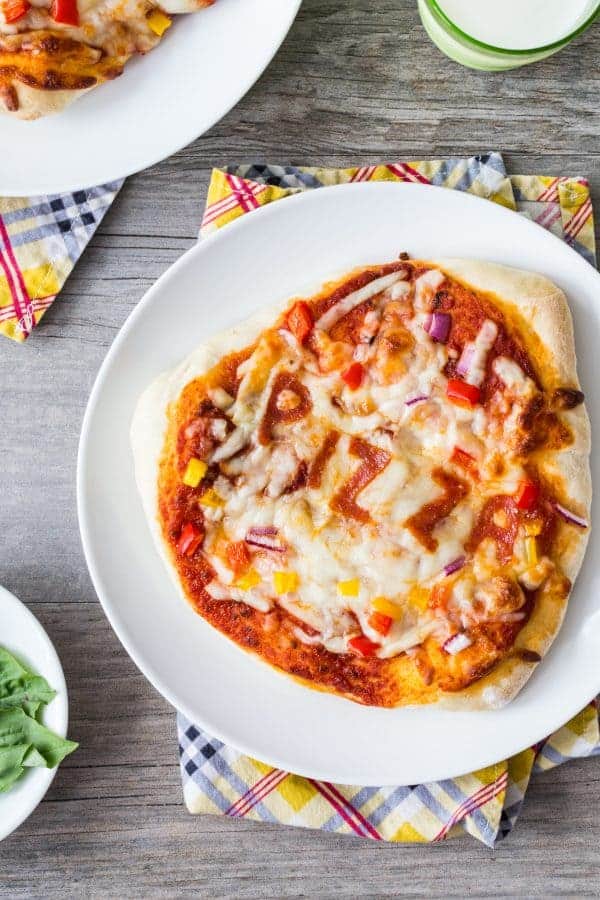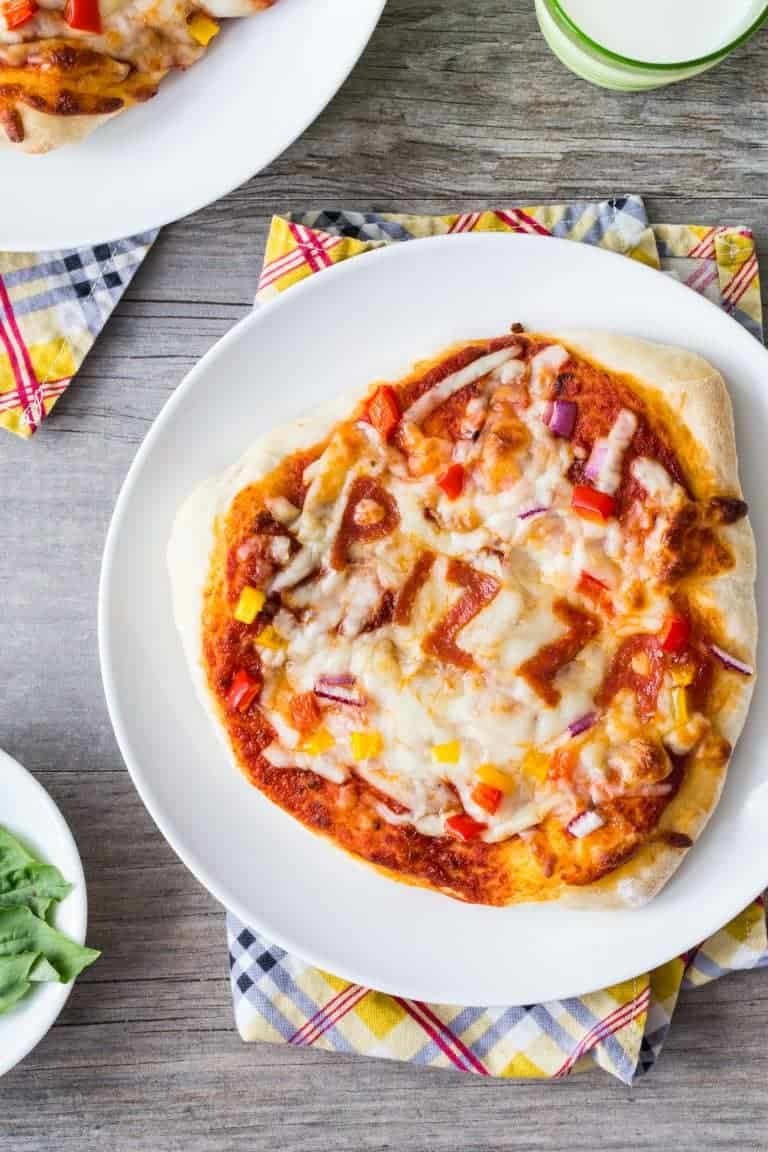 This is a sponsored post on behalf of Fleischmann's® Yeast. Thank you for supporting the brands that continue to make My Baking Addiction possible.
It's clear from my Facebook feed that it is back-to-school week in many areas. I'm seeing so many photos of littles dressed in their freshly pressed clothes, posing with little chalkboard signs for their first day of school. And I've got to admit, it gives me a little – okay, a lot – of anxiety, because Elle will be one of those littles next fall.
It makes me sad, happy, and proud all at the same time. Clearly, I have about 365 days to get a grip on these emotions so I'm not that parent, hysterically crying outside the preschool classroom door. And trust me, I'll need all 365 days.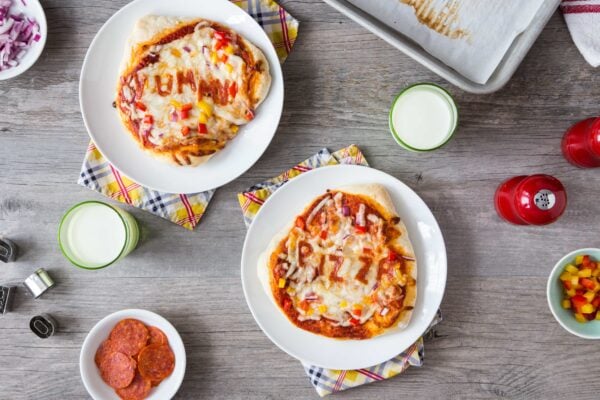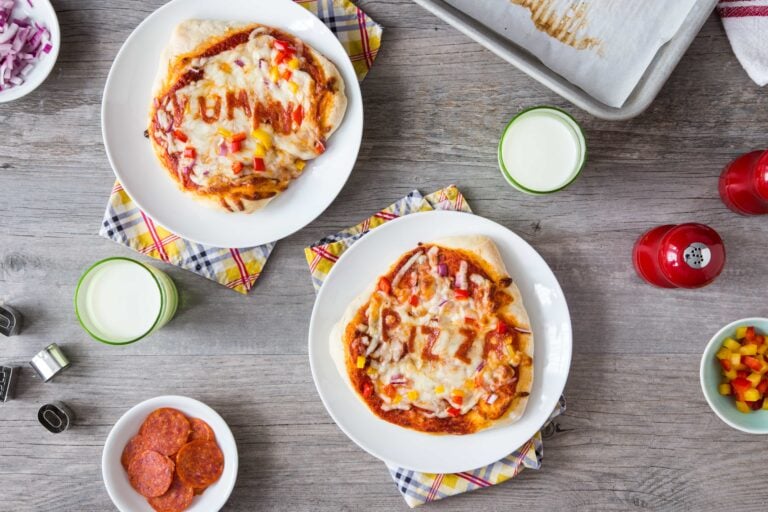 Even though Elle isn't in school quite yet, we still have a pretty full schedule of activities planned for her this fall. Between toddler gymnastics, nature school, and swimming lessons – my babe has a better social calendar than most adults I know – including me.
Although I'd love to tell you that I'm amazing with meal planning, the truth is I'm not. We're often scrambling to come up with lunch, dinner, and snack ideas at the last minute. But if there's one thing I can count on Elle eating, it's pizza.
Not only does she like to eat pizza, she loves to help make them – especially mini pizzas. She'll happily sauce and top pizzas while sneaking pepperonis any day of the week.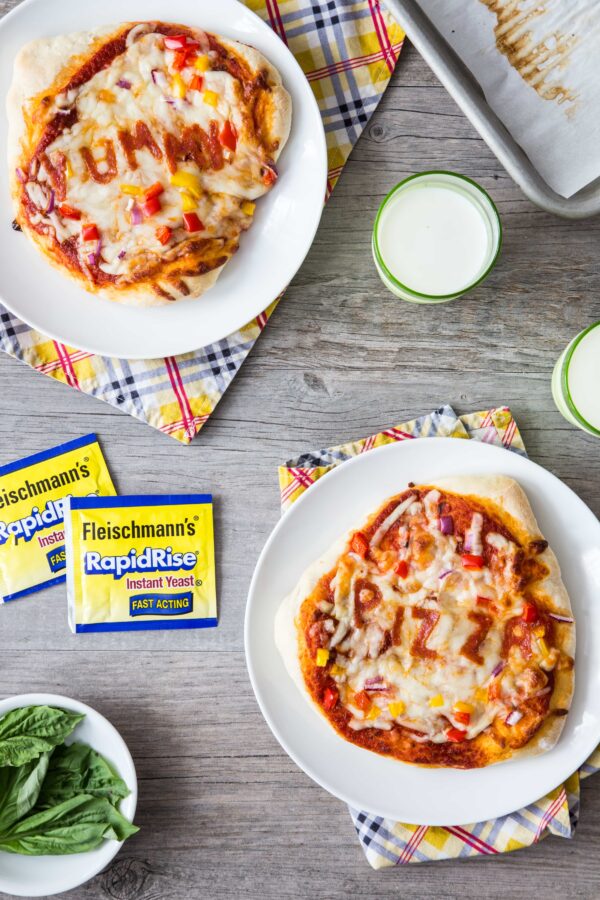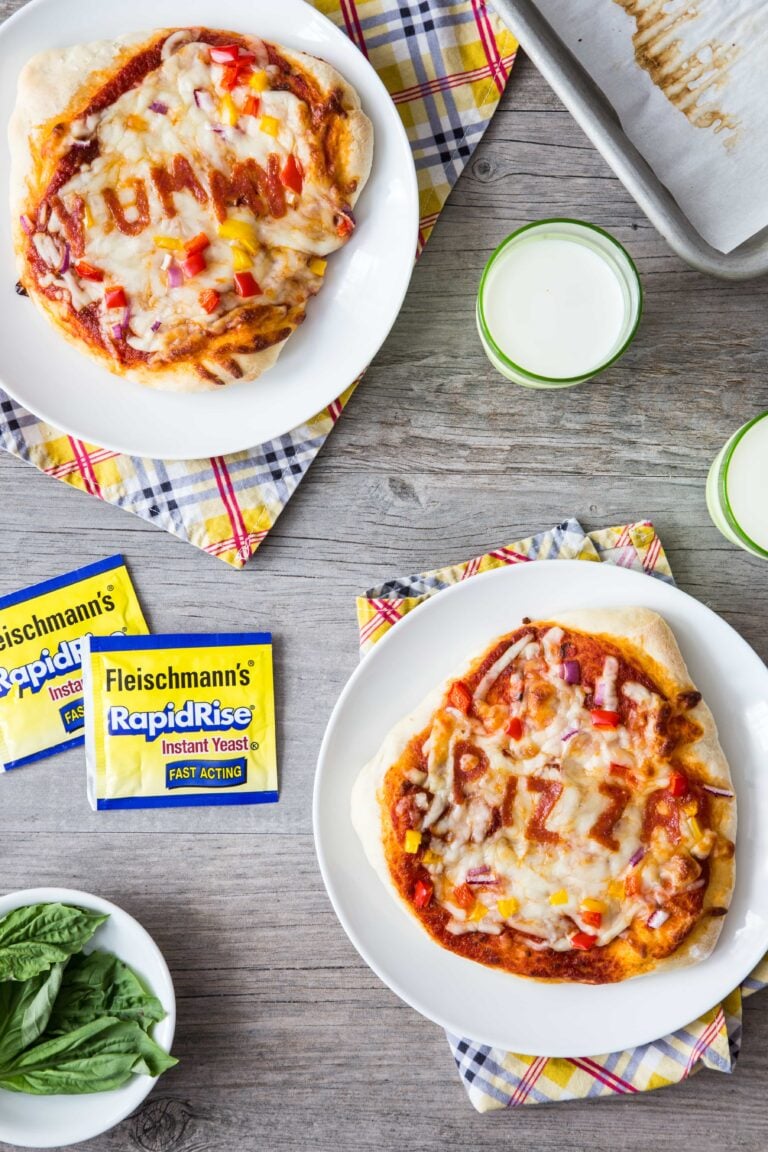 If I'm being honest, sometimes I take a shortcut and use whole wheat English muffins for her crust, but I've been stepping up my pizza game lately by using this 30 Minute Pizza Crust from Fleischmann's® Yeast.
It comes together in minutes using a just a handful of ingredients. My favorite thing about this dough is that there's no long rise time involved. Simply wait 10 minutes and let Fleischmann's® RapidRise® Yeast do the rest.
Just toss everything into a bowl, mix up, give it a good kneading, and let it rest for 10 minutes. Pat the dough into a pizza pan, add on your favorite toppings, and you're good to go.
Seriously, check out how easy it is:

We like to divide our dough into 4 equal pieces so everyone can create their own. Put all of your favorite toppings on the counter and get your kiddos involved in a pizza-making assembly line.
If you're feeling fancy, you can make the mini pizzas a little more fun by using small fondant or cookie cutters to spell words or create fun shapes out of pepperonis.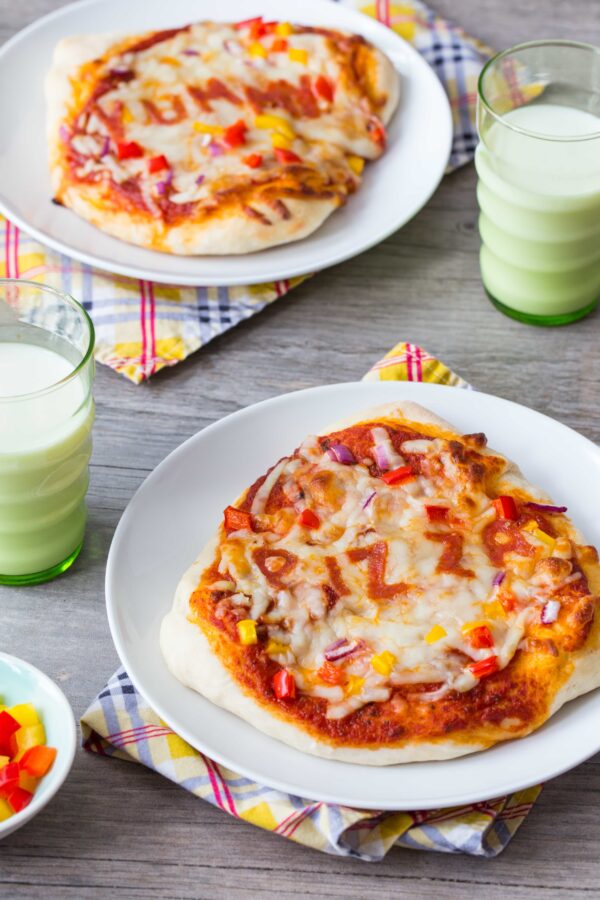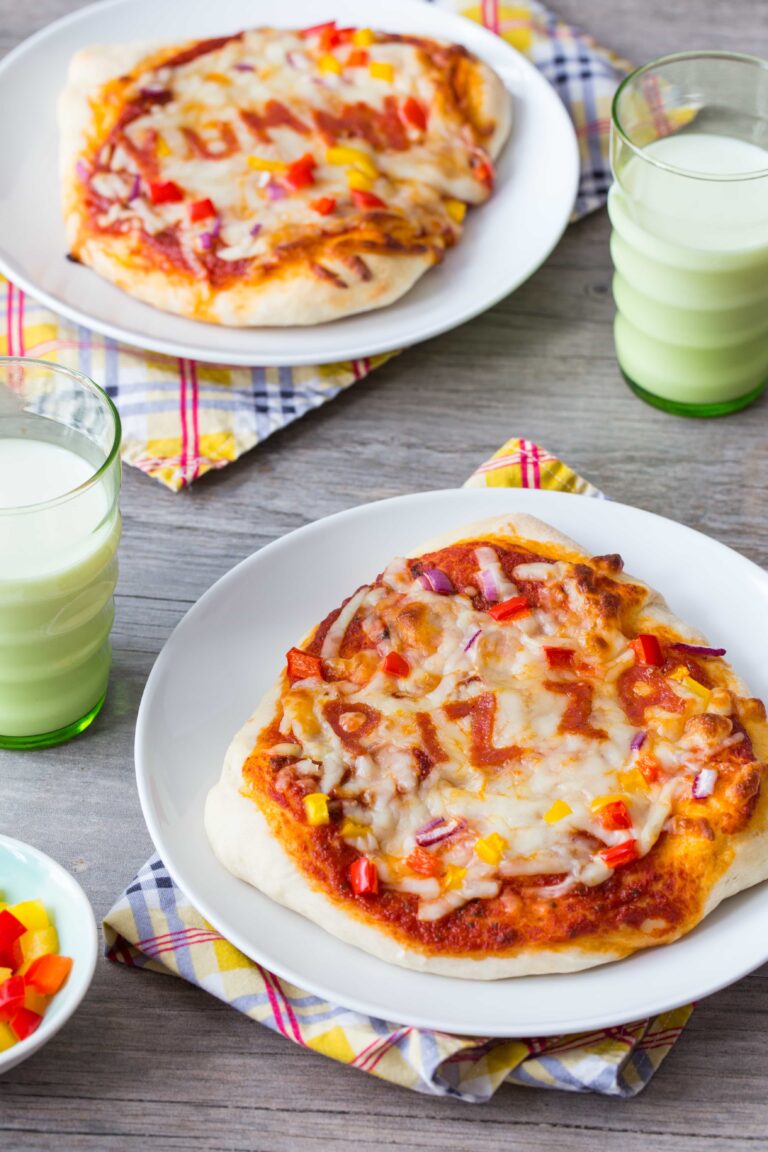 Whether you're whipping mini pizzas up at the last minute for a weeknight dinner, or letting the kiddos get creative for an afternoon snack, you'll definitely want to give this 30 Minute Pizza Crust a try. And be sure to bake a little extra because what's better than homemade pizza?
For more easy, delicious recipes using Fleischmann's® Yeast, be sure to check out this Cinnamon Pull-Apart Bread and these Caramel Apple Cinnamon Rolls.
30 Minute Pizza Crust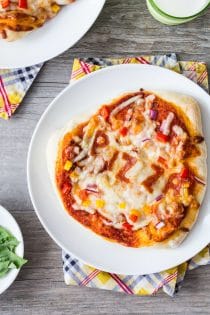 Ingredients:
1-3/4 to 2-1/4 cups all- purpose flour
1 envelope Fleischmann's® RapidRise® Yeast
1-1/2 teaspoons sugar
3/4 teaspoon salt
2/3 cup very warm water (120 to 130°F)*
3 tablespoons oil
1/2 to 1 cup pizza sauce
Other toppings as desired
1 to 2 cups (4 to 8 ounces or 125 to 250g) shredded mozzarella cheese
Directions:
Preheat oven to 425°F.
Combine 1 cup flour, undissolved yeast, sugar and salt in a large bowl.
Add very warm water and oil; mix until well blended, about 1 minute.
Gradually add enough remaining flour to make a soft dough.  Dough should form a ball and will be slightly sticky.
Knead** on a floured surface, adding additional flour if necessary, until smooth and elastic, about 4 minutes.  Let dough rest for 10 minutes.
Pat dough with floured hands to fill greased pizza pan or baking sheet.  OR roll dough on a floured counter to 12-inch circle; place in greased pizza pan or baking sheet.  Form a rim by pinching the edge of the dough.
If making mini pizzas, divide the dough into four equal portions and pat or roll dough to create 4 mini crusts.
Spread with pizza sauce.  Top with desired toppings and sprinkle with cheese.
Bake on lowest oven rack for 12 to 15 minutes, until cheese is bubbly and crust is browned.
Notes:
TIPS:
*If you don't have a thermometer, water should feel very warm to the touch.
**To knead the dough, add just enough flour to the dough and your hands to keep the dough from sticking.  Flatten dough and fold it toward you. Using the heels of your hands, push the dough away with a rolling motion.  Rotate dough a quarter turn and repeat the fold, push, and turn steps.  Keep kneading dough until it is smooth and elastic.  Use a little more flour if dough becomes too sticky, always working the flour into the ball of dough.
Crust can be used to make one thick crust 9-inch pizza.  Increase baking time to 20 minutes.
All images and text ©
Follow Jamie on Instagram. We love to see what you're baking from MBA! Be sure to tag @jamiemba and use the hashtag #mbarecipes!


This post may contain affiliate links. We are a participant in the Amazon Services LLC Associates Program, an affiliate advertising program designed to provide a means for us to earn fees by linking to Amazon.com and affiliated sites.