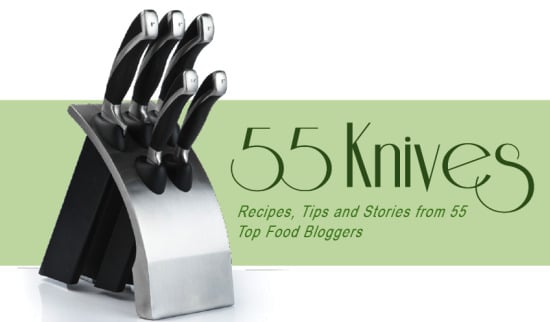 I am ecstatic to let you know about a new e-cookbook hitting the market today. The e-cookbook is called 55 Knives and is a stunning compilation of recipes from 55 amazingly talented food bloggers.
I had a chance to preview the book and I am in awe of the hard work that went into creating such a diverse collection of truly incredible recipes. In my opinion, this is definitely a must have addition to your cookbook collection. I am truly honored to be a part of the 55 Knives family and hope you enjoy the cookbook as much as I do.
How do you buy it?
That's easy! Simply follow this link to purchase. Buy it before June 1st and you'll score it for $14; after June 1st, the price will increase to $19. I think this is a pretty fab deal, plus if you're unhappy with it for any reason, you can get a full refund!
What recipe did I contribute?
Inside 55 Knives, you'll find one of my favorite recipes for my Nana's Chicken Paprikash. It's a rich, hearty recipe that has been passed down for generations. This recipe has never been published on My Baking Addiction.
What's an ebook?
Some of you might be familiar with the concept of an ebook, but I'm sure a lot of you have never heard of it. Basically, it's a downloadable book that you can store on your computer and view at your leisure. Once you buy it, the copy is yours. You can print it out and generally use it like you would any normal book. Nick used Adobe products to create the book, so the final product is actually a really big, interactive PDF document.

Want more info?
Here is a summary from, Nick of the blog, Macheesmo, he's the brain behind the book!
The 55 Knives book is a collaborative project from some of the web's top food bloggers in a simple, easy to download format. The authors included in the project were picked not only because of their expertise in the kitchen but also because of their ability to write well about food.

Each of the 55 bloggers will have a chapter where they will present one or two of their favorite recipes. Some recipes will be simple and some might be more complicated (Individual Beef Wellingtons!). Don't worry though, the complicated recipes will have crystal clear instructions.

In addition to the recipes, each chapter will have a story explaining why that recipe is important to that author. Some of the recipes have been in families for generations and some are newly created. I think you'll find the stories to be touching, funny, sincere, and above all else, entertaining!